2015 WSOP on ESPN: Joe McKeehen vs. the Short Stacks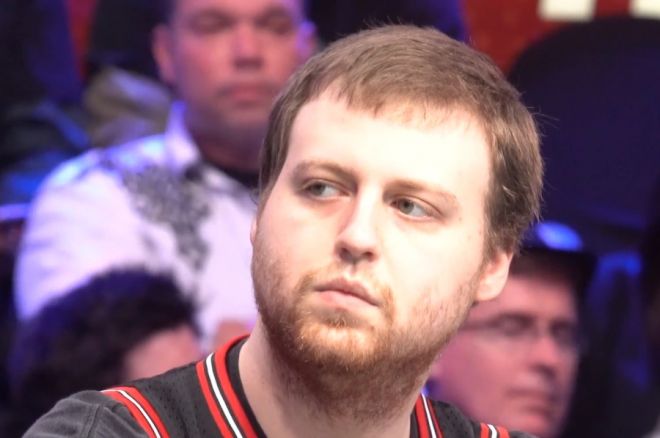 It only took a couple of hours and 41 hands total last night — 29 three-handed, 12 heads-up — for Joe McKeehen to claim all the chips and become the 2015 World Series of Poker Main Event champion.
McKeehen began play Tuesday night with almost exactly two-thirds of the remaining chips (128,820,000), more than three times nearest challenger Neil Blumenfield (40,125,000) with Josh Beckley (23,700,000) even further behind.
Despite the huge discrepancy in chip stacks, there were still several hands featuring interesting decision points for the three players, providing us one last opportunity to play along and consider how we might have chosen similarly or differently when presented with such spots.
| Place | Payout |
| --- | --- |
| 1 | $7,680,021 |
| 2 | $4,469,171 |
| 3 | $3,359,103 |
Hand #148: McKeehen vs. Blumenfield
The fifth hand of the night featured some intriguing back-and-forthing between Blumenfield and McKeehen. Let's replay it here from the chip leader's point of view.
Players left: 3
Blinds: 500,000/1,000,000
Ante: 150,000
Counts: McKeehen 127,925,000, Blumenfield 35,625,000, Beckley 29,100,000
Beckley had the button and folded, then McKeehen looked down at
and decided to limp in from the small blind. Having posted the big blind, Blumenfield checked his cards, sat with his arms folded for a short while, then raised to 3 million. McKeehen called, making the pot 6.45 million.
The flop came
, and with his top pair of tens McKeehen quickly checked. Blumenfield continued for 2.2 million, and McKeehen called. The turn brought the
and another check from McKeehen, and this time Blumenfield bet 3.5 million. McKeehen called once more.
The
fell on the river, putting a third club on the board. With the pot up to 17.85 million, McKeehen checked a third time and watched as Blumenfield gathered together chips and pushed out a bet of 7 million even.
"This is actually a pretty bad card to bluff at," explained Antonio Esfandiari of that river card which potentionally filled both a flush draw or completed a small straight. Noting that Blumenfield had been representing an overpair, his betting the river seemed suspicious given how vulnerable a big pair would be to McKeehen's potential range.
"The story doesn't really make any sense," said Esfandiari.
McKeehen took two full minutes thinking about what to do, spending some of that time talking to Blumenfield in an attempt to get a read. "You don't strike me as the type of guy that has a flush," he said, then added that while he wasn't going to raise, he might well call.
Finally he did call, and like so many other decisions made by McKeehen at the final table, he had chosen correctly as Blumenfield was bluffing with
. That pushed McKeehen up close to 144 million while Blumenfield fell back just under 20 million and into third position.
Read more about this hand in last night's "2015 WSOP Main Event 888 Hand of the Day: Blumenfield's Failed Bluff Against McKeehen."
Hand #160: Beckley vs. Blumenfield
Players left: 3
Blinds: 500,000/1,000,000
Ante: 150,000
Counts: McKeehen 139,425,000, Beckley 27,450,000, Blumenfield 25,775,000
A few orbits later Beckley had the button, and having picked up
chose to raise to 2.3 million. McKeehen tossed his hand away from the small blind, leaving the short stacks to battle. Blumenfield then reraised from the big blind to 6 million even, and with 9.25 million in the middle the action was back on Beckley.
Beckley actually only took a few seconds on this decision, quickly announcing he was pushing all in. Blumenfield — covered by Beckley to start the hand — didn't react immediately, but after a short pause ditched his
.
Hand #162: Beckley vs. McKeehen
Just two hands later they were still three-handed when Beckley was at it again, this time challenging the chip leader.
Players left: 3
Blinds: 500,000/1,000,000
Ante: 150,000
Counts: McKeehen 143,175,000, Beckley 30,500,000, Blumenfield 18,975,000
Beckley started this hand with a raise from the small blind to 2.5 million, and with
McKeehen called from the BB. The flop came
, again giving McKeehen top pair of tens with an added gutshot draw this time. Beckley led for 1.9 million and McKeehen called, bringing the pot to 9.25 million.
The turn brought the
to pair the board, and Beckley was betting once again, this time 3.6 million. McKeehen thought a short while before calling. Pot 16.45 million.
The river was the
. Beckley didn't hesitate long before betting 6.2 million. Once again — as in the hand above with Blumenfield — McKeehen was sitting with a made hand and contemplating whether or not to call a third barrel from his opponent.
"I keep finding myself in this spot," said McKeehen to Beckley as he thought out loud about how to respond. At last he called, and Beckley turned over
for turned trips. It was an unlikely holding for Beckley given his preflop raise and firing of the flop, resulting in a rare instance of McKeehen having decided incorrectly.
Blumenfield would bust in third 10 hands later when his pocket deuces failed to catch up to Beckley's queens, then a dozen hands after that McKeehen's ace-ten outraced Beckley's pair of fours to give McKeehen the title.
$7,680,021 is one nice reward for the champion. We'll ask our favorite question one more time — if you're McKeehen, what do you do?
Want to stay atop all the latest in the poker world? If so, make sure to get PokerNews updates on your social media outlets. Follow us on Twitter and find us on both Facebook and Google+!