2015 WSOP on ESPN: Battle for Pots with McKeehen, Blumenfield, and Beckley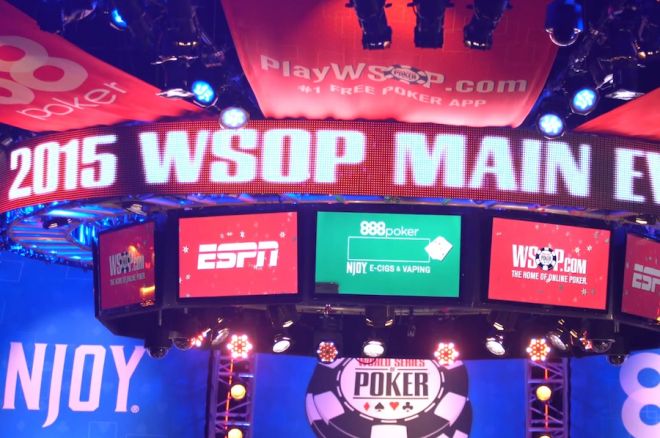 Last night's second act of the three-act 2015 World Series of Poker Main Event final table saw the six survivors from the 6,420 who entered the tournament play their way down to just three, with Joe McKeehen continuing to extend the chip lead he's enjoyed since back in July.
After having spent some time as chip leader earlier in the Main Event (including ending Day 4 in first position), McKeehen returned to the top of the leaderboard on Day 7, battling for a while with Pierre Neuville and Ofer Zvi Stern for the chip lead once they were down to two tables. Then after winning a big set-over-set hand to eliminate Justin Schwartz in 14th place, McKeehen retook the top spot where he has remained ever since.
With three left McKeehen returns for tonight's finale to a stack of 128,825,000 or almost exactly two-thirds of the remaining chips in play. That's more than three times the stack of Neil Blumenfield in second with 40,125,000, with Josh Beckley returning to try and spin up his 23,700,000.
Play on Monday began very much like the night before with a knockout on just the second hand. All in before the flop, Tom Cannuli unfortunately got his pocket aces cracked after Max Steinberg managed to flop a set with his pocket tens. Cannuli earned $1,440,072 for his finish, leaving the following prizes up for grabs for the other five:
| Place | Payout |
| --- | --- |
| 1 | $7,680,021 |
| 2 | $4,469,171 |
| 3 | $3,359,103 |
| 4 | $2,638,558 |
| 5 | $1,910,971 |
Five-handed play continued for a while, and it was more than two hours after Cannuli's bust that we pick up with the first of today's "What Would You Do?" hands, all of which involve the players forming the final trio.
Hand #115: McKeehen vs. Blumenfield
Players left: 5
Blinds: 400,000/800,000
Ante: 100,000
Avg. stack: 38.53 million
Blumenfield started this hand with just a shade under 24 million, good for third position of the remaining five, and after being dealt
under the gun he raised to 2 million. Though not as active as on Sunday when he frequently opened pots (especially early on) and three-bet before the flop more than anyone, Blumenfield nonetheless remained involved as the table got short-handed, raising in spots and with hands just like this one.
It folded to McKeehen in the big blind with more than 85 million (well ahead of Beckley in second with almost 50 million), and he called the raise. There was 4.9 million in the middle, then, when the flop came
. McKeehen checked, and with the nut-flush draw Blumenfield bet 2.5 million. The leader called, bringing the pot up to 9.9 million.
The turn brought the
adding a wheel draw for Blumenfield, and McKeehen rapped the table with his fist to check once more.
Blumenfield actually only spent a few seconds on this decision, deciding to check and see what the river brought. Fifth street was the
, and when McKeehen fired a hefty bet of 7.2 million, Blumenfield readily let his hand go. Watching on ESPN2, we saw McKeehen had himself flopped a flush draw, then rivered a full house with his
.
Hand #126: Beckley vs. McKeehen
Not too much later Stern was knocked out after his ace-jack failed to improve versus Blumenfield's ace-king, and they were down to four.
Players left: 4
Blinds: 400,000/800,000
Ante: 100,000
Avg. stack: 48.16 million
Having built his stack up over 95 million, McKeehen opened from the button with a min-raise to 1.6 million. It folded to Beckley in the big blind with just over 42 million, and after picking up
he decided to reraise to 4 million.
McKeehen took his time responding, staring across the table for several seconds before digging out a four-bet raise totaling 10.2 million.
If you followed the action at all last night or read about it today, you no doubt heard about this hand and so already know the results. You may also even be aware of all the discussion over Twitter and in the forums regarding Beckley's play here. What did you decide?
Beckley thought for about a minute-and-a-half, digging out chips at one point as he did, then finally decided to fold. Watching at home, we could see that like Blumenfield had earlier, Beckley had dodged potential trouble versus McKeehen as the latter held
.
The hand actually uncannily evoked another WSOP Main Event final table hand, one from 2006 involving eventual winner Jamie Gold and Richard Lee. That one also came about 120 hands into the final table, albeit with six players left. Like McKeehen, Gold enjoyed a big chip lead at the time, while Lee was second in chips — like Beckley — with a little less than half what Gold had.
In that one Gold limped from the cutoff, Lee raised from the small blind, then Gold reraised. After doing so, Gold stood up from his chair and as he often did engaged in table talk.
"You going all the way?" asked Gold. Very quickly Lee replied "All in" and Gold called immediately, turning over
. Lee had
, and five cards later Lee was out in sixth.
Worth noting in that hand, of course, was Gold's prior aggression and frequent showing of bluffs. Looking back at the stats from Day 1 of this year's November Nine, McKeehen, though very active, had three-bet before the flop three times (with
,
, and
) and four-bet just once (with
).
Meanwhile on Monday night in the 50-plus hands before this one McKeehen hadn't four-bet at all, and in fact had only three-bet before the flop once in a hand that occurred about an hour before this one. He had
.
Hand #135: Beckley vs. McKeehen
Okay, last one, from near the end of play last night. We'll play along with the big stack this time.
Players left: 4
Blinds: 400,000/800,000
Ante: 100,000
Avg. stack: 48.16 million
McKeehen (about a small blind away from 100 million) was dealt
under the gun and raised to 1.6 million, then watched Beckley (in third with just over 38 million) defend his big blind with a call.
The flop came single-suited —
— after which both players checked. Another heart came on the turn, the
. At that Beckley fired 2.3 million and McKeehen chose to call. Pot 9 million.
The river brought the
. Beckley paused for about a half-minute, then gathered chips for a bet of 3.9 million.
"That's a good-sized bet regardless of what you have," said McKeehen as he took more than a minute deciding how to respond.
McKeehen called, and collected the pot after Beckley showed
. Eight hands later Steinberg would run ace-jack into McKeehen's ace-queen to finish fourth, concluding play for the night.
The final act comes tonight, with delayed coverage starting at 9:30 p.m. ET on ESPN. Meanwhile for more on hands from last night's play, check out the "2015 WSOP Main Event 888 Hand of the Day: Team 888poker Scores Final Two Knockouts."
Want to stay atop all the latest in the poker world? If so, make sure to get PokerNews updates on your social media outlets. Follow us on Twitter and find us on both Facebook and Google+!