2015 WSOP on ESPN: Call or Fold? Check or Bet? The November Nine Begins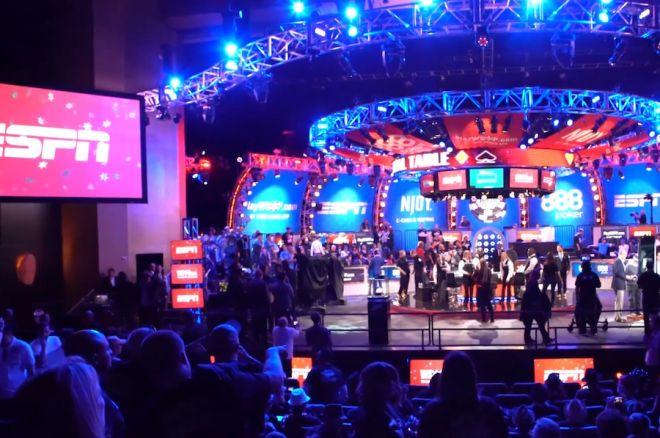 The first of what will be a three-day final table for the 2015 World Series of Poker Main Event played out last night with chip leader Joe McKeehen increasing his stack while eliminating three more players — making five knockouts in a row for McKeehen dating back to July. Just six remain from the 6,420 who started the $10,000 buy-in tournament, with McKeehen now sitting with a huge stack of 91.45 million or just over 47% of the chips in play.
If you watched the coverage last night on ESPN and ESPN2, you no doubt took note of the relatively slow pace of play, with only 72 hands playing out over the course of more than five hours. With the table being shown on a half-hour delay, hole cards of players voluntarily entering pots were displayed, allowing viewers to see instantly how players' hands compared which no doubt can affect judgments of their checks, bets, raises, and folds.
For example, when on Hand #4 eventual seventh-place finisher Pierre Neuville chose to fold
after raising from under the gun and then watching Neil Blumenfield reraise from the small blind, we could see Neuville potentially escaped difficulty as Blumenfield held
. (Or missed a set-mining opportunity.)
Seeing the hole cards we also knew that when the short-stacked Federico Butteroni later open-pushed for just under 6.5 big blinds from the cutoff and Neuville chose to fold
from the big blind to preserve his own stack of about 35 BBs, he would have had the preflop edge versus Butteroni's
.
But as long as we're going to engage in Monday morning quarterbacking, let's try to do so without knowledge of what two cards our opponents are holding. Here are three hands from last night that presented some not-so-simple decisions for the November Niners. How would you play them?
A reminder of the final table payouts:
| Place | Payout |
| --- | --- |
| 1 | $7,680,021 |
| 2 | $4,469,171 |
| 3 | $3,359,103 |
| 4 | $2,638,558 |
| 5 | $1,910,971 |
| 6 | $1,440,072 |
| 7 | $1,203,193 |
| 8 | $1,097,008 |
| 9 | $1,001,020 |
Hand #2: Chan vs. McKeehen
After Max Steinberg enjoyed a raise-and-take on the night's first hand, Patrick Chan — ninth of nine with just 5.775 million left before posting the small blind and ante — swiftly faced a decision for his tournament life.
Players left: 9
Blinds: 200,000/400,000
Ante: 50,000
Avg. stack: 21.4 million
The table folded around to McKeehen on the button sitting behind his leading stack of 62.85 million, and after checking his cards the chip leader unhesitatingly announced he was all in. Chan sat with his arms folded for a few moments, having already seen he had been dealt
while noting Butteroni (with 6.15 million) left to act on his right.
Chan decided to call, committing his stack of just over 11.5 BBs. After Butteroni folded, McKeehen tabled
, and when the community cards missed both players, Chan was out in ninth.
Hand #20: Blumenfield vs. Stern
After a couple more orbits there were still eight players left when a blind-versus-blind battle arose between Blumenfield and Ofer Zvi Stern.
Players left: 8
Blinds: 250,000/500,000
Ante: 50,000
Avg. stack: 24.1 million
Action folded to Blumenfield in the small blind who had 27,225,000 to start the hand, putting him in a distant second behind McKeehen in the counts. After raising or reraising six times in the night's first two orbits (winning five of those hands), Blumenfield looked down at
and decided to raise again, this time for 1.2 million. With 25 million to begin the hand, Stern looked at his cards and called, making the pot 2.8 million.
The flop came
, giving Blumenfield a flush draw. He fired a continuation bet of 1.5 million, and Stern called. With pot at 5.8 million, the turn brought the
, adding an open-ended straight draw for Blumenfield. He bet again, this time 3.3 million, and after pausing as usual Stern called again. Pot 12.4 million.
The river was the
, not filling either draw for Blumenfield while giving him bottom pair. He sat quietly in thought beneath his fedora and behind his mirrored sunglasses.
As Antonio Esfandiari pointed out on the commentary, Blumenfield's betting had represented the possibility he held an ace and thus had completed a wheel on that river. But betting such a hand would be potentially dangerous given that Stern could certainly have a six. Blumenfield opted to check, and Stern checked behind, showing that he, too, saw no value in betting that river despite having two pair with
.
Fifteen hands later McKeehen finally ousted Butteroni in eighth in a hand that resembled the Chan knockout, with McKeehen open-pushing from the button and Butteroni calling off from the small blind. Butteroni had
, but unfortunately for him McKeehen had better this time than in the earlier hand with Chan as he showed
. With no help from the board, Butteroni was out in eighth.
Hand #48: Blumenfield vs. Neuville
With seven left Neuville would lose a chunk to Tom Cannuli in a hand that saw the latter turn a flush then Neuville river a Broadway straight, with the 72-year-old Belgian paying off a river value bet from the 23-year-old from New Jersey.
A couple of orbits after that hand, Neuville was still sitting in fifth position out of seven when he became involved in a hand with the 61-year-old across the table from him then in third, Blumenfield. We'll again play along with Blumenfield in this one.
Players left: 7
Blinds: 250,000/500,000
Ante: 50,000
Avg. stack: 27.5 million
It was the last hand of the level. Blumenfield had almost 27.5 million to start the hand, and after being dealt
under the gun put in a raise to 1.2 million. It folded around to Neuville in the hijack seat who called the raise — only the second hand he'd voluntarily played since losing the one to Cannuli (the other being a blind defense/fold on the flop).
There was 3.5 million in the middle when the flop came
, giving Blumenfield a set. He chose to lead with a bet of 1.6 million, and Neuville called. The turn then brought the
, improving Blumenfield to a full house. He checked this time, and Neuville checked behind.
With 6.7 million in the pot, the river brought the
.
While Esfandiari petitioned for a check-raise, we saw Blumenfield choose to fire a bet of 4 million, and after some deliberation Neuville called and showed
for kings and queens. Blumenfield had earned a lot of value and collected a handsome-sized pot, while Neuville tumbled to seventh in the counts and would be knocked out a couple of hours later in seventh.
Speaking of taking someone to "value town," check out as well one other hand from yesterday in the "2015 WSOP Main Event 888 Hand of the Day: McKeehen Takes Stern To Value Town."
The remaining six players return tonight to continue the final table, with delayed coverage starting at 8:00 p.m. ET on ESPN2.
Want to stay atop all the latest in the poker world? If so, make sure to get PokerNews updates on your social media outlets. Follow us on Twitter and find us on both Facebook and Google+!