2015 WSOP on ESPN: Nearing the November Nine, What Would You Do?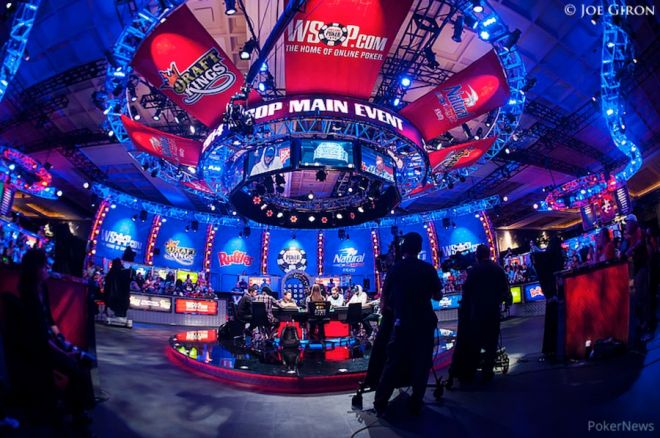 Coverage of the 2015 World Series of Poker Main Event continued this week on ESPN, with the November Nine now less than two weeks away.
This week's two-and-a-half hours' worth of episodes covered the first half of Day 7, carrying the action down from 27 players to just 15. A theme throughout for those with knowledge of who made the final table were the repeated instances of those players being all in and at risk of elimination.
No less than five of the eventual November Niners were shown surviving with double-ups this week, always in preflop all-in situations:
Federico Butteroni doubled with pocket queens versus ace-king
Max Steinberg's pocket aces held up against pocket eights
Josh Beckley doubled up on two different occasions
Neil Blumenfield picked up and on consecutive hands, doubling both times
and Tom Cannuli doubled with ace-king versus ace-nine
Meawhile there were a number of other hands featured that involved players facing some not-so-simple decisions. Here are three of them — play along and decide what you might have chosen to do if faced with these spots on poker's biggest stage.
Hand #1: Negreanu vs. Cannuli
We featured a hand between these two last week, and they were back on the feature table battling again this time around.
Players left: 23
Blinds: 80,000/160,000
Ante: 20,000
Avg. stack: 8.37 million
Daniel Negreanu had just over 8.5 million to start the hand, and he opened the action with a raise to 350,000 from middle position. It folded to Tom Cannuli in the cutoff seat who was sitting behind a stack of just under 10 million, and he looked down at
. Cannuli chose to three-bet to 950,000, and when it folded back to Negreanu he called.
With 2.3 million in the middle, the flop came
, giving Cannuli top pair, top kicker. Negreanu checked, and after Cannuli bet 675,000, Negreanu called. The turn brought the
, and Negreanu checked again. This time Cannuli chose to check behind. Pot 3.65 million.
The river was the
. Negreanu checked once more.
Cannuli thought a moment, then decided to fire 1.2 million. That sent Negreanu deep into the tank, and while there he ruled out various hands for Cannuli, one by one.
"I don't think you have ace-queen," he said, eyeing the
board. "I don't think you have three jacks. You don't have three tens. You don't have three kings. What am I worried about then?"
Negreanu also mentioned ace-king as unlikely for Cannuli, perhaps because of that turn check. In any event he finally did call the bet, paying off Cannuli with his
.
"Would have been sick getting all in preflop," said Cannuli as he stacked his chips. Negreanu grinned in response.
"I don't do that kind of stuff," Negreanu chuckled.
Hand #2: Neuville vs. Sequeira
Following a couple more bustouts, an interesting blind-versus-blind hand was shown involving Pierre Neuville and Mario Sequeira
Players left: 21
Blinds: 100,000/200,000
Ante: 30,000
Avg. stack: 9.17 million
The short-handed table folded around to Neuville in the small blind who raised to 475,000. Neuville had about 12.8 million to start the hand.
In the big blind was Sequeira, who began with about 9.75 million, and he'd been dealt
. He chose to reraise to 1.2 million, then Neuville calmly four-bet to 2.675 million.
Let's stop here and ask a first question.
Sequiera decided just to call, creating a pot of 5.56 million, and the flop came
. Neuville rechecked his cards, then bet 2.95 million. That meant there was just over 8.5 million in the middle, and Sequiera had 6.765 million behind.
Sequiera decided to push all in, and after some deliberation Neuville finally called the raise, turning over
! Sequiera was drawing thin, and when the turn and river both brought tens he was sent to the rail in 21st for a $262,574.
Later we learned that after the hand Neuville talked about his preflop play with Kara Scott of ESPN, to whom he claimed it had been "the first four-bet of his life." Whether true or not, the rarity of the play may well have encouraged Sequiera to call rather than reraise again preflop. And of course (continuing with these what-ifs), a five-bet there might have helped him avoid the trouble that followed.
Hand #3: Negreanu vs. McKeehen
Speaking of four-betting, probably the most dramatic hand of this week's episodes came near the end, one that started out involving Matt Guan but eventually was left to just Negreanu and Joe McKeehen.
Players left: 16
Blinds: 100,000/200,000
Ante: 30,000
Avg. stack: 9.17 million
Following an early-position raise to 400,000 by Guan, it folded to McKeehen in middle position who put in a reraise to 1.125 million. Action folded around to Negreanu in the big blind who looked down at
, and he decided to put in a four-bet to 2.6 million.
Guan swiftly tossed away his hand (pocket sixes), and after looking across the table at Negreanu for a few moments, McKeehen announced he was pushing all in. The total bet was for 9.81 million — not quite the 10.69 million Negreanu had left behind.
"You know I don't usually do that right?" said Negreanu as he began to think about what to do. Like Neuville had claimed to Kara Scott, Negreanu was pointing out how his preflop four-bet wasn't such a common play by him.
There's certainly something less than fair about asking "What would you do?" in these situations, given how we're isolating them — much like the ESPN coverage highlights only a small sample of the total hands played.
Still, it's a fun game to play...
As he talked about the hand, Negreanu surmised out loud that many players might lean toward calling here with ace-king. (Did you?)
"I think most people would have already given you your money," said Negreanu. "But I'm probably not, because I think you have a very, very, very, very, very, very, very, very good hand. Like the best possible hand."
Negreanu talked and tanked some more, then finally let his hand go — reminding us again of what he had said earlier about preflop all-ins ("I don't do that kind of stuff"). And indeed, McKeehen did have the best possible hand —
.
That hand would help McKeehen move into first position with 15 players left as the night's coverage ended.
Just one more week's worth of shows to go before the final table!
Want to stay atop all the latest in the poker world? If so, make sure to get PokerNews updates on your social media outlets. Follow us on Twitter and find us on both Facebook and Google+!