2015 WSOP on ESPN: Leader Joe McKeehen Pressures, How Do You Respond?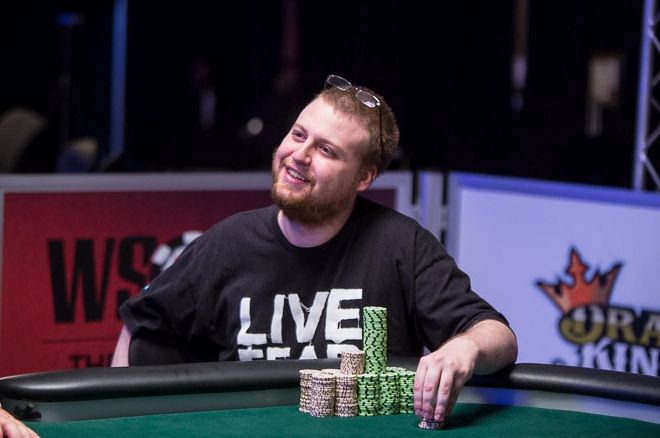 This week came the last pre-November Nine episodes from ESPN's coverage of the 2015 World Series of Poker Main Event. The shows have now set the stage for the start-to-finish coverage of the final table that begins this Sunday.
From a starting field of 6,420 players just 15 were left at the start of this week's episodes. A couple of themes ran through most of the two-and-a-half hours — Joe McKeehen amassing a huge stack to end Day 7 and Daniel Negreanu trying to hang on with below-average chips to make the final nine.
In this last installment of our "what-would-you-do"-style game from this year's WSOP Main Event, we're highlighting three Day 7 hands involving McKeehen and shorter-stacked players, all of whom were of course at risk in hands against him.
Hand #1: Turansky vs. Schwartz vs. McKeehen
Players left: 14
Blinds: 120,000/240,000
Ante: 40,000
Avg. stack: 13.76 million
After Tom Kearney was shown falling in 15th ($411,453) in a hand versus Tom Cannuli from the outer table, the focus shifted back to the seven-handed feature table.
Justin Schwartz had about 10.2 million to start the hand, and he limped in from the hijack seat. Alexander Turyansky then looked down at
from a seat over. He had almost 12.8 mlllion to begin, and he chose to raise to 650,000.
The action moved to McKeehen sitting on Turyansky's left behind the button and his leading stack of close to 26 million. McKeehen also called. The blinds then folded, and Schwartz called the additional 410,000, making the pot 2.59 million total when the flop came
.
Schwartz checked, and with his big overpair Turyansky continued with a bet of 700,000. McKeehen called, then Schwartz pushed all in for just over 9.5 million.
The pot was up to just over 13.5 million with Schwartz's shove. Turyansky had a little under 11.5 million behind, with McKeehen still to act after him.
Turyansky sat with his arms folded in thought for a short while before finally deciding to push his cards to the dealer. He was likely very glad he did when he heard McKeehen instantly announce "call" in response.
As it happened, both of Turyansky's opponents had outflopped him as Schwartz had
(set of treys) and McKeehen
(set of sixes). The turn and river failed to bring Schwartz a one-outer, and he unluckily finished 14th ($411,453).
"Daniel, do you fold queens there?" asked Turyansky of Negreanu afterwards. "I don't know, man," answered Negreanu. "That's a great fold."
"I guess with a guy behind you," Negreanu continued, referring to McKeehen. "But I mean he just has a flush draw a lot."
Upon learning what Turyansky folded, McKeehen was likewise impressed.
"You folded queens? That blows my mind," said McKeehen to Turyansky. "Did you put him on better?" he asked, referring to the departed Schwartz.
"I was really scared of you," responded Turyansky.
Having boosted his stack up close to 38 million after the hand — nearly twice what his nearest challengers then had — others had reason to fear McKeehen going forward as well.
Hand #2: Negreanu vs. McKeehen
That said, the very next hand at the feature table found McKeehen min-raising from middle position and Negreanu choosing to call from the big blind with
.
"Take on the guy running hot," grinned Negreanu who had about 6.7 million to start the hand. "Why not?"
Players left: 14
Blinds: 120,000/240,000
Ante: 40,000
Avg. stack: 13.76 million
There was 1.44 million in the middle as the flop came
, giving Negreanu top pair. He checked, McKeehen bet 525,000, and Negreanu called. The turn then brought the
and another check from Negreanu. This time McKeehen bet 1.35 million.
Negreanu thought a bit, then called again, leaving himself about 4.3 million behind. The pot was up to 5.19 million.
The river was the
. Negreanu checked a third time, and McKeehen fired yet another barrel, this one worth 2 million.
That sent Negreanu into the tank, talking as usual as he pondered what to do.
"Can't have it every time, dude," said Negreanu to McKeehen as he studied. Finally he decided to call, saying "must pay" as he did. "Kings," said McKeehen as he turned over
, and Negreanu shook his head, having been knocked down to 2.31 million and 14th of 14 after the hand.
"Back to the drawing board," he shrugged.
Hand #3: Beckley vs. McKeehen
Matt Guan was subsequently knocked out in 13th ($411,453) after running queens into the aces of Federico Butteroni.
Then George McDonald also lost with
after calling an all-in four-bet shove from Zvi Stern who held
. Stern drew a flush, and McDonald's run ended in 12th ($526,778).
From there McKeehen was shown to be involved in nearly every hand at the feature table, now playing just five-handed. McKeehen had built his stack up over 44 million when the following hand took place.
Players left: 11
Blinds: 150,000/300,000
Ante: 50,000
Avg. stack: 17.51 million
Josh Beckley, with about 11.2 million to begin, looked down at
in middle position and raised to 675,000. It folded to McKeehen in the small blind who reraised to 1.85 million.
Butteroni then folded pocket eights in the big blind, not wanting to risk getting involved after the leader's three-bet. Like others, Butteroni was perhaps mindful of the extreme pay jumps in play, as 11th paid $526,778 (the same as 12th), 10th paid $756,897, and making the final nine guaranteed at least $1,001,020.
Beckley called McKeehen's reraise, making the pot 4.25 million. The flop came
, giving Beckley kings and queens, and he watched McKeehen lead for 1.15 million. Beckley called.
The turn was the
. McKeehen bet again, this time 2.7 million. The pot was up to 9.25 million, and Beckley had 8.15 million behind.
Beckley chose to let his hand go, and since we knew McKeehen's hole cards —
— we could see Beckley had folded the best hand.
A few hands later came Negreanu's dramatic final hand, with McKeehen again involved. Click here to read all about Kid Poker's exciting Day 7 and 11th-place finish ($526,778).
After making that big fold earlier with his queens, Turyansky would then be the one to exit in 10th ($756,897) when his ace-king couldn't top McKeehen's pocket queens, giving the latter a stack of 63.1 million or just under a third of the total chips in play to begin the final table.
As mentioned, ESPN's coverage of the final table from the Rio All-Suite Hotel and Casino begins on Sunday, November 8. Three days have been reserved to play down to the winner who will be claiming a $7,680,021 first prize. Here's the schedule:
| Date | Time | Network | Schedule |
| --- | --- | --- | --- |
| Sunday, November 8 | 8:30 p.m. to 11:00 p.m. | ESPN | Start of final table |
| Sunday, November 8 | 11:00 p.m. to ? | ESPN2 | Play stops when 4 players remain |
| Monday, November 9 | 8:00 p.m. to ? | ESPN2 | Play stops when 2 players remain |
| Tuesday, November 10 | 9:30 p.m. to ? | ESPN | Play down to winner |
Want to stay atop all the latest in the poker world? If so, make sure to get PokerNews updates on your social media outlets. Follow us on Twitter and find us on both Facebook and Google+!