2015 WSOP on ESPN: Pick Your Spots and Play Along with Max Steinberg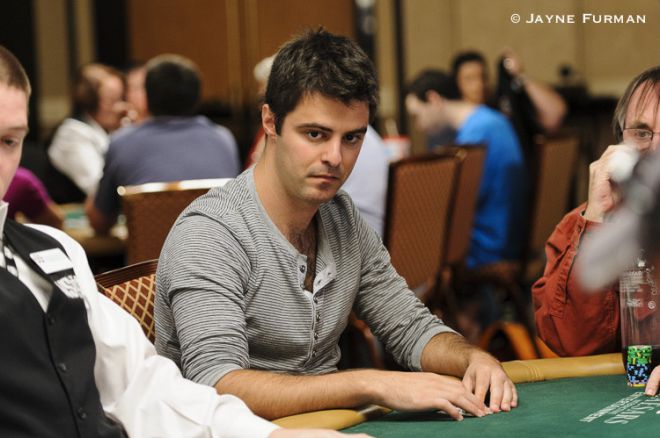 This week ESPN provided us another two-and-a-half hours' worth of coverage from the 2015 World Series of Poker Main Event, picking up the action at the start of Day 6 when just 69 players remained from the 6,420 who began the $10,000 buy-in tournament.
While a lot of preflop all-ins were shown, there was plenty of postflop play featured as well as the field was carved down to 46 players. When play began on Day 6 the average stack of almost 2.8 million represented more than 55 big blinds, and with two-hour levels there was plenty of room for multi-street gamesmanship — usually the case at the slow-structured Main Event.
As Jeff Platt noted in his bustout interview after finishing in 60th, long levels and deep stacks mean "you don't have to push the panic button in this tournament, because it's the greatest poker tournament in the world."
Several interesting hands involving deep finishers Kelly Minkin, Anton Morgenstern, Justin Schwartz, Jake Toole, and Daniel Negreanu highlighted the coverage, with November Niners Tom Cannuli and Josh Beckley also getting a decent amount of airtime.
This week, though, we're focusing on a couple of hands involving another player who made it to next month's final table, Max Steinberg, both of which featured Steinberg up against multiple opponents after the flop.
The first came relatively early in the coverage when there were still just over 60 left in the field — just before Platt's knockout, in fact. It was preceded by a soundbite from Steinberg who similarly referenced the importance of patience in the WSOP Main Event.
"A lot of people, they get a big stack and it's like the green light to get crazy," explained Steinberg who has nearly $3 million in live tournament cashes to his credit, including a WSOP bracelet and a 131st-place finish in the 2013 WSOP Main.
"I think that just isn't the right thing in this situation," he continued. "You can pick your spots, but if you stay tight you can ensure you progress farther and farther in this tournament. I have plenty of chips."
Indeed, at the time of this hand Steinberg had a big stack of 4.3 million. The blinds were 25,000/50,000 with a 5,000 ante, and action began with Steinberg making a just-over-3x open to 155,000 from middle position with
.
It folded to Daniel Negreanu on the button with about 3.1 million, and he called the raise. Amar Anand had about 3.7 million to start the hand, and he called as well from the big blind.
With 530,000 in the middle, the flop came
to give Steinberg middle pair. Both Anand and Steinberg checked, then Negreanu bet 230,000. Anand called from the small blind, making the pot just under 1 million.
The action was back on Steinberg, sitting in between Negreanu, the world's winningest tournament poker player with more than $30 million in live earnings, and the amateur Anand with a single $750 cash to his credit previously.
Much as he'd just described, Steinberg here picked a spot and chose to check-raise to 675,000.
That quickly chased Negreanu who folded his
. Anand took a little longer before folding as well, pitching his
for an open-ended straight draw into the muck, and Steinberg collected the pot.
While Steinberg did flop best of the trio here, the combination of his preflop initiative and having both opponents outchipped additionally served him well.
Later on during the final hour of this week's coverage another three-way hand arose involving Anand and Steinberg, with Justin Schwartz the third player this time.
There were 55 players left, with the blinds having increased by then to 30,000/60,000 with a 10,000 ante. Anand opened the action with a raise from middle position to 150,000, and after looking down at
in the small blind Steinberg — with about 5 million to start the hand — chose to call.
Schwartz was sitting to Schwartz's left in the big blind with just under 3.3 million, and he called as well, making the pot 530,000.
The flop came
to give Steinberg top pair, and he chose to lead out with a bet of 175,000. Schwartz called and Anand (who had pocket fives) stepped aside.
There was 880,000 in the middle, and the turn brought the
. Steinberg led again for 175,000 with his pair of aces. Acting with deliberation, Schwartz eventually put in a raise to 550,000.
Steinberg again had a decision to make.
This time Steinberg studied the board for a moment, then elected to fold his hand. "Should I show one?" asked Schwartz, who eventually turned over the
. His other card was the
, meaning he'd flopped second pair and turned the nut flush draw.
Announcer Lon McEachern expressed surprise at the fold, but this time Steinberg chose not to challenge for a postflop pot. What did you decide to do, and why?
Want to stay atop all the latest in the poker world? If so, make sure to get PokerNews updates on your social media outlets. Follow us on Twitter and find us on both Facebook and Google+!