2015 WSOP Europe 888 Hand of the Day: Shaun Deeb Runs Good, Plays Better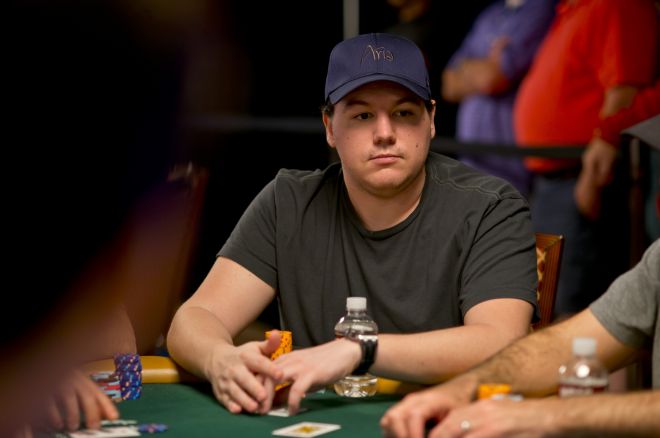 The 2015 World Series of Poker Europe continued in Berlin, Germany, Sunday with Day 2 of Event #2: €550 "Oktoberfest" No-Limit Hold'em.
PokerNews was on hand for all the action and will be in Berlin for the duration of the 17-day series. As a part of our coverage, that is brought to you by 888poker, we will be bringing readers a special "888 Hand of the Day" every single day throughout the entire WSOP Europe schedule.
On Sunday, 173 players remained in Event #2 and they were already in the money when play began. 2015 WSOP bracelet winner and online poker legend Shaun Deeb came in stacked and by the time the field was whittled in half, he took a healthy chip lead.
Deeb got some separation from the field setting a trap with a big hand in the event's 17th level and wound up earning 888 Hand of the Day honors to go with the six-figure pot.
The hand began with blinds at 2,000/4,000 with a 500-chip ante and Deeb sitting on 350,000. The player under the gun min-raised to 8,000 and Deeb looked down at
just a couple chairs to his left.
"I decide to just call with queens," he told PokerNews. "I had a lot of chips. He had just moved to the table and he had a lot of chips. I had flatted him before and folded to a two-barrel on the turn, so I wanted to flat a little bit stronger hand here.
"There were also some aggressive players at my table. The guy to my left had 250,000. The guy to his left had 120,000 and was very aggro. Plus, the small had 27,500 and the big blind had 41,500. They can very easily shove there and under the gun is in a spot where he might call or even re-shove with a hand that's worse than my queens."
Deeb had his mind on a making this a big pot, but experience told him the other players at the table might be willing to build it for him.
"It's a really a good spot to flat some of my bigger pairs," he explained. "It's a part of balance. You have to flat some of your big hands. Plus, with no history, if I three-bet there he won't really be expecting me to have a really wide range."
The player on the button called as well before the small blind shoved for 27,500 and Deeb's plan appeared to be working. Then the big blind re-shoved for 41,500.
"I was kind of disappointed with that, because that kind of took under the gun out of it," he said. "I want to play a 400,000 pot here. If the big blind folds, then under the gun is probably calling, re-popping to like 60,000 or even re-shoving because he doesn't think I have much."
Eventually the player under the gun passed and Deeb himself pushed all in.
"I just don't think calling there is ever reasonable," he said. "The button is never continuing, I've just got to shut him out."
The button let it go and the small blind turned over
. The big blind held
and Deeb held easily on a
run out.
"In the end I won a 100,000 chips where if I three-bet or took a different line I might have won a much smaller pot," Deeb said.
"Sometimes I decide to three-bet there and sometimes I just call. I just felt with with the flow of the game I wanted to call this guy because he might bluff a little too much post-flop and I also figured there was a chance there would be more action preflop because it was an aggressive table. There had been a lot of calls, a lot of three-bets, and I was ready for it."
The added chips pushed Deeb up around the 450,000-chip mark, gave him the 888 Hand of the Day and in put him in command of the tournament now deep into the money.
"It's still a long way to go," he said. " But I have about three or four percent of the chips in play, which is a lot of chips to have right now. My table is stacked and I have a good image. Everyone seems to think I'm better than them, which isn't necessarily true, because I'm very rusty these days.
"But I have a good image, I can get my steals through and I have a feel for who is playing loose and who is playing tight at the table right now, so I'm just going to try to keep accumulating."
Accumulating chips and accumulating titles appears to have come easy for the venerable Deeb over the past 12 months.
"It has been a really good year," he said. "I haven't played that much volume, but I've been very lucky that in the few times I have gone to a stop I've had a lot of success."
Be sure to stay tuned to PokerNews.com from now until Oct. 24 as we continue to provide coverage from the 2015 WSOP Europe.
Want to stay atop all the latest in the poker world? If so, make sure to get PokerNews updates on your social media outlets. Follow us on Twitter and find us on both Facebook and Google+!