2015 WSOP on ESPN: Daniel Negreanu Turns the Nuts -- Call or Reraise?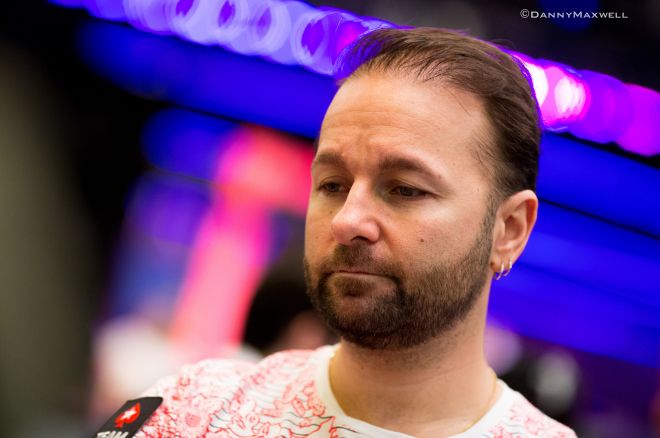 Last night ESPN continued with two more hours' worth of coverage of the 2015 World Series of Poker Main Event, showing the latter half of Day 4 during which the field shrunk further down to just 237 players at night's end.
Among the highlights of the first hour were a couple of intriguing hands involving Fatima Moreira de Melo, as well as more action from a feature table at which Daniel Negreanu was often in the spotlight.
Hour two then began with two different hands involving players flopping sets, then reaching fifth street versus opponents who had rivered top two pair. In one Jake Cody was paid off handsomely, while in the other Heinz Kamutzki folded his set to the lesser hand after being convinced he was beat.
There were other interesting decisions on display in the highlighted hands, including one between eventual November Niner Josh Beckley and 14th-place finisher Justin Schwartz. Today, though, we'll highlight another hand involving Negreanu, a somewhat crucial one that helped the all-time leader in tournament earnings boost his stack well above the average as Day 4 drew to a close.
The hand was set up with a short interview segment with Negreanu regarding his favored "small ball" tournament strategy of pot control and avoiding unnecessary risks. "It works really well, especially in the Main Event," explained Negreanu. "I'm going to let my opponents make the big mistakes, and hope to capitalize off that."
With the blinds at 5,000/10,000 with a 1,000 ante, the hand started with Ryan D'Angelo opening for 22,000 from under the gun. It folded all of the way around to Negreanu in the small blind who after looking down at
called the raise, then watched Fernando Perez sitting next to him in the big blind call as well.
Chip stacks before the hand weren't noted by ESPN, but Negreanu had the biggest of the three, having Perez covered by a little while D'Angelo was considerably shorter-stacked than his two opponents.
With 74,000 in the middle, the flop came
, giving Negreanu the nut flush draw. Negreanu chose to check, with commentator Norman Chad noting that his decision not to "donk bet" fit with his usual "small ball" approach. Both Perez and D'Angelo checked as well.
The turn then brought the
, completing Negreanu's flush. This time he led with a bet of 35,000, and Perez chose to raise to 105,000, forcing a fold from D'Angelo.
The action back on Negreanu, Chad spoke up again.
"Daniel has three options," said Chad. "Call, raise, or fold."
"Fold?!" answered Lon McEachern, prompting Chad to joke about how doing so would be an "avant-garde" play.
Negreanu did face a decision, however — either to call Perez's raise or to reraise back. He knows he's beating anything Perez might have, and Perez's range has to be considered quite wide given that he originally came along from the big blind then had shown no strength until raising the turn.
With the nuts it certainly makes sense to keep building a pot here, but calling might keep a lesser hand on the hook for another street.
Negreanu chose the latter, making it 250,000 to go. With 429,000 now in the middle, Perez needed to call 145,000 to stay in the hand.
We'll reveal Perez's cards now —
for a turned two pair. Now move over into Perez's seat, try to ignore what Negreanu has, and read Negreanu's actions and what they suggest about the value of your bottom two pair. Perez faced a decision.
Perez called, making the total pot 574,000, and when the river came a blank for both — the
— Negreanu promptly pushed all in, a bet described as being for 359,000 (which appeared to represent what Perez had left — i.e., the effective bet).
As noted, Perez was slightly covered by Negreanu, and while he took some time thinking it over, he finally exhaled and folded, noting he believed Negreanu had the spades.
That hand took Negreanu up close to 1.2 million, and he'd chip up a little further to finish Day 4 just outside the top 30 in chips with 237 left while Perez would end the night as one of the shortest stacks.
Want to stay atop all the latest in the poker world? If so, make sure to get PokerNews updates on your social media outlets. Follow us on Twitter and find us on both Facebook and Google+!