2015 WSOP on ESPN: Watching Phil Hellmuth or "The Master at Work"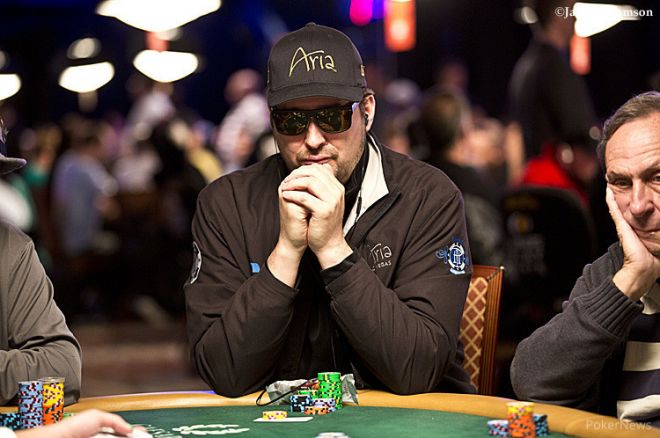 As you probably heard, the first episodes of this year's 2015 World Series of Poker aired on ESPN last night, with the action begin picked up at the start of Day 4.
The first hour began with some table talk at the feature table between Phil Hellmuth and Mukul Pahuja concerning the difference between the chips one deserves and the chips one actually has. Soon after that an interesting multi-way hand developed involving Hellmuth that concluded with the "Poker Brat" again talking about what might have been versus what actually happened.
Here's the hand… play along with Hellmuth here, then vote below on what you would do in his spot.
Day 4 began with 661 players left from the starting field of 6,420. The money bubble had burst the previous day — remember, the top 1,000 players cashed this year — although as the day began they were still amid the min-cashes of $15,000. In fact, almost a couple of hundred more would have to fall before those cashing would be earning more than twice the $10K buy-in.
The blinds were 2,500/5,000 with a 500 ante. Mike Cloud, sitting with a below average stack of just over 100,000, opened with a middle-position raise to 11,000 with
. It folded to Jae Kim in the cutoff seat who had been dealt
. Kim, who had about 290,000 to start the hand, called the raise.
Playing from the button, Hellmuth looked down at
and also decided to call, leaving himself 113,500 behind. Richard Barabino, with about 400,000, decided to stick around as well from the big blind with
.
With 51,000 in the middle, the flop came
, providing flush draws both to Kim and Hellmuth. It checked all of the way around to Hellmuth who after pausing a few moments announced he was pushing all in.
Barabino swiftly discarded his hand, and after taking a little more time Cloud got out as well. The action was on Kim, who looked at Hellmuth on his left.
"How mad would you be if I just called with a naked flush draw and overs?" Kim asked of the 14-time bracelet winner.
"He'd be ecstatic until you somehow beat him" quipped Norman Chad on the commentary. "Then the wrath of the world would come down on you."
Hellmuth remained silent.
"You're a legend," continued Kim. "You wouldn't just shove queen-jack like that, would you?" Again, Hellmuth offered no response. "You wouldn't shove a straight, either," said Kim, now clearly talking mostly to himself.
Finally Kim pushed his cards toward the dealer to fold, at which point Hellmuth suddenly began to speak.
"No, no... give him his hand back!" said Hellmuth. "What does he have, the king-queen of diamonds?" he added.
Hellmuth's precise read of Kim's hand was obviously aided by Kim's having spoken of "a naked flush draw and overs" before folding. More impressive was a later hand shown between the pair in which Hellmuth, holding
and looking at a board of
, preceded a river bet by saying to Kim "I think you might have pocket eights or pocket tens here."
On that hand, Kim held
. "You called my hand pretty correctly," said Kim in that one as Hellmuth continued to talk, encouraging Kim to fold. "Man, I wish I'd watched more TV footage of you," Kim goes on to say. "I should have watched more of the master at work. I'm not sure what all this means."
Finally Kim folded, saying "Yeah, you called my hand. I'm out" as he did.
Returning to the earlier hand in which Hellmuth's shove had gone uncalled, after it was done he circled back once more to that question of the difference between the actual and the imagined.
Noting that he'd had an ace-high flush draw, Hellmuth lamented Kim's having folded. "You were just dead," he said through a grimace. "Why didn't you put it in? You were supposed to call there. Oh, my God."
Then, after having contemplated what would have happened if Kim had acted differently, Hellmuth reconsidered his own decision to push all in.
"I could just check," he said. "Diamond pops off... I'm doubled up."
Down to just under 23 big blinds, Hellmuth's flop shove with the nut-flush draw (into three opponents, all of whom had checked) was for a little more than twice the pot. Following "the master" and his own second-guessing of the play…
Want to stay atop all the latest in the poker world? If so, make sure to get PokerNews updates on your social media outlets. Follow us on Twitter and find us on both Facebook and Google+!