2015 WSOP on ESPN: Negreanu and November Niners Playing Trouble Hands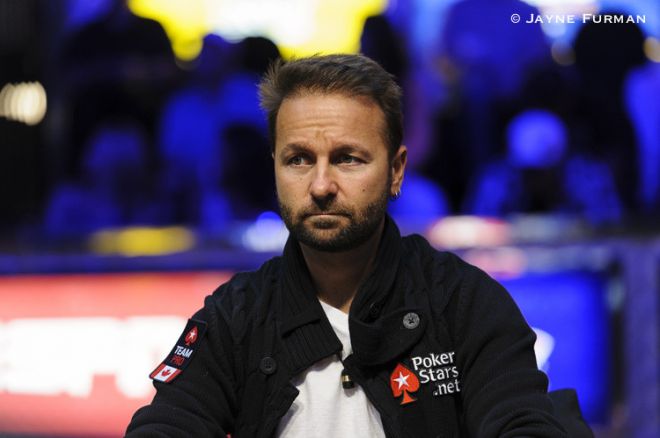 This week ESPN carried viewers through the last part of Day 6 of the 2015 World Series of Poker Main Event, sharing highlights of the action as they played down from 45 players to just 27.
There were 40 hands shown this week, with a couple of them — the first and the last — featuring the November Nine member who'll be starting the final table with the chip lead, Joe McKeehen.
The first saw McKeehen dramatically survive a preflop all-in with
versus fellow November Niner Josh Beckley's
. The board ran out
, that river ten making Broadway for McKeehen to save him from finishing 45th.
Then in the final hand shown McKeehen used that very same
to best Andrew Moreno's
, knocking out the latter in 28th place for a $211,821 cash. That neatly bookended the week's coverage while pushing McKeehen up into the top five to begin Day 7.
Here are three more interesting hands shown during the coverage — play along and decide what you would do in these spots.
Hand #1: Cannuli vs. Negreanu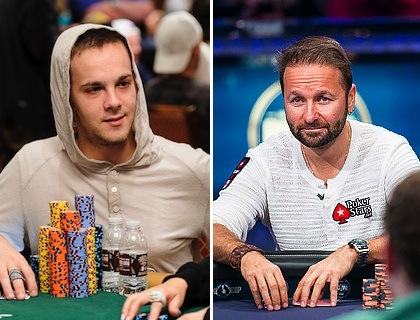 "The great thing about poker is someone can know exactly how you play, but you can still change it up," Daniel Negreanu is heard early on telling Tom Cannuli, his neighbor at the feature table, alluding to the "leveling war" that can occur between opponents who possess knowledge of each other's games.
"Like let's say you know exactly how I play, and I know exactly how you play," Negreanu continued. "Then it's 'you know that I know that you know that I know that you know that I never do that'... so I do that."
It wasn't too long after that a hand arose in which Cannuli found himself in that very predicament — knowing something about how Negreanu plays, yet trying to figure out what his play meant this time.
Players left: 42
Blinds: 40,000/80,000
Ante: 10,000
Avg. stack: 4.59 million
Jake Toole opened for 200,000 from early position and Max Steinberg called from middle position. Negreanu had about 4.37 million and he came along as well from the small blind.
Cannuli then looked down at
in the big blind. Sitting behind a stack of just over 8.9 million as one of the leaders, Cannuli thought for a moment about what to do.
Cannuli finally did call, then watched the flop come
to give him trips. All four players checked, then when the
landed on the turn, Negreanu fired 425,000. Cannuli called, the others folded, then the river brought the
.
With 1.73 million in the middle now, Negreanu bet 925,000. Cannuli faced another decision.
It was a challenging spot for Cannuli, holding trips yet watching Negreanu show obvious strength. He ultimately took just a short while to think about the situation before calling, and Negreanu showed him
for trips with a better kicker.
"I debated not even calling that preflop," said Cannuli afterwards.
Hand #2: Neuville vs. Beckley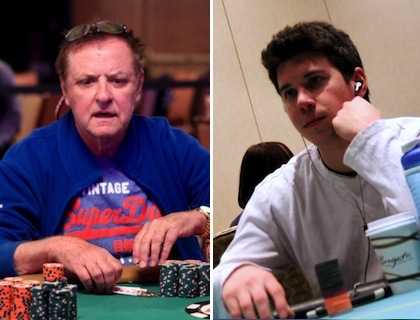 During that hand above, Toole had
and Steinberg had
, which along with Negreanu's queen-jack and Cannuli's jack-nine prompted commentator Norman Chad to describe those starters as "four hands that can get you into trouble."
A little later in the show came a hand between Josh Beckley and another November Niner, Pierre Neuville, in which the latter also found himself playing from the blinds with a "trouble hand."
Players left: 31
Blinds: 60,000/120,000
Ante: 15,000
Avg. stack: 6.21 million
Beckley, with about 4.3 million to start the hand, opened with an early-position raise to 250,000. It folded to Neuville with a little over 5 million in the big blind, and he called with
.
The flop came
, and Neuville checked his pair of jacks. Beckley bet 255,000, and Neuville called. The turn then brought the
, improving Neuville to two pair. He checked again, then called again after Beckley bet 375,000. Pot up to 1.94 million.
The
then fell on the river, making for a troubling board to go along with Neuville's trouble hand. He checked once more, and Beckley fired 530,000.
Neuville elected to fold. As it turned out, Beckley also had one of those trouble hands —
— having made a lesser two pair on the end. Would you have bet the river after Neuville checked?
Hand #3: Turyansky vs. Morgenstern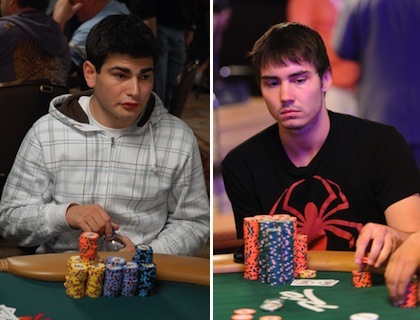 Finally, near the very end of Day 6 came a hand between a couple of German players with big stacks — Alexander Turyansky and Anton Morgenstern who was on the verge of making his second Day 7 in three years. This one involved Turyansky playing from out of position, this time with suited connectors.
Players left: 28
Blinds: 60,000/120,000
Ante: 15,000
Avg. stack: 6.88 million
Morgenstern had just under 9.7 million to start the hand, and he opened with a raise to 275,000 from the cutoff seat. Turyansky meanwhile had just over 8.1 million to start, and he called from the small blind with
.
The flop came
to give Turyansky a flush draw. He checked, Morgenstern bet 325,000, and Turyansky called. The
turn then completed Turyansky's flush, and he checked again. This time Morgenstern bet 675,000, and Turyansky elected just to call once more.
The pot had grown to 2,775,000 as the
fell on the river. Turyansky faced a decision.
Turyansky chose to check again, and was glad to see Morgenstern fire once more with a bet of 1.4 million. Turyansky called instantly, showing his flush. Morgenstern — as we knew from the start — had been barreling away with
.
Want to stay atop all the latest in the poker world? If so, make sure to get PokerNews updates on your social media outlets. Follow us on Twitter and find us on both Facebook and Google+!