2015 WSOP November Nine: Max Steinberg Parlays DraftKings Qualifier Into Final Table
The two industries of daily fantasy sports (DFS) and poker have been merging more and more as time goes on. The two markets mirror each other in a lot of ways, and plenty of top poker minds are making successful plunges into the DFS world. World Series of Poker gold bracelet winner Max Steinberg is one of those to do so, and it was his prowess in the DFS world that ultimately gave him the shot in the WSOP Main Event.
The number 27 isn't just the age of Steinberg, who calls Las Vegas home. It's also the price of the DraftKings WSOP Main Event qualifier he entered that saw him win a $10,000 seat to the 2015 WSOP Main Event. In Chris Moneymaker-like fashion, Steinberg rode that online qualifier to a final table appearance in poker's most prestigious event Now he has a chance to have his banner hung alongside champions like Moneymaker in the rafters of the Amazon Room.
"There wasn't a sweat at the end," Steinberg said of his run in the DraftKings qualifier. "It was towards the end of the basketball season where the Golden State Warriors would have periods when they would just rest half of their starters, so I was playing people like Shaun Livingston, David Lee, and all these Golden State scrubs — Justin Hamilton also comes to mind as someone else I played. I also used DeMarcus Cousins, who had a massive game, and I was just way ahead the entire time [in the qualifier]. It was awesome, it was the easiest sweat in the world. I think I won by a significant margin."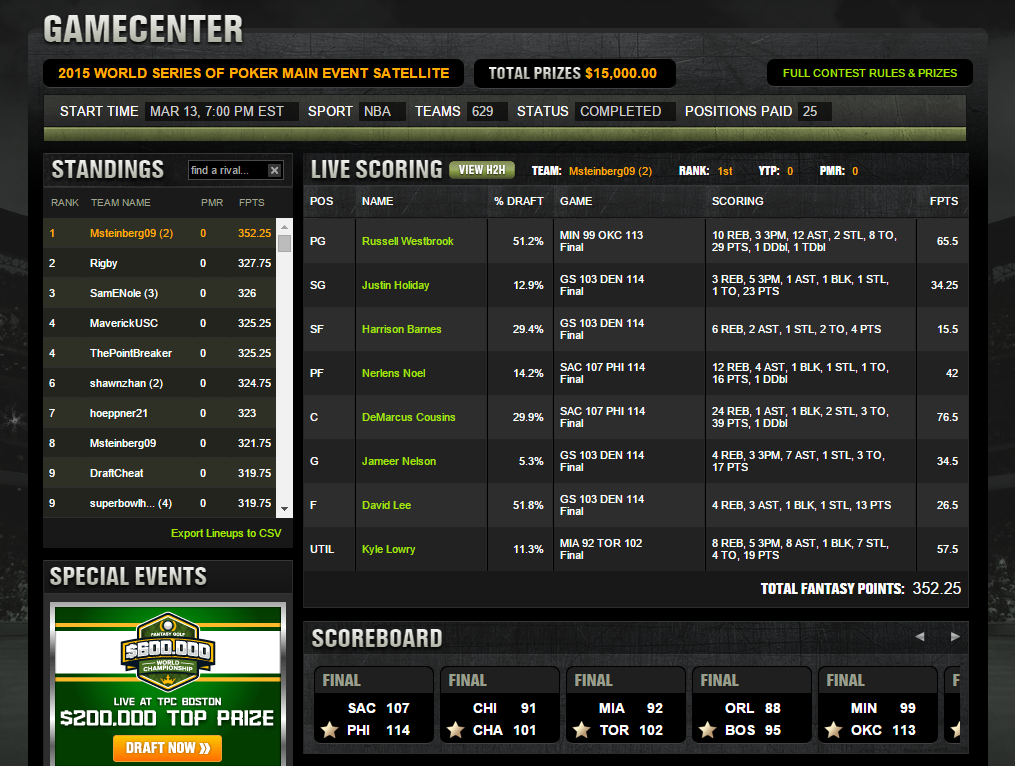 Despite turning a $27 DFS entry into a million-dollar payday, Steinberg wasn't so sure how he was feeling the day after it all happened. For some, massive elation takes over, but for Steinberg that wasn't the case. The way he felt was much more subdued, but he also understood how monumental reaching the November Nine was.
"It's funny," he said on the morning after. "People have asked me, and it's an obvious question to ask, but it doesn't feel like I would expect it to. I don't know, I just never thought it would be me, and now that it is me it just seems that to the outsiders like my friends it's 'Oh my god! It's such a huge deal!' but I'm in it, and it just doesn't feel like that big of a deal. Even though it is and I was walking around last night with a check for a million dollars. So clearly it's a pretty huge deal."
In the interim between July and November, Steinberg will have plenty of time to let it all sink in. For some, that's when it really hits home. When you have time to stop racing around at 100 mile per hour and just think about all that occurred en route to poker's biggest stage. But for Steinberg, he's still unsure.
"That's what I thought at first, but I don't know," Steinberg said when asked if he felt the feeling just hadn't sunk in yet. "I just don't think it's ever going to be that drastic. And also, we're only down to nine people. It's not the end, so I know there's still more to go. I don't think one day I'm going to wake up and just have a freak out or anything. It just is what it is, and it's really exciting. I'm very happy and very grateful. It just doesn't feel that intense or emotional."
Steinberg is the only bracelet winner in the November Nine. Originally from Fairfield, Iowa, Steinberg won his gold bracelet at the 2012 WSOP in a $1,000 no-limit hold'em event for $440,238. Steinberg topped a field of 2,795 in that tournament, including a final table lineup of Ryan Laplante (7th - $56,372), David Nicholson (6th - $75,314), Dylan Hortin (4th - $139,258), and Matt Stout (3rd - $192,813).
"I would say this is bigger, by far," Steinberg said when asked to compare winning his first gold bracelet versus making the WSOP Main Event final table. "Winning a bracelet is good, but this is a national and international stage, live on ESPN. It's just a way bigger deal."
A former bracelet winner, nearly $2 million in live tournament winnings prior to this year's Main Event, and several six-figure scores, Steinberg fits the mold of most young professional poker players these days, but that's not where he spends most of his time. For Steinberg, it's all about DFS.
"These days it's mostly daily fantasy sports," he said about how he splits his time between the two similar ventures. "In May, I didn't play any poker. The reason is — and it wasn't that I don't have time for poker, because I do, I probably spend six hours a day doing daily fantasy — I just felt like it was too much of the same thing. It's like two games that you're playing and there's money swings; they're both in a similar vein. I just wasn't really feeling fulfilled doing both, and I really love daily fantasy sports. It's a way more consistent way to make money, so I just focused on that and I ended up playing maybe five poker tournaments this summer, including the Main Event. I didn't cash in any of the other ones until this one."
But what about looking ahead? Will Steinberg now go back to focusing on poker to keep his mind sharp leading up to November? It doesn't sound like it.
"I don't think that I'm going to play a lot of poker," Steinberg admitted. "Actually, the World Series of Poker Europe starts when my twin brother is getting married, so I'm going to at least miss part of that. Then my godmother is getting married during the WSOP Europe Main Event, so I have no idea what I'm going to do with that. I don't know, I just don't have that desire anymore to go travel the tournament circuit. I'm happy living a more simple life, just in Vegas and doing daily fantasy sports and working on my strategy site. But I'm sure I'll do some things with DraftKings, some promotion stuff, but it's going to be mostly daily fantasy sports centric and less poker centric."
With a chip stack of 20.2 million and 50 big blinds heading into November, Steinberg is bunched right in the middle of the pack. All eyes are certainly on chip leader Joe McKeehen, who has a whopping 63.1 million in chips and 158 big blinds, but Steinberg doesn't think McKeehen will just be able to run away with the title, mostly due to the payout structure.
"[My approach] is something I'm going to think about a lot more," Steinberg said about how he'll tackle the final table when it's time. "We're sort of lucky that the payout structure is really flat right now. The jump from 10th to ninth was around $250,000, and I think the pay jump from ninth to eighth is $90,000. Because of that, people aren't going to be worried about making pay jumps until we get to like fifth, fourth, and third, so I think that Joe isn't going to run away with this as easily as he would have if there was a different pay structure. I think that a lot of people are going to get involved with him, but I also think he's going to recognize that as well. It's unclear. I'm not really sure what I'm going to do, but I'm definitely thankful for this payout structure because it gives people wiggle room to play with [Joe] instead of if we had huge pay jumps between ninth and fifth. Then he might just run away with it something like 70 percent of the time. We'll see, it'll be interesting. He's directly to my left and he's a great player, so I'm not going to just attempt to tangle with him early."
Lastly, if there's ever to be a best-dressed award at the WSOP Main Event final table, Steinberg would definitely be the favorite. Although he doesn't play too much poker anymore, he still takes the game seriously and dresses the part — exuding confidence and style that allows him to stand out from the pack. On the final day of play in the summer, Steinberg wore a brand new, custom suit he just purchased, but to him it's more about just looking good. It's about feeling good, too.
"You know I do like to dress up, and the reason I do is because I feel like it's empowering," Steinberg said with a confident smile. "It just makes me feel good, and I just got this really awesome custom suit. I wanted to rock it out, so I did."
When asked if he'll be raising the style bar come November, Steinberg said, "It's an important day, so why not."
Stay tuned to PokerNews as we follow Steinberg and the other 2015 November Niners leading up to the WSOP Main Event final table later this year.
Get all the latest PokerNews updates on your social media outlets. Follow us on Twitter and find us on both Facebook and Google+!