DraftKings Establishes Heavy Presence at the 2015 WSOP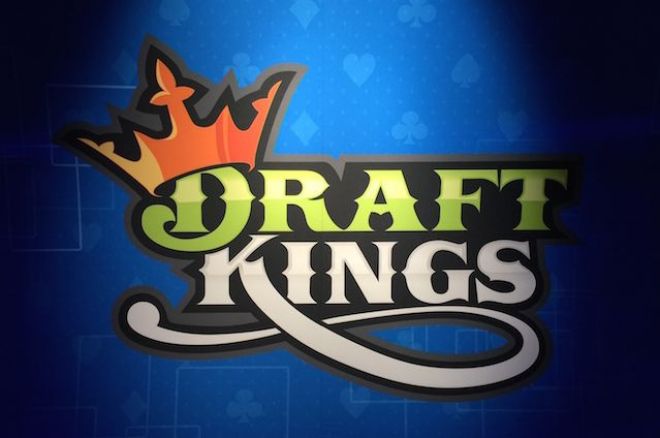 Fantasy sports in the United States feels a little bit like poker in the post-Chris Moneymaker years. It's the hottest new thing around, and for many poker players, one of their favorite things to do. This year, DraftKings has partnered up with the World Series of Poker, and besides them being very visible on the felt, they also have a big presence with a lounge in the Pavillion room.
The lounge is very hard to miss if you go to the WSOP this year, and we would recommend checking it out if you're looking for a place to relax. While relaxing, having a drink, and chowing down on some food are all great reasons to visit, we went over to talk to Jonathan Aguiar, former poker pro, WSOP bracelet winner, and the current Director of Customer Experience at DraftKings.
"The goal is that you can't leave the World Series of Poker without having heard of DraftKings," Aguiar said about the lounge and amped up branding done by DraftKings around the WSOP. "We've got a few things going on, as we are on all of the felts, there are banners in the hallways, but one of the big things we're doing this year is that we're having a lounge. Everyone that has a balance with us can come in, and you can sign up in the lounge in case you don't have an account yet, to watch sports, have some drinks, and there are even some laptops available so that you can set some lineups. If you're on a break, or in-between tournaments, it's basically the best place to hang out. We also have an Xbox in the corner of the room, so we're probably not far from having some FIFA or Madden games for serious money. It's a great spot to also let loose after taking a bad beat."
Not only is DraftKings branding heavily visible around the Rio All-Suites Hotel & Casino, but the daily fantasy sports juggernaut is also hosting an event on the official WSOP schedule. It's marked down as Event #55: $1,500 Draftkings 50/50 No-Limit Hold'em and comes with an interesting new twist.
"The event is the DraftKings 50/50, which means that the top 50 percent will get paid, but it's not that the top 50 percent will double their money," Aguiar said. "The top 50 percent will get $1,000 back of their $1,500 buy-in all the way up until the 25 percent. You get your buy-in back all the way up to the final 10 percent, and from that point on it's a regular payout structure. It's just a lot less top heavy, and it's great for people who don't want to take a big risk, like the average $1,500 event presents them with. Also, people who are not as boom-or-bust, like cash-game players, will likely enjoy this event. You can even run up a stack and bust after the dinner break, get $1,000 back, and register for the next event on Sunday."
The format is certainly a change at the WSOP, but why did Aguiar and others at DraftKings think this sort of event would work as an official WSOP event?
"A popular format in daily fantasy sports is the one where 50 percent doubles their money, which doesn't really work well for poker because of collusion and a whole lot of other shady things that could happen," Aguiar said. "Because it doesn't translate that well into poker, we created a hybrid version of that, and it's a much more gradual payout model. The pros will have a big edge in this tournament because the first six or seven hours will be much different, and you'll be able to have a really high ROI if you play the event well."
Partnering up with the WSOP is just another way of many that DraftKings is making more headway into the industry. The companies venture also includes daily fantasy sports satellites to live poker events, sponsorship of players, and a partnership with media companies such as PokerNews for coverage of their live events. All of this has been ramped up in the last year, and it's something Aguiar feels has gone extremely positive for the company.
"The last year has just been a pure land grab for us, both in terms of customers and partnerships," he said. "We've locked down exclusive deals with the NHL, MLB, NASCAR, and the UFC — we're continuing to expand on that. We've also announced that we'll be the headline presenting sponsor for the third Triple Crown race, the Belmont Stakes, so next week when everyone's watching American Pharoah go for it, you'll be seeing DraftKings everywhere."
If what Aguiar says will be on display at the Belmont Stakes mirrors the display at the 2015 WSOP, DraftKings' branding will be paramount.
"You see us all over individual teams well, and things like the NHL awards, the NHL all-star game draft, and we're just trying to make DraftKings synonymous with fantasy sports and synonymous with the word 'draft,'" Aguiar said. "A lot of things that we're doing are with the explicit purpose of doing that, and you'll be seeing us in a lot more places that aren't traditional fantasy sports areas like horse racing, poker, where people that like intellectually stimulation games overlap a lot with. When football season comes around this year, it's going to be really hard to see one of our football commercials and not being able to associate that with having seen it somewhere else."
Looking ahead to the future, Aguiar and his colleagues at DraftKings are as excited as ever for the upcoming NFL season. Much of that excitement has to do with the NFL being the largest sport on the site. Putting that into poker terms, Aguiar relates the business DraftKings does on a standard Sunday to what PokerStars does on a Sunday.
"The NFL is the biggest sport on a per-day basis, so for an NFL Sunday this upcoming season we're probably looking at somewhere along the lines of $20,000,000 a weekend in payouts, which is roughly similar to what PokerStars does on a Sunday full of tournaments," Aguiar said. "Perhaps it's slightly less, since PokerStars runs so many tournaments and they go on 24 hours per day. We're getting up there with online poker in terms of payouts, and prize pools being bigger than anything online had on a weekly basis. We'll probably have something like a $4-5 million dollar guarantee every weekend."
Aguilar added: "The NFL on DraftKings will be between three and four times bigger in the upcoming season compared to last year, with the exception of the Millionaire Maker," Aguiar added. "That won't go from $2.2 million to $8 million, we'll probably use that extra demand to build out more different contents with different prizes. You are going to see a lot more experiences, a lot more opportunities to win trips to things and do things like throwing the first pitch in a Major League Baseball game, or going into the announcer's booth. Last year, for instance, we had a guy operate the field goal nets at the New England Patriots game. Maybe we'll do some more stuff like that, as we're going to also try to be more of an experiential company on top of just winning cash."
In conclusion, Aguiar said it's all about the customer experience and giving them the chance at something life changing. In poker, the ultimate sweepstakes is being able to compete in the grand daddy of them all.
"We want to give people a chance to winning bucket list-type things, and one of those is being able to play in the World Series of Poker Main Event," he said. "We're going to have guys this year that won their way in for just a few bucks, and that's something we haven't seen in a long time. This year we'll have something like 50 guys play in the World Series of Poker, and we'll have qualifiers running online all the way up until the Main Event in both golf and baseball."
Want to stay atop all the latest from the 2015 WSOP? If so, make sure to get PokerNews updates on your social media outlets. Follow us on Twitter and find us on both Facebook and Google+!