3 Must-Read SCOOP Satellite Strategy Tips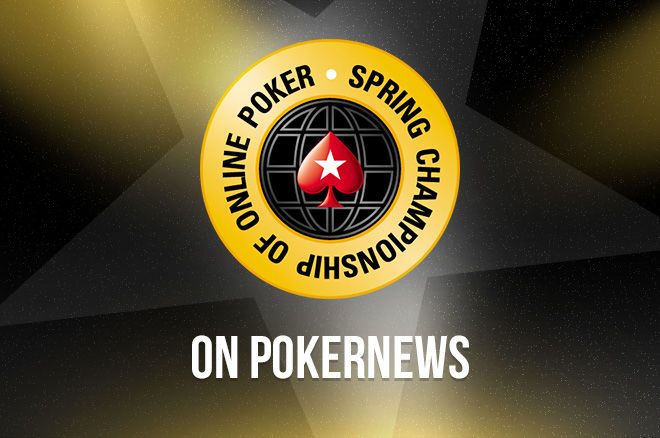 The PokerStars Spring Championship Of Online Poker (SCOOP) is one of the busiest and most exciting periods on the poker tournament calendar, with the best poker tournaments PokerStars has to offer, boasting massive prize pools. Although SCOOP events come with a wide range of buy-in options, the best online poker events often command large buy-ins that are outside of the constraints of most players' bankrolls.
With that in mind, it is no surprise that thousands of PokerStars players flock to SCOOP satellites hoping to turn a small investment into the chance to play in the most exciting poker games the poker world offers. It is not only recreational players that get their grind on in SCOOP satellites, but members of Team PokerStars look to massively increase their Return On Investment (ROI) by winning seats and tickets to high-stakes poker games.
PokerNews has a plethora of satellite tournament poker strategy articles on our site, but the following three tips come straight from PokerStars' blog, meaning they are 100% worthwhile committing to memory and applying to your game if you dream of playing in the most exciting poker games at PokerStars during SCOOP.
What Is the PokerStars Spring Championship Of Online Poker?
SCOOP is the acronym for the Spring Championship Of Online Poker, a series that pays out millions of dollars each year. In 2022, the SCOOP awarded more than $75 million in prize money, making it one of the richest poker festivals online.
Many grinders see the SCOOP as the perfect warm-up for the World Series of Poker (WSOP) in Las Vegas because the schedule is packed with other poker games such as Pot-Limit Omaha, Seven Card Stud, and 2-7 Triple Draw in addition to No-Limit Texas Hold'em.
The SCOOP always features some huge weekly tournaments, usually on Tuesdays, Thursday, and Sunday, which are traditionally the three busiest days for a poker site. The entire stable of Team PokerStars Pro members takes to the felt throughout the series, hoping to bag a big score and a coveted SCOOP title.
Don't Blow Your Tournament Bubble
Stay Focused on the Bubble
Many that play tournament poker online often struggle when making the switch to satellites because, although the two poker games look strikingly similar, the strategy needed to succeed is worlds apart. For example, there is no sliding scale of prizes in a satellite tournament because you either win a ticket or seat or you do not. This fact alone means that you need to pay more attention than usual when you are approaching the bubble in a SCOOP satellite.
It is imperative that you are not the unfortunate soul that pops the bubble. In a standard cash-awarding tournament, you can afford to play aggressively on the bubble because you want to finish as high up the payouts as possible, especially because most of a tournament's prize money is awarded to the top three finishers. However, you win the same prize in a satellite regardless of whether you have a 1,000,000-chip stack or a single chip in your stack when the bubble pops.
Be prepared to fold your way into the prizes, which may feel unnatural if you are used to playing online, but it is the correct thing to do, especially if you have a large stack and are almost guaranteed to win a seat for one of the online tournament series events.
Tighten Up Your Play
With the previous SCOOP satellite tip fresh in your mind, it makes sense the next hint revolves around tightening up your play. You should play poker in a tight-aggressive style throughout a satellite, but edge towards playing overly tight, if anything. Of course, you should still focus on accumulating chips, but survival is the ultimate aim of the game.
Tighten up the range of hands you play preflop. For example, you may want to pretend that middle position is early position when you are considering opening for a raise. Ideally, you want an even stronger hand than usual to open the pot when compared to a traditional poker tournament.
Playing tight is particularly important when it comes to calling raises preflop an even more so when an opponent moves all-in. Even Team PokerStars Pro Lex Veldhuis, a player who is notorious for playing loose-aggressive poker, will not call an all-in bet lightly because the risk of busting out and missing out on a seat for the best online tournament series outweighs winning the pot.
Work Your Big Stack
Although everyone gets the same prize regardless of where they finish in the payout places, and it doesn't matter if you have one chip or a million chips at your disposal, being in possession of a big stack is a great position to find yourself in when playing satellites. While it is true you should play poker satellites in a tight style, you should also utilize your big stack against players you have a chance of busting from the tournament.
Use controlled aggression to place your opponents under maximum pressure whenever you clash with them. Being able to eliminate an opponent without them able to bust you is a fantastic scenario to be in. However, do not needlessly splash around in pots because you can quickly go from a big stack bully to the player being bullied.
Some Key Takeaways
Here is a list of key takeaways when looking at SCOOP satellite strategy:
Avoid calling all-ins - It's always better to be the one shoving
Take the lower variance lines - tighten up and play for a seat and not for the win
Fold equity is the most important form of equity
Work out what the average stack on the bubble is, and keep that in mind at all times
Tighten up completely when a seat looks inevitable
Practise with play money games if needed before you join real money games
Always play responsibly and within your bankroll's limits
Play Tournament Poker Online With a $600 Welcome Bonus
Thinking of playing some SCOOP satellites now you have armed yourself with some strategy knowledge? Why not help yourself to a chunky online poker welcome bonus worth up to $600? Download the excellent PokerStars software via PokerNews, make a deposit using the bonus code "STARS600" to receive a 100% up to $600 first deposit bonus. Indeed, your first three deposits made within a 60-day period are matched in the form of a bonus.
That bonus money releases into your playable account balance as you play real money games online; you have 90-days to release as much bonus money as possible.