Strategy Vault: Make Day 2 of a WSOP Event? Study Your Table Draw
The 2017 World Series of Poker not only features 74 different events featuring a wide range of buy-in levels and different tournament variants, but practically all of the events are spread across multiple days, meaning a lot more play as well as opportunities for players to regroup and reassess as the tournament goes along.
Dipping into the Strategy Vault, we're resharing a column from a previous summer recommending that players making the second day of a multi-day event remember to check the seat draws before returning to their quest for a WSOP bracelet. You can find new seat draws the morning of every single event right here on PokerNews by looking under that event's coverage.
Among the good reasons for checking your table draw is to get an idea before play begins what stack sizes are around the table — and thus, perhaps, who at the table will be exerting pressure with big stacks and who might be trying to double quickly with short ones. Today, for instance, 1,187 players returned for Day 2 of Event #20: $1,500 Millionaire Maker, with 1,165 of them scheduled to make the money. With the bubble so close to bursting, knowing ahead of time how many short stacks were at the table could help orient a player's expectations for how things might go to start the second day of play.
Another good reason for checking the seat draw, of course, is to get a preview of your opponents to start the day — a point that is highlighted below.
* * * * *
Making Day 2 of a World Series of Poker bracelet event is exciting. You may have some troubling bagging and tagging your chips — I've seen many first-timers seal their bag without the slip inside — but if you listen to the dealer carefully, then you should be able to ace the exercise and go get some rest.
Rest is important. Your restart is likely to be in only 11-12 hours, and you want to make sure you get a good night's sleep. If you're hungry, then you should grab a quick bite, but try to avoid greasy foods because they can leave you feeling bloated or dissatisfied in the morning. You need nutrients after a long grind, not fatty acids.
A proper sleep will allow you to wake up and grab some breakfast, the most important meal in the day. It will also give you time to study your seat draw.
The WSOP employs a hard-working group of interns who pump out seat draws for every event, every day, that then get posted both on the WSOP site and here at PokerNews. Posting seat draws online can also save the players some time, letting them know where they're supposed to go before they arrive at the Rio All-Suite Hotel and Casino.
There is very little direct preparation in poker, particularly in tournaments because we don't always know against whom we are going to compete. On a Day 1, you'll sit with a randomly drawn group of individuals, and players will come and go as the day progresses. However, at the start of subsequent days, you know the seven or eight players you are going to sit with ahead of time, and doing a little research can help you in certain spots.
For example, most $1,500 buy-in bracelet events burst the money bubble at the start of Day 2. If you have an average stack and you are anticipating an opportunity to abuse the bubble, you might want to make sure you are playing hands against opponents who will let you get away with aggressive play.
If your table features professional players — that is, players who are looking to finish in the top nine rather than the top 200 — then they are likely to play back at you. Conversely, if none of the players at your table have a profile on Hendon Mob, then maybe they are going to try and fold until the money to secure their first cash.
Researching your upcoming opponents can also provide you with pivotal information that will assist you in certain hands. Such is a lesson even seasoned players are sometimes still learning.
For example, during the 2014 PokerStars Caribbean Adventure, 2012 WSOP Main Event champ Greg Merson told us a story on the PokerNews Podcast about about how he made a mistake prior to Day 5 of the 2013 WSOP Main Event by not asking his friends about Brett Richey, the player who would be sitting on his right to start that day of play.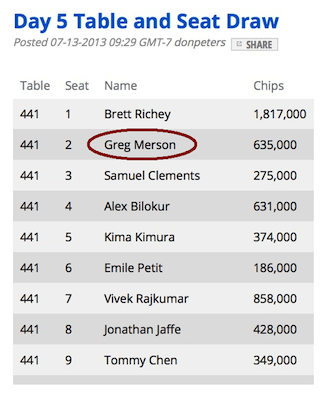 Merson knew Richey was a pro — after all, his Hendon Mob profile is impressive, and he's received plenty of airtime on ESPN. But Merson mistakenly thought he was your standard, aggressive young player. Richey also tends to act very quickly at the table, further giving him an aggressive vibe, which encouraged Merson to three-bet shove a little lighter than usual against him because he thought that Richey's opening range was wide.
Unfortunately for Merson, he was wrong.
"All I had to do was ask someone," Merson lamented.
Even if the names of your upcoming opponents are unfamiliar to you, throw them into a Google search along with the words "poker" or "hendon mob." Maybe you'll unearth a hand history with the player on PokerNews, or perhaps they've even played at a televised table that you can watch. Poker is a game of incomplete information, and the more information you attain, the better off you will be.
Don't let the influx of information make you go crazy, though. There will be situations where even the most detailed preparation will take a back seat to your poker knowledge and instincts, and you make develop a read on a player that differentiates from what other people have told you.
Use the information available to increase your chances of forcing your opponents to make mistakes, but don't lean on it and ultimately use it as an excuse for why you hit the rail.