Strategy with Kristy Podcast: Mike McDonald Talks Epic Poker League Win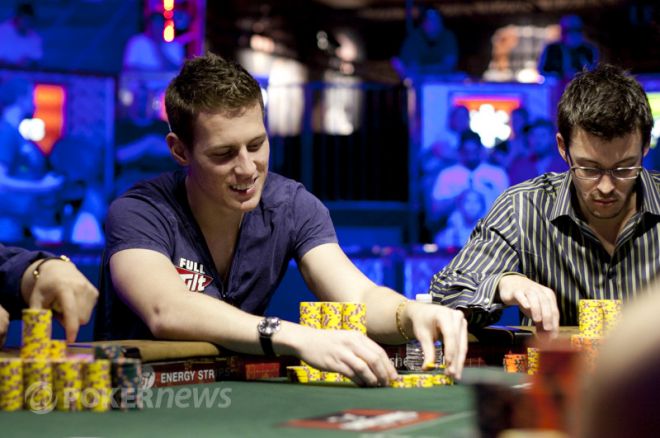 Mike "Timex" McDonald is only 22 but has already accumulated more than $4 million in live and online tournament winnings. At 18, he became the youngest PokerStars European Poker Tour winner when he took down the EPT German Open for $1.4 million. Recently, he won the second Epic Poker League Main Event for $782,000.
In this edition of Strategy with Kristy, McDonald discusses his EPL win and strategy at each stage of the tournament.
Here is a snippet from the interview:
What I'm doing at the table, is pretty much, any hand I see where someone shows down a hand or plays a hand that I think is nonstandard, I try to think about what that means for their whole range, and also what strategies I can try and employ to exploit that. When I get to a final table, I'll kind of take that to the next level and be as precise as possible in my reads.
What I actually did here [before the EPL final table] is, at final tables or any televised final table where they are updating every hand, I'll typically have a friend, usually a smaller stakes player, basically build a live HUD [heads-up display] for me. When you play online, you can have a HUD and know things like, this guy opens 80 percent of buttons or this guy opens 30 percent of buttons. Really, even within 70 or 100 hands, you can get a decent amount of information on players. So, I'll often get a friend of mine and just pay them $100 or something like that, to create a HUD of my final table to tell me who's doing what. I'll look at what stats stand out the most.
The one thing they commented on was that Erik Seidel plays way more hands than anyone else did at the final table, which of course could be related to sample size. But the other thing was that he doesn't check-fold very often. He usually checked with the intention of not giving up on the flop, but instead to sometimes check-raise or check-call. What that means against a player like that is when he c-bets [continuation bets], he's substantially lighter than most people because with a lot of his top-pair, no-kicker or second-pair, good-kicker type hands, he will often just be check-calling or check-raising.
Since we know he almost never check-folds, anytime he has air, he's always c-betting or at least more than most players would. A lot of players give him tons of respect and fold to his c-bets but realistically, if you want to perfectly take advantage a player like him, you really need to attack him when he's betting at pots. It's an extremely tough thing to do though, especially combined with the fact that Erik Seidel is a good hand reader. He's extremely good at live poker, and he's probably going to be very good at guessing the times you're raising a gut shot or when you're raising a set. But, if you assume he's never going to soul read you, then what I posted on my blog is fairly accurate, but there's a very good chance that Erik Seidel will just soul-read you.
Tune in every Thursday for new episodes of Strategy with Kristy and feel free to send in questions, ideas or suggestions for the podcast to kristy@pokernews.com. Also remember, follow us on Twitter for up-to-the-minute news.