Strip Poker: Rules and Tips for a Perfect Strip Poker Party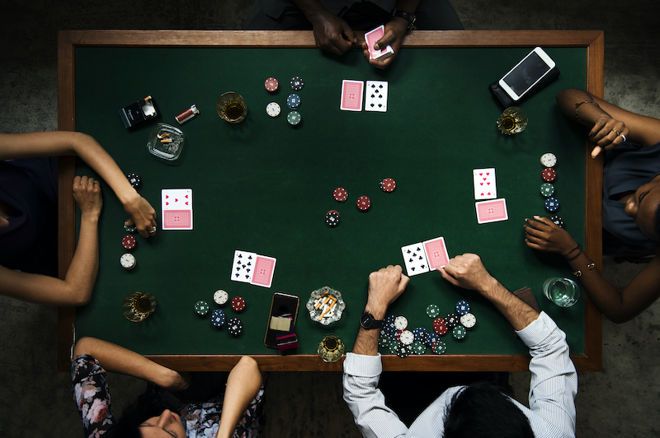 Fancy something a bit 'hotter' than usual? If you are not satisfied by 'regular' poker games, you might want to look into a strip poker party.
In this guide to strip poker games, you find everything you need to play strip poker with friends — from the rules to some quick tips to organise the perfect party.
Who Plays Strip Poker?
I'm quite sure this won't come as a surprise to anyone, but according to a university study, the game of strip poker is most popular amongst 18 - 30-year-old males.
Despite that, the percentage of females interested in strip poker and who don't mind playing strip poker with friends is quite high, too.
Students with more 'liberal' attitudes are the most likely people to be found playing strip poker and organising strip poker parties.
In almost every university and college around the western world, there is sure to be a student strip poker game at the weekend.
In fact, some university online boards like TheStudentRoom in the UK feature quite a number of ads about strip poker parties.
More mature adults do play strip poker games too. In this case, however, things tend to be a bit different.
Usually, these strip poker games involve smaller groups of between four and six friends. It's not uncommon for married couples to organise strip poker parties and enjoy the 'most intimate' form of poker there is together.
But what happens behind closed doors is no one's business. If you want to know what happens during those strip poker games, you need to get yourself an invitation to the next strip poker party.
Origins of Strip Poker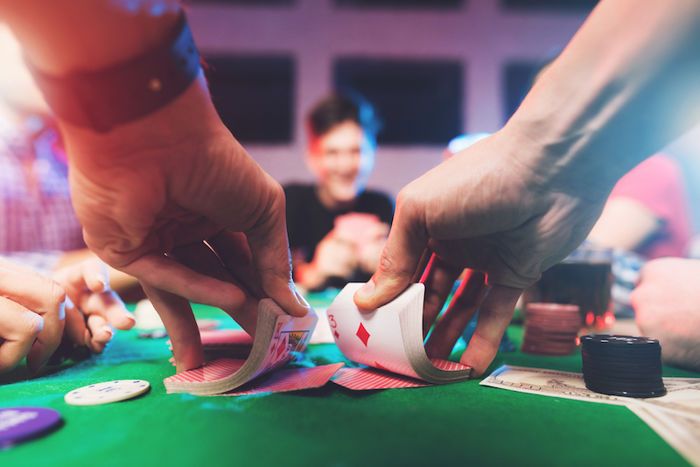 There is very little information about the history of this game and we'll probably never know when the first game of strip poker was played.
Strip poker gained worldwide notoriety in the mid 1900s and through the fifties, sixties and seventies gained an increasingly large following, particularly amongst students and those under the age of 30.
While looking for info about the origins of strip poker games, however, we came across some interesting theories worth mentioning.
Some websites write that strip poker games started as soon as ladies became interested in poker.
The rumours they report suggest that more liberal female poker players would remove items of clothing whenever they lost all their money — and drunken males would literally lose the shirt off their back.
READ ALSO: What Are the Best Poker Apps to Play Online Poker with Friends?
Other pages suggest strip poker was one of the first poker games, played before money was involved, although this not generally taken seriously.
Strip Poker Rules
It doesn't take a rocket scientist or an MIT graduate to understand how to play strip poker.
The basic rules of any strip poker game are simple:
When you lose a hand, you need to remove an item of your clothing
When you win a hand, you get to put an item of your clothing back on.
There's no set rule as for "how far" a game of strip poker can go. If you plan to play a strip poker party with friends, the decision is yours.
Most games stop when people have only their underwear left and don't go all the way until anyone gets completely naked.
Texas hold'em is almost everyone's game of choice when it comes to playing strip poker with friends. That's because most people know the game already — and those who don't can learn it within minutes.
Five-card draw is also a good alternative. If you are not fluent in this game yet, you can check out our free guide on how to play five-card draw poker.
Got a Mobile? Use It to Play!
Check out all the best mobile poker sites to bring your favorite game with you everywhere!
How to Organise a Strip Poker Game with Friends
There are several ways to set up a game with friends. To organize the perfect strip poker party, you'll need:
A minimum of four players.
A standard deck of cards (52 cards).
A set of poker chips
A good location to play at (e.g. a table with good visibility).
A very open mind.
Regular strip poker games do not involve money. Friends usually play for the fun of it — and not for financial rewards or prizes.
If you want to add some cash prizes to the fun, you can build the prize pool by asking your friends to pony up an entry fee (a 'buy-in').
A simple poker game such as five-card stud or Texas hold'em is perfect to start playing strip poker with friends — so the game plays following the basic rules of the poker variant you choose.
When each hand is over, the losers should remove an item of their clothing. When one person reaches the limit you have set before the start or is completely naked, they are out of the game.
Needless to say, the worst poker players will be the ones getting naked most of the time. That's why some like to invite friends who have little or no poker knowledge to their games.
If you are ever invited to play in a game of strip poker, make sure you know how to play poker at least.
Strip poker, so long as played in private with consenting adults is (generally) a legal past time worldwide. If you are not sure playing strip poker is legal in your country, please check up on your local laws before organising a game.
Where to Play Strip Poker
Strip poker games always happen indoors, with the student dorms and private homes being the best locations for a strip poker party.
Given the nature of the game, it goes without saying that you will not find a game to play strip poker with a stranger at a casino.
The best location for a strip poker game is probably the living room. While using the kitchen table could kill the sexy vibe that comes with the game, playing in the bedroom might be taking things a little too far, too soon.
If you are single and perhaps less inclined to be invited to a strip poker party of less willing to attend one, you can play strip poker online.
NEED MORE? Discover the Best Real Monet Poker Sites!
Strip poker sites are almost always pay-per-view websites where you pay to play heads-up games against a model. Some of the best strip poker sites require you to have a webcam to join the action.
If you do have a webcam then you may be able to arrange a strip poker game with your webcam friends as well.
However, be careful! If your friends are less open-minded than you, they might get offended the minute you suggest they join your online strip poker party.
Strip Poker FAQ
How many people do you need to play a game of strip poker?

You'll need between two and six players to organize a game of strip poker. Heads-up games with two players are the most common form of strip poker.
What are the best poker variants to play strip poker?

Any poker game can be used to play a game of strip poker. Given their popularity, the most common choices are Texas hold'em and five-card draw.
Can I play strip poker online?

Some websites offer this service, although this is not what we review here on PokerNews. For more info about online games, read here.
Do you need poker chips to play strip poker?

Yes. Even if you don't have a professional poker chip set, you'll still need something to help you size the bets and play your game with friends.
Want to Play Poker Online?
We might not able to find the perfect company for your strop poker games, but we can help you find the best games to play online for sure!
If you are looking for some action, register on one of the sites below and use the welcome bonus to play your first poker games!