Trying to Bluff Kristen Bicknell? Good Luck, Rainer Kempe!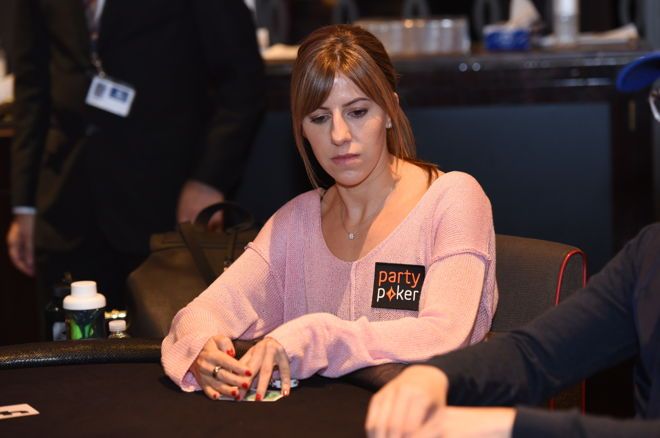 In this week's column, two absolute crushers face-off as Rainer Kempe attempted to bluff Kristen Bicknell in a $25,000 Super High Roller tournament at the partypoker Millions.
This poker hand highlights how it is important in today's modern poker world to be aware of which combinations of hands you should use to bluff with. Having cards that block potential nutted hands from your opponents often make the best candidates for bluffs.
The hand took place on Day 1 of a partypoker MILLIONS $25K Super High Roller at Dusk Til Dawn with the blinds at 5,000/10,000/10,000. Action folded to Kempe (751,000) in the hijack and he opened for 25,000 with the
. Bicknell (990,000) looked down at the
in the big blind and called to see a flop of
.
Bicknell checked and Kempe bet 45,000. It was a little big but it's ok to use a slightly larger sizing when you are playing deeper stacked on coordinated boards. For Bicknell, a check-raise would be reasonable if the stacks were shorter or if Kempe had bet smaller, but because they're deep stacked you have to be a bit more cautious, so just calling here is fine.
Bicknell called and then checked when the dealer burned and turned the
turn. Kempe just had a gutshot straight draw, and if you think about it, he doesn't have many logical bluffs here. However, because he has the range advantage and there are a lot of hands within that range which should value bet, it allows him to bluff more often.
"Bicknell has an easy call because if she were to raise she would mostly only get called by hands that dominate her."
When the board is coordinated we generally want to increase our bet size, and Kempe did just that by betting 115,000. Bicknell has an easy call because if she were to raise she would mostly only get called by hands that dominate her.
After she called, the
completed the board on the river. Bicknell checked for the third time and it was a decision point for Kempe. Should he either check it and give up, bet small, bet big, or jam it all in for 1.5X the size of the pot (566,000 into 385,000)?
This is a dicey scenario, but I think it's pretty mandatory for Kempe to go for the bluff here, especially with the backdoor flush coming in. It is unlikely a hand like
will get called by worse for a large bet size, which would suggest Kempe have at least two bet sizes on the river – a small bet and a big bet.
The question is which one should Kempe go for with king-ten? I would use my weaker showdown hands for my bigger bet size especially if they have a blocker to very nutted hands as Kempe has with the
.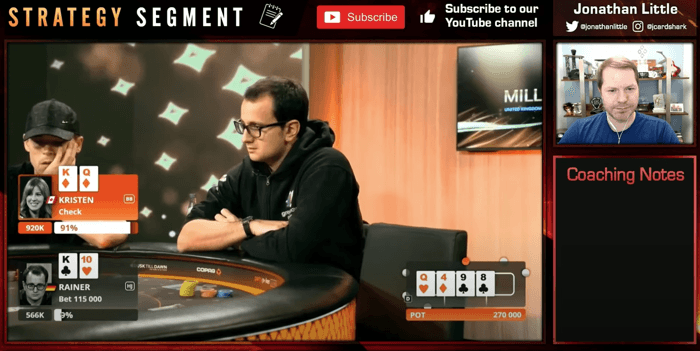 We're trying to get a queen to fold, so how much will that take? That's what Kempe should be asking himself. It is important to note that Rainer's range does have a lot of hands that would want to value bet on the river.
Kempe wound up betting 195,000, which was a smaller river bet. Why pick this small sizing here? A small bet size makes sense from an exploitative standpoint if you believe that Bicknell would never fold a queen regardless of the bet size but would fold a nine or worse.
As we know, Bicknell had top pair with a good kicker and she snap-called to win the 775,000 pot. It was a fun hand and Kempe gave it a valiant attempt, but ultimately his bluff failed.
For a more thorough breakdown of this hand, check out my thoughts in the following video used with permission from partypoker:
Jonathan Little is a professional poker player and author with over $7,000,000 in live tournament earnings. He writes a weekly educational blog and hosts a podcast at JonathanLittlePoker.com. Sign up to learn poker from Jonathan for free at PokerCoaching.com. You can follow him on Twitter @JonathanLittle.