What Would You Do? Final Table Dilemmas in the 2017 WSOP Main Event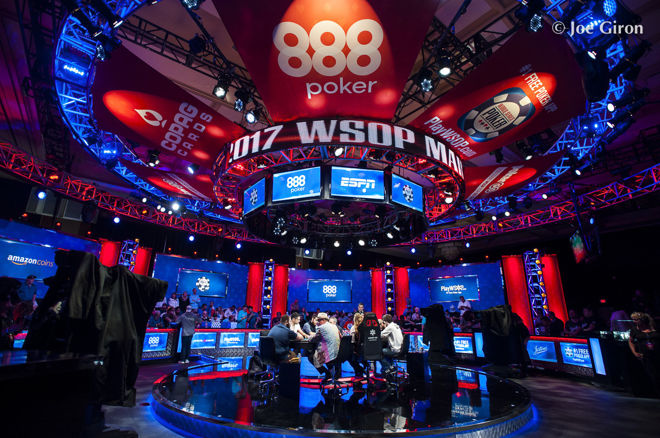 The first night of the 2017 World Series of Poker Main Event final table provided plenty of thrills on Thursday, with several dramatic hands as well as a number of difficult decisions faced by the players during the 75 hands played.
In addition to the comprehensive, hand-by-hand coverage of the final table you can find here on PokerNews, players and fans can also watch the action televised on a delay via ESPN with hole cards up, giving viewers extra information with which to consider the strategies being employed.
Of course, the players at the table aren't privy to such information about their opponents' hands while playing, and so are challenged every step of the way to interpret others' lines as they try to narrow ranges and decide what to do themselves.
Here are three hands from last night's final table each of which provided such a challenge — one from early on, one from the middle, and the very last hand of the evening.
With each hand play along with one of the players, then decide which action you'd take when asked. See how others answer as well, and share any additional thoughts you might have about the hands below.
Hand #15: Pocket Eights on a Six-High Flop
Players left: 8
Blinds/antes: 400,000/800,000/100,000
Following Ben Lamb's elimination in ninth place on Hand #4, Scott Blumstein and John Hesp continued to maintain overwhelmingly big stacks compared to the rest of the table.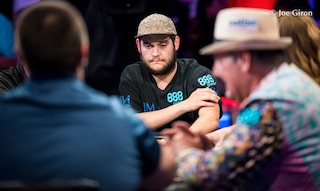 By the time this hand arose, Blumstein led with 111.25 million, Hesp was next with 100.8 million, and everyone else was in the 15-40 million range.
Starting with 38.15 million (third in chips), Jack Sinclair made a minimum-raise to 1.6 million from the hijack seat. It folded to Bryan Piccioli on the button who began with 30 million even. Piccioli looked down at
and called the raise, and Hesp called as well from the big blind, making the pot 6 million.
The flop came
, and Hesp quickly led into the field with a half-pot bet of 3 million. Sinclair thought a short while and called, and the action was on Piccioli with his overpair.
Piccioli considered the situation for about 45 seconds, then chose to fold.
Another five on the turn prompted another bet of 3 million from Hesp, and Sinclair folded his
. Hesp resisted the other players' urging that he show his hand, but those watching the broadcast saw he had
.
Hand #47: Top Two Pair on a Dry Board
Players left: 8
Blinds/antes: 500,000/1,000,000/150,000
Starting the hand with 77.325 million, Scott Blumstein raised to 2.3 million from under the gun and it folded all of the way around to Hesp sitting on Blumstein's right in the big blind.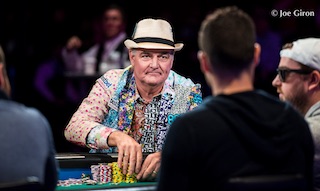 Enjoying the chip lead with 101.55 million to begin, John Hesp looked down at
and called, making the pot 6.3 million.
The pair were the big stacks at the table, with Pollak not too far behind Blumstein with just over 73 million and everyone else with less than 30 million.
The flop came
to give Hesp top pair, and he checked. Blumstein checked as well. The turn was the
, making two pair for Hesp, and he checked again.
Blumstein took a few seconds then bet 3 million, then Hesp waited just a little longer before announcing a raise. He made it 7 million to go. Blumstein waited about 20 seconds, then set out a stack of yellow chips to reraise to 17 million. It was Hesp's turn to act.
Hesp stood up and walked a few steps away from the table, then swiftly returned, grabbed a chip and flipped it forward, and said "I'm all in." Blumstein immediately called, flipping over
to show top set — and that Hesp was already drawing dead.
Hand #75: Pair and a Flush Draw
Players left: 7
Blinds/antes: 600,000/1,200,000/200,000
After open-pushing his short stack all in with king-jack in Hand #64, Sinclair unfortunately ran into Piccioli's pocket aces and was eliminated in eighth.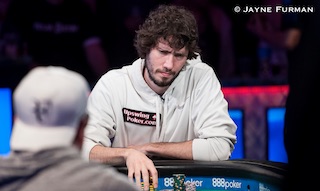 Before the following hand, Blumstein had built his stack up to 157.2 million, sitting with a little over twice the chips of Pollak in second position with 77.725 million, while the other five players were all between 14-37 million.
With 34.65 million to start, Dan Ott was dealt
and raised to 2.7 million from under the gun. It folded to Blumstein in the hijack seat who three-bet to 6.6 million. Ott called the reraise, making the pot 16.4 million.
The flop came
, giving Ott top pair. He checked, Blumstein continued for 4.5 million, and Ott called. That brought the pot up to 25.5 million, and Ott had a little less than that behind with 23.4 million.
The turn was the
, giving Ott a flush draw to go along with his pair of eights. Ott checked, and Blumstein fired 7 million. The action was back on Ott.
Ott called the bet quickly, then after the
river checked again. This time Blumstein pushed all in, and after thinking for a minute-and-a-half Ott folded to keep his 16.4 million. (Ott had
.)
Play was halted after that hand, and the seven players will return tonight at 5:30 p.m. local time to resume play. Be sure to come back to PokerNews then for more big hands and tough decisions.
Everybody needs an account at one of these online poker rooms! They're the biggest, the best, and we get you the best poker bonuses. Check out our online poker section for details on all the online poker rooms around.