What Would You Do? Pocket Tens on WSOP Main Event Final Table Bubble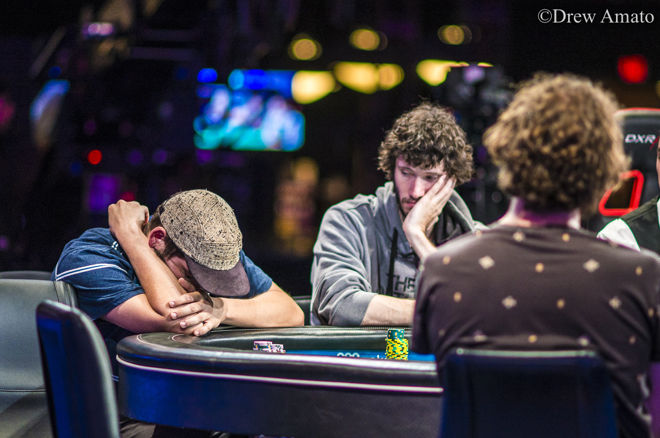 Monday provided numerous exciting moments from the Brasilia room of the Rio All-Suite Hotel and Casino. That's where Day 7 of the 2017 World Series of Poker Main Event played out, with 27 players — all that was left from 7,221 who started — eventually working their way down to the final nine. After a two-day pause, they'll return on Thursday to begin the final table, with this year's champion due to be crowned on Saturday.
Christian Pham had the chip lead to start Day 7, but slipped early before busting in 19th in a hand versus Benjamin Pollak.
After that several players took turns enjoying the chip lead, including Dan Ott, Jack Sinclair, and the colorful John Hesp. Eventually Scott Blumstein moved ahead of Hesp to move in front, with those two each building big stacks to position themselves well when play resumes tomorrow night.
Of all the interesting and difficult decisions made by players Monday, the most memorable for many was one faced near the end of the night by Bryan Piccioli with just 10 players left.
Not long before, Piccioli nearly went out in 11th place in a dramatic hand versus Antoine Saout.
All in before the flop with
versus Saout's
, a flop of
gave Saout trips and put Piccioli in peril. The
turn carried Piccioli one step closer to elimination, but the
river saved him, prompting a wild celebration by Piccioli and his supporters.
Pedro Oliviera was eliminated soon after in 11th, and rest redrew to sit around a single table. They had played nearly two orbits at the 10-handed table when the following hand took place.
With the blinds up to 400,000/800,000 with a 100,000 ante, action folded to Michael Ruane in middle position. Ruane was gunning for an incredible second straight Main Event final table after finishing fourth out of 6,737 players a year ago.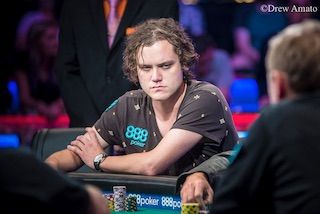 Ruane looked down at
and after sitting quietly for a few moments open-raised all in for 17.3 million total.
It folded to Piccioli on the button who had 15.9 million. He checked his cards, and those watching on the delayed televised stream saw what Piccioli had been dealt —
.
"Oh, these chips are going in," said Antonio Esfandiari in his commentary the moment Piccioli's hand was revealed on the monitor.
But Piccioli didn't act right away, instead thinking for a couple of minutes. He winced and covered his face with his hands as he thought about whether to call or fold. The photo up top comes from amid Piccioli's contemplation, his head buried in his arm as he thinks.
Before saying what you'd do in this spot, it's worth keeping in mind both the other players' stacks and the payouts.
When the hand began, Ruane and Piccioli were the two shortest stacks among the 10 players — ninth and 10th, respectively. Next closest was Ben Lamb in eighth position with 18.15 million.
Five other players sat between 20 and 35 million, Hesp was way up to 86.3 million, and Blumstein led with 98.35 million.
Meanwhile, here are the payouts for the final 10 spots:
| Position | Prize |
| --- | --- |
| 1 | $8,150,000 |
| 2 | $4,700,000 |
| 3 | $3,500,000 |
| 4 | $2,600,000 |
| 5 | $2,000,000 |
| 6 | $1,675,000 |
| 7 | $1,425,000 |
| 8 | $1,200,000 |
| 9 | $1,000,000 |
| 10 | $825,001 |
To complete the sketch of the scenario, sitting the blinds were Ott (with about 26.5 million) and the big-stacked Hesp. Try if you can to ignore the outcome of the hand, and tell us...
Piccioli did make the call, and when the board ran out
he survived again while Ruane was knocked down to less than two big blinds. Ruane was then eliminated in 10th place on the next hand when his ace-six failed to improve versus Damian Salas's pocket jacks.
Speaking to PokerNews after the night was done, Piccioli addressed both how tough the decision was and the fact that he didn't much relish knocking out his friend Ruane.
"I didn't want to be there in that spot against one of my good friends, but as Darryll Fish said after the hand when I came over, 'the game is the game.' That's just the perfect description. You don't get here to not play the game."