What Would You Do in These Aussie Million Final Table Hands?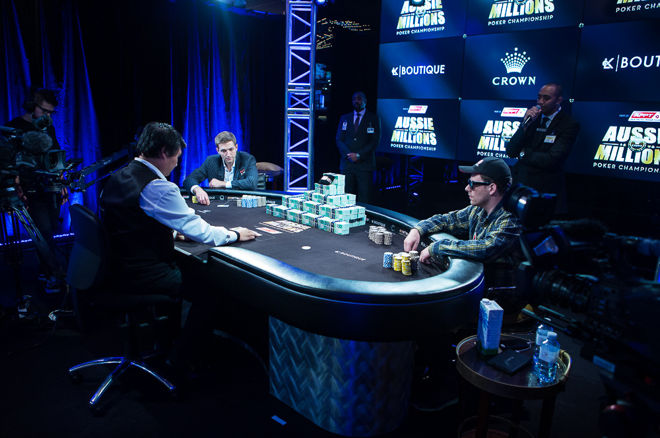 The last three days have provided lots of exciting poker to follow from the 2016 Aussie Millions, with three big final tables playing down to winners.
First Fabian Quoss began the weekend by taking down the $100,000 Challenge, then on Sunday Ari Engel won the $10,300 Main Event. Then last night it was Steve O'Dwyer winning yet another super high roller event in the LK Boutique $250,000 Challenge.
With Super Bowl 50 coming up this weekend, we're going to invite you today to do a little Monday afternoon quarterbacking and think about what you would do in a few of the more interesting hands from the weekend's final tables in Melbourne.
Here is one hand each from those three final tables — read and decide how you would respond in each of these spots.
Hand #1: Quoss Puts Drinan to the Test
There were four players left in the $100,000 Challenge, and Quoss led with about 1.6 million, Ben Tollerene was next with about 1.25 million, Connor Drinan was in third with about 600,000, and Jason Mercier sat in fourth with about 475,000.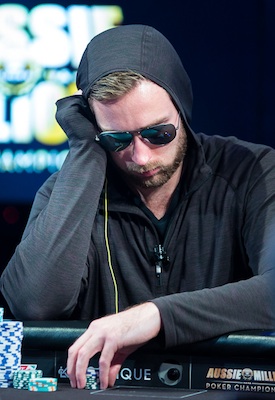 The blinds were 12,000/24,000 with a 4,000 ante, with the remaining payouts $1,446,480 for first, $924,140 for second, $602,700 for third, and $441,980 for fourth (AUD).
It folded to Quoss on the button who raised to 55,000, and Drinan defended his big blind with a call holding
. The flop came
, giving Drinan an open-ended straight draw, and he checked. Quoss fired 75,000, and Drinan called.
The turn was the
, making a pair for Drinan and adding a flush draw. He checked again, and watched as Quoss bet 135,000. Drinan called, making the pot close to 560,000.
The river brought the
to complete a flush for Drinan, and he chose to bet 165,000, leaving himself 292,000 behind. Quoss then moved all in, and Drinan went into the tank, using both of the time-extension chips allotted to players in this "shot clock" event.
Drinan literally waited until his very last available second to make his decision.
Drinan decided to call, and unfortunately for him saw that Quoss had opted to shove with
for a better flush, sending Drinan to the rail in fourth.
Hand #2: Engel Check-Raise Shoves on Dunst
The heads-up match between Ari Engel and Tony Dunst that concluded the $10,300 Main Event on Sunday night was highly entertaining, with each player putting his opponent to numerous tough decisions. Both also demonstrated on multiple occasions imaginative play as well as some impressive reads during their lengthy duel.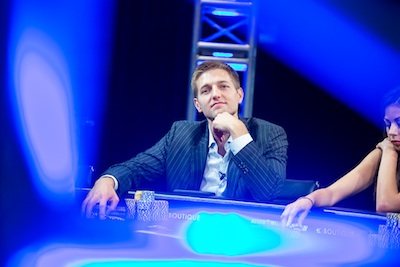 Here is just one of the 123 hands Engel and Dunst played for you to consider. This one came relatively late after they'd already been playing heads-up for about four hours and more than 100 hands.
With the blinds 80,000/160,000, Engel had edged up over 16 million while Dunst had slipped below 6 million. On the previous hand Engel had raised from the button with
, Dunst had called with
, then they made it to the showdown without either player improving his hand, giving Engel a small pot.
In this one Dunst had the button and after looking down at
raised to 325,000. Engel called, and the flop came
. Engel checked, and with his top pair Dunst continued for 250,000 and Engel called. Pot 1.15 million.
The turn brought the
and another check from Engel. Dunst decided to bet again, this time pushing out 600,000, and after pausing a few moments Engel check-raised all in.
Dunst took a long time deciding what to do with the stack of just over 4 million he had left behind.
Dunst eventually found a call, then saw that while he was ahead Engel had a lot of ways to win with one card to come as he turned over
for an open-ended straight draw. The
then fell on the river and Dunst not only survived, but had just about evened the match.
Hand #3: Kaverman Contemplates O'Dwyer's River Bet
Our third and last "What Would You Do?" hand comes from last night's LK Boutique $250,000 Challenge final table.
The top three finishers were scheduled to get paid in this event, however with four left a deal was struck leaving an additional $100,000 (AUD) for which to play. The following hand comes from a little earlier when there were still six players remaining and the entire prize pool of $3.92 million was still up for grabs.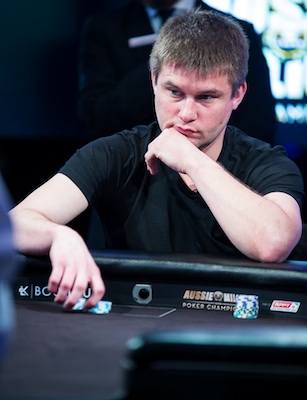 The blinds were 10,000/20,000 with a 3,000 ante, and O'Dwyer — then third in chips with just over 800,000 — opened from the hijack seat for 45,000. It folded to Byron Kaverman in the big blind who began the hand as the chip leader with about 1.1 million, and he called the raise holding
.
The flop came
, giving Kaverman a flush draw. He checked, O'Dwyer bet 65,000, and Kaverman called. The turn then brought the
to give Kaverman top pair, and he checked again. O'Dwyer bet 140,000 this time, and Kaverman just called again.
There was about 530,000 in the middle when the
fell on the river, and with eights and treys Kaverman checked one more time. O'Dwyer took about a minute and then bet once again, this time 300,000.
Kaverman took more than five minutes trying to sort out O'Dwyer's line and decide how to respond. To call and be correct would give him the chip lead, while to call and be wrong would put him in danger of missing the money.
Kaverman finally folded, and those watching on the live stream could see that eventual winner O'Dwyer had successfully run a three-barrel bluff with
. Meanwhile Kaverman would end up finishing fifth to miss being involved in the four-handed deal.
Want to stay atop all the latest in the poker world? If so, make sure to get PokerNews updates on your social media outlets. Follow us on Twitter and find us on both Facebook and Google+!