Fabian Quoss After $100,000 Challenge Win: "I've Never Run So Hot at a Final Table"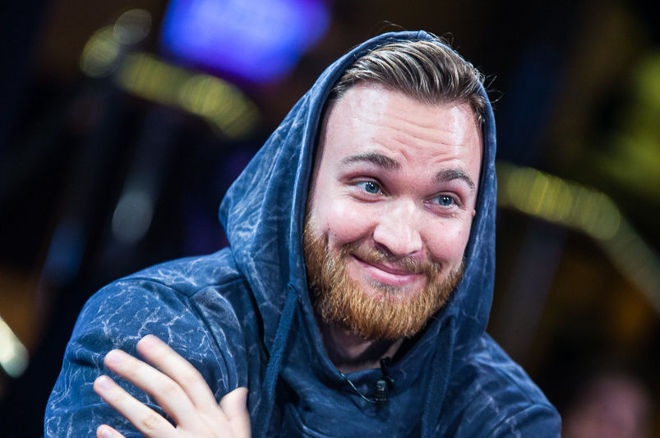 After only a couple hours of high-stakes poker action at Crown Melbourne, German pro Fabian Quoss emerged victorious in the 2016 Aussie Millions $100,000 Challenge to earn a booming payday of AU$1,446,480 ($1,024,645).
"It was way quicker than expected," Quoss told PokerNews' Frank Op de Word after the win. "I don't know, I think I've never run so hot at a final table before. It was insane. The first two hours, I basically never really had a real decision. I just needed to play my cards, and I'm super happy with how lucky I was today."
To capture the top prize, Quoss has to defeat a tough field of competitors and ultimately best Ben Tollerene in heads-up play. Quoss began the duel with a big lead, but a handful of hands into the match he doubled up his counterpart, and it looked like some of the momentum Quoss had been riding all day long might be heading to Tollerene's side of the table.
"Obviously, everybody knows that Ben is a really, really good player," Quoss said of his opponent. "Of course, I don't want to double him up, but I felt pretty confident because we were pretty short and that's more my specialty than it is his. I mean, of course he won't make many mistakes. I was just trying to play a solid style heads up, and it happened to work out for me in the end."
Indeed it did work out for Quoss, who, despite the double up of Tollerene, was able to get right back in the driver seat and continue his progress towards the title. Along the way, Quoss could be seen paying attention to the live stream, which displayed the players' hole cards on a 30-minute delay. As he told Op de Woerd, taking advantage of such information is something that must be done if it's something your opponents are doing, and they were.
"I think it's foolish not to," Quoss said about checking the stream. "If you see one guy do it, then you are at a disadvantage if you don't check the live stream."
But gaining that advantage comes with a price, and seeing a group of players at a streamed table constantly paying attention to their electronic devices for information that occurred 30 minutes prior can be a bit boring to watch. This is something Quoss pointed.
"I would suggest maybe finding a way for the players to hand in their cellphones before they play because I think it would be a little bit more entertaining if not everybody was on their phones constantly," he said. "But I didn't mind. We all had the same information, but I think it would make for a little bit better entertainment if we didn't have that opportunity, and then every break we checked ourselves."
Along with watching the stream for past action, the players at the table sometimes wouldn't show their hole cards to the RFID reader until the end of the hand. While some thought this was a move by the players that would help prevent any security issues, others thought maybe it was strategy. For Quoss, he said that it simply slipped his mind from time to time.
"I just forgot sometimes," he said. "On the first day, I wasn't really sure at what point I was supposed to show the cards. There was no strategy element to it."
Another interesting element of the Aussie Millions $100,000 Challenge is the implication of a shot clock for every action. This is something that has been going on for years Down Under, but shot clocks in tournament poker have grown into one of the hottest topics around. Quoss, who can be known to play a bit on the slower side, commented on playing the event with a shot clock.
"I'm super surprised that I was the only one who still had his two time-breaker buttons because normally I'm not especially known to play very fast," Quoss, who maintained his time-break buttons throughout, said. "I think it's a good format. It ensures that you play a lot of hands, and it keeps everybody in check because sometimes people just tank because they can. I like the format, and apparently it keeps me in check because I didn't need the time-breaker buttons."
Lastly, Op de Woerd asked Quoss if he'll parlay some of his winnings from this event into the LK Boutique $250,000 Challenge. For someone who has played the event multiple times before and booked both a third-place finish for AU$750,000 in 2013 and a fifth-place finish for $800,000 in 2014, Quoss' current side on the matter might surprise you.
"I was very sure that I'm not going to play, and I will have to think about it, see how I feel, and talk to a few people," he said. "There is a small chance that I end up playing, but as of now I don't expect that I'm going to end up playing. We'll see."
We'll see is right, as the LK Boutique $250,000 Challenge kicks off on Sunday at 12:15 p.m. local time from the Aussie Millions.
Want to stay atop all the latest in the poker world? If so, make sure to get PokerNews updates on your social media outlets. Follow us on Twitter and find us on both Facebook and Google+!