Botez Bags For Day 3 of the 888poker LIVE Barcelona Main Event

Level 19 : Blinds 4,000/8,000, 8,000 ante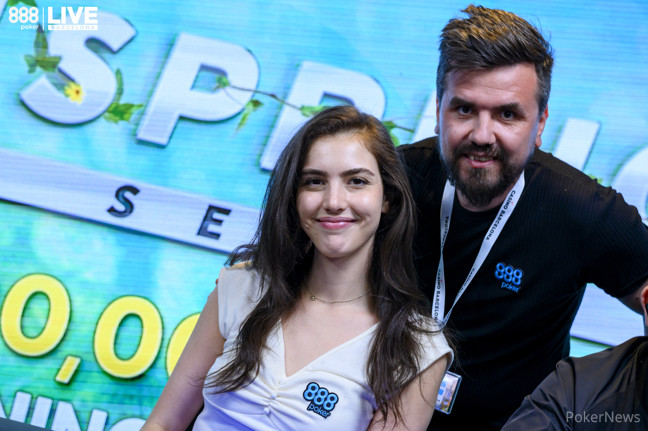 Chess streamer Alexandra Botez has made it through to Day 3 of the €1,100 888poker LIVE Barcelona Main Event as she bagged at the end of Day 2 - along with 26 others from the initial 137 players at the start of day here at the beautiful Casino Barcelona.
Botez will come into Day 3 just outside of the top 10 stacks but will still have plenty to maneuver with on Day 3. Botez was one of the players who registered at the start of Day 2, having failed to secure a bag in Day 1c, but the Canadian managed to spin it up to survive the nine levels of play.
However it was local Albert Grane (1,060,000) who managed to bag the biggest stack of the day followed by Patrick Donohue (1,000,000) who both finished the day well above the rest of the field with over a million chips.
Top 10 Chip Counts After Day 2
| Rank | Player | Country | Chip Count | Big Blinds |
| --- | --- | --- | --- | --- |
| 1 | Albert Grane | Spain | 1,060,000 | 101 |
| 2 | Patrick Donohue | United Kingdom | 1,000,000 | 100 |
| 3 | Lin Xia | Spain | 809,000 | 81 |
| 4 | Dorian Dizy | Spain | 668,000 | 67 |
| 5 | Juan Jose Garcia | Spain | 664,000 | 66 |
| 6 | Alessandro Pichierri | Italy | 664,000 | 66 |
| 7 | Tullio Bertoli | Venezuela | 660,000 | 66 |
| 8 | Nils Lechner | Germany | 569,000 | 57 |
| 9 | Remi Castaignon | France | 508,000 | 51 |
| 10 | Juri Nereu | Spain | 490,000 | 49 |
The day started with late registration being open for the first two levels which allowed players a last chance to spin up a stack. Alexandra Botez took advantage by rejoining the action at the start of the day. The 888poker ambassadors started dropping one by one throughout the day. First to be eliminated was Ian Simpson who got it all in with a king high flush draw but couldn't hit a spade on the river to survive.
Although Andrei Botez came into the day with more chips then his daughter Alexandra he was first to be eliminated on the when he moved all in with ace seven only to run into Kimmo Kurko's ace ten.
Alexandra Botez managed to build a stack mid way through the day when she managed to double up with aces against Paolo Boi's pocket sevens in a blind vs blind confrontation.
888poker ambassador Lucia Navarro soon followed Simpson out the tournament area with an early elimination before the dinner break. Fellow ambassador Alexandre Mantovani was fortunate to survive when he got his ace queen in against his opponents ace king and pocket jacks only to go runner runner to hit a straight to triple up. However Mantovani left Vivian Saliba as the lone 888poker ambassador when he fell just after the dinner break.
Saliba was a short stack on the money bubble but managed to survive to make the money after an hour long hand for hand bubble. However the bubble eventually burst when both Gordon Patterson and Jeremy Lyons shared the title of bubble boy.
However Saliba would fall shortly after the bubble as she called from the big blind and moved all in with bottom pair only to be called and eliminated by middle pair when she failed to improve on the turn or river.
The final 27 will return tomorrow at 4 p.m. local time as play will commence until a final table is reached. The blinds will start at Level 20 with 5,000/10,000 with a 10,000 big blind ante. Stay tuned to PokerNews for all the action until a winner is crowned on Monday 22nd May 2023.