XL Blizzard #32 - $500,000 Main Event
Day: 1
XL Blizzard #32 - $500,000 Main Event
Day 1 Completed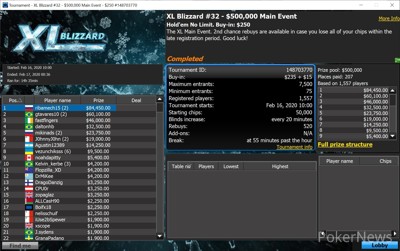 At just over 14 and a half hours, it lived up to the name Main Event. When the dust settled on XL Blizzard #32 - $500,000 Main Event, all the chips were in front of the Russian Federation's "ribamech15" and they had a an extra $84,450 in their bankroll.
There was a bit of extra value as they fell just short of the guarantee, with 1,557 entries plus 520 rebuys they came pretty close to the promised $500,000.
2020 XL Blizzard Main Event Final Table Results
| Place | Player | Prize |
| --- | --- | --- |
| 1 | ribamech15 | $84,450 |
| 2 | gtavares10 | $60,100 |
| 3 | fastfingers | $46,000 |
| 4 | daltonhb | $32.500 |
| 5 | mikinads | $23,750 |
| 6 | J0hnnyJ0hn | $19,000 |
| 7 | Agustin12389 | $14,250 |
| 8 | vezunchiksss | $9,500 |
| 9 | noahdapitty | $5,400 |
Main Event Recap
The biggest event in the XL Blizzard kicked off at 5PM GMT, but even with 5 hours of late registration, it started off strong with more than 700 players in their seats when the first hand was dealt. By the time the registration was over 5 hours later, 1,557 entries added 520 rebuys. That meant 207 players got paid, with a minimum cash set at $550, and the $84,450 up top.
It took another 2 hours and 20 minutes to get into the money, and once that happened, things moved even faster. Just an hour later they were down to 109 players left and another hour later just 55 remained.
It started to slow down a bit at that point, with another 3 hours elapsing before the final table was set. Then they hit the gas again. Canadian "noahdapitty" was the first off the big stage, followed "vezunchiksss" of the Ukraine a few minutes later. "Agustin12389", "J0hnnyJ0hn", "mikinads", and "daltonhb" then quickly exited as well bringing the total down to three.
They played three handed for close to 40 minutes before Ireland's "fastfingers" took the 3rd place spot worth $46,000 after they got their short stack in with suited gappers and ran into ace-queen.
Heads up took about 30 minutes, and while they started close to even, Russia's "ribamech15" build and held a lead. "gtavares10" of Brazil played the short stack well, doubling when they had to, and finding the right folds to stay alive. It wasn't to be though, and after about half an hour of heads up play, they finally got it in with ace-nine, only to run into big slick in the winner's hand. The second place was worth $60,100 for the Brazilian, while $84,450 went to the Russian winner.
That brings the 2020 XL Blizzard to a close. Thanks for following along here with PokerNews, and we hope to see you again soon for 888poker's next big online festival.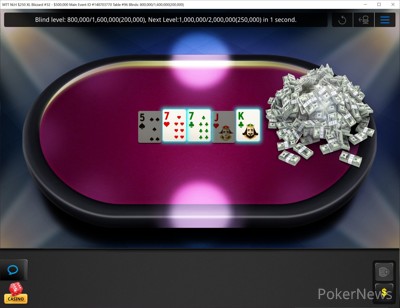 "ribamech15" had the 3:1 chip advantage, and when they limped into a pot, "gtavares10" came over top with a shove for 29,256,551. "ribamech15" quickly called, and it was a tough spot for the short stack.
"gtavares10":

"ribamech15":
"gtavares10" was looking for hearts or a nine, but the board came
to send them home in 2nd with a pocket full of $60,100.
"ribamech15" has the distinct advantage heads up at the moment, but "gtavares10" has been all in for their life a few times and survived, so the match is far from over.
Level: 40
Blinds: 800,000/1,600,000
Ante: 200,000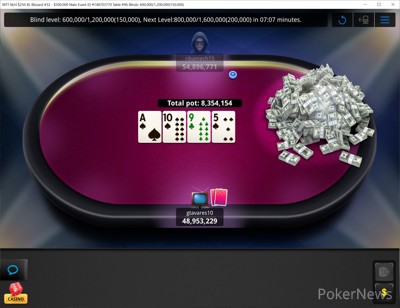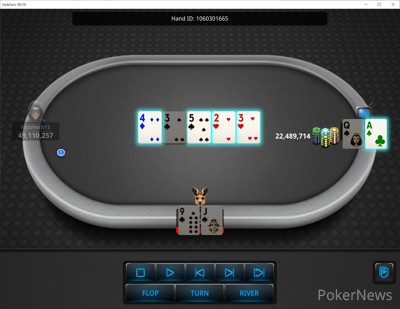 After a raise and a call, "fastfingers" shoved the small stack on their big blind. "gtavares10" called, and it was
for the short stack against
for "gtavares10". They didn't need it, but the
board ran out to a wheel for the covering stack, and "fastfingers" was out in 3rd place for $46K.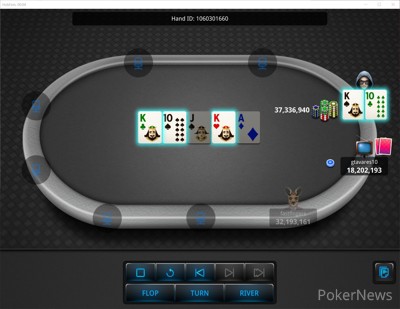 "gtavares10" raised to 2 million from button, and "ribamech15" called from the big blind. The flop came
and "ribamech15" check-called a bet of 1,800,014.
Action went check-check on the
turn, but when "ribamech15" checked the
river, "gtavares10" put in 7,215,403. "ribamech15" check-raised to 14,430,906, and after a tank, "gtavares10" called, and mucked when they saw
in their opponent's hand.
Level: 39
Blinds: 600,000/1,200,000
Ante: 150,000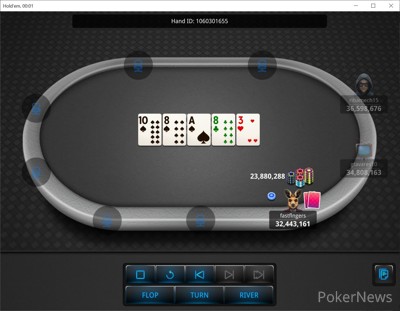 Chips have been moving around, but no one is able to gain an advantage. On the final hand before the break, "fastfingers" raised to 2 million from the button with 23 million behind and "ribamech15" three-bet from the small blind to 6,254,429 with 36.5 million behind.
"fastfingers" called and the flop came
. It checked around to the
turn and again to the
river. "fastfingers" bet 9,976,400 after "ribamech15" checked a third time and got the fold.
Player
Chips
Progress

ribamech15

36,598,676

-6,754,444

gtavares10

34,808,163

9,750,000

fastfingers

32,443,161

-2,995,556