Level Info
| | |
| --- | --- |
| Level | 29 |
| Blinds | 50,000 / 100,000 |
| Ante | 10,000 |
Players Info
| | |
| --- | --- |
| Players Left | 1 |
| Entries | 520 |
| Average Chip Stack | 10,400,000 |
| Total Chips | 10,400,000 |
| Prize Pool | 1,066,000 AUD |
Main Event
Day 4 Completed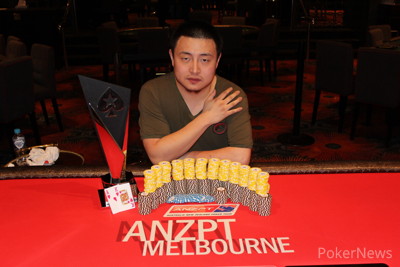 The final stop on Season 7 of the Australia New Zealand Poker Tour (ANZPT) began five days ago at Crown Melbourne in Victoria, and in the end it was Australia's Lin Shi who overcame a record field of 520 players to be crowned the PokerStars.net ANZPT Melbourne champion.
Shi began the final table with the second-largest stack, but was short stacked through parts of the final table. He surged back, however, and after a three-handed deal, he never looked back as he ultimately went on to take out Peter Matusik heads-up to capture the title and the AU$170,641 top prize.
Congrats to Lin Shi!
For Shi to win, eight others had to bust, and in the first two hours of the day the tournament lost four players.
First to go was Mile Krstanoski, who would get his chips in preflop holding pocket queens and come up against Shi's
. An ace and king on the flop would see the 2012 Aussie Millions third-place finisher hit the rail first.
Shortly after, George Balandinos would run his pocket eights into Matusik's pocket nines and be almost drawing dead after Matusik flopped a nine.
Carl Knox and Eric Stadler, who finished in seventh and sixth respectively, would be the unluckiest of the four after getting all their chips in ahead and ultimately falling short. Knox had pocket nines against Nikolce Trajkovski's
. All was looking good for Knox until the river spiked a ten to see him fall in seventh. Five minutes later, Stadler was all in with the
against reigning Aussie Millions champ Manny Stavropoulos'
, but a six on the turn would end his day.
An hour later, Kenn Langcake would find his
trumped against Matusik's pocket kings, and have to settle for fifth place. Trajkovski would last two more hours before having his
go down to Shi's
after an eight spiked on the river.
Three-handed play lasted just over an hour before stacks evened out. A deal would be struck that saw Matusik guarantee himself $174,489, Stavropolous pocket $171,910, and Shi a respectable $150,641. An additional $20,000 was left aside for the eventual winner.
Three-handed play then loosened up before Shi got the better of Matusik, capturing a chip lead he would never squander. On a flop reading
Shi was at risk with his top pair going up against Matusik's flush draw. No help would come and Shi would find himself with almost two thirds of the chips in play.
Shi would then take out Stavropoulos by hitting a royal flush on the turn with the
against a pair of red threes. A great result for Stavropoulos, whose deep run in the tournament, combined with his Aussie Millions win at the beginning of the year, earned him the ANZPT Player of the Year title.
In the final hand of the night, Matusik would call off his stack with top pair on the turn only to run into the Broadway straight held by Shi. Matusik had to settle for second place and fell just short of being the first player in ANZPT history to win two Main Event titles (he previously won the 2011 ANZPT Gold Coast Main Event for $153,371).
Final Table Results
| | | |
| --- | --- | --- |
| Place | Player | Prize($AU) |
| 1 | Lin Shi | 170,641* |
| 2 | Peter Matusik | 174,489* |
| 3 | Manny Stavropoulos | 171,910* |
| 4 | Nikolce Trajkovski | 71,960 |
| 5 | Kenn Langcake | 55,965 |
| 6 | Erich Stadler | 45,305 |
| 7 | Carl Knox | 34,650 |
| 8 | George Balandinos | 26,650 |
| 9 | Mile Krstanoski | 19,120 |
*Denotes three-handed deal
That concludes the final ever event on the ANZPT schedule as the tour will now be absorbed into the APPT. A remarkable seven years of the tour has come to an end. Thank you for tuning in to PokerNews' coverage at each of the stops through out Australia and New Zealand over the years.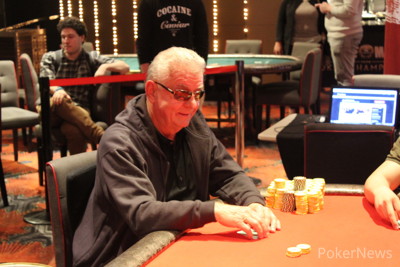 And a winner is crowned!
The hand started with Lin Shi calling from the button and Peter Matusik checking his option.
Both players would check the
flop before the
dropped on the turn.
Matusik then bet out 350,000 before Shi immediately moved all in. Matusik shrugged his shoulders and made the call risking his remaining 1.1 million in chips.
Matusik:

Shi:
Shi had turned the straight and had Matusik drawing dead as the
completed the board.
Matusik receives $174,489 as per the heads up deal, while the champion Lin Shi takes home the extra $20,00 to bring his total to $170,641.
Matusik will also go down in ANZPT history as the biggest money winner collectively earning $342,811 for his efforts.
*denotes figure after deal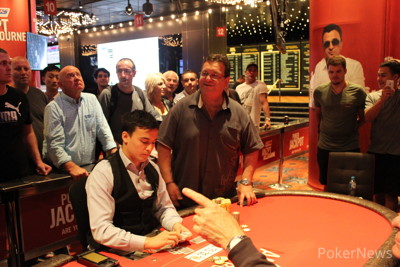 Lin Shi raised to 250,000 from the button before Manny Stavropoulos moved all in for 1.650 million in chips. Peter Matusik folded his big blind before Shi called.
Stavropoulos:

Shi:
Stavropoulos was in front with his small pair even after the flop fell
.
Shi had plenty of outs going into the turn, and he would hit the trump card, as the
dropped on the turn.
A Royal Flush for Shi would see him and Stavopoulos shake hands as the meaningless
completed the board.
A great result for Stavropoulos who now adds a 3rd place finish - in the largest ANZPT main event ever - to a resume that includes taking down this years Aussie Millions Main Event.
*denotes figure after deal
Manny Stavropoulos called from the small blind and Peter Matusik checked his option.
The flop came down
and both players checked.
After the
dropped on the turn, Stavropoulos reached for his chips, before splashing out 225,000. Matusik then went all in for and additional 920,000 in chips.
"Alright. Let's gamble," said Stavropoulos, before sliding in a call.
Stavropolous:

Matusik:
Matusik was in the lead with to pair but needed to fade a club or straight cards.
In the end the
completed the board to see Matusik double and leave Stavropoulos short.
Peter Matusik min raised from the button and was called by Lin Shi in the small blind.
The flop came down
and Shi checked. Matusik threw out a bet totalling 300,000 before Shi came over the top moving all in for 2.755 million. Matusik called and the cards were tabled.
Matusik:

Shi:
Shi was in front with his top pair against Matusik's flush draw. The board would run out
and
to see Shi hold with his pair as he moves up to over 5.5 million in chips.
The remaining three players have discussed a deal that will see Peter Matusik lock up $174,489, Manny Stavropoulos $171,910 and Lin Shi $150,641.
An additional $20,000 has been left aside as a bonus for the eventual champion as well as the coveted ANZPT trophy!
The remaining three players have returned and will continue play with blind at 50,000/100,000 with a 10,000 ante.
Level:

29
Blinds:

50,000/100,000
Ante:

10,000