APPT Grand Final
Day 1c Completed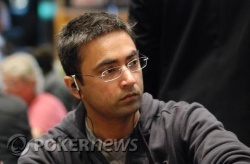 The last of the three Day 1 flights for the APPT Sydney Grand Final has come to an end. Day 1c provided just as much drama as Day 1a and Day 1b, with players taking some of the most brutal beats imaginable. Approximately 95 players have made it through to Day 2, creating a combined Day 2 field of 217 players.

Today was a day of champions, with all of this season's APPT champions (Eddy Sabat, Yoshihiro Tasaka, Daniel Craker and Van Marcus) in the field along with three WSOP Main Event champions (Chris Moneymaker, Joe Hachem and Peter Eastgate) and the defending WSOP Europe champion (John Juanda). Few fared particularly well. Sabat, Tasaka, Craker, Hachem and Eastgate all found the rail before day's end; Marcus and Juanda limped along for most of the day. Only 2003 WSOP Main Event champion Chris Moneymaker enjoyed any success, finising the day with around 60,000 chips.

The Aussie contingent was well-represented again today. Jay Huxley carried the standard for most of the day after coming out on top of a set-over-set situation against Brad Milinkovic in a pot worth almost 100,000 chips. Shane Moran also turned in a strong showing for the home team, amassing 70,000 chips during the day's play.

Huxley slipped a little late in the day, allowing Manish Sansi to slip into the chip lead with a touch over 100,000 chips.

The field will come together for the first time at 12:30pm local time tomorrow. We'll be back on the tournament floor at that time, keyboards at the ready to type up all of the action. Until then, you can find us at the bar.
It's that time of the evening! With the clock paused at 17:54, Tournament Director Danny McDonagh has given the honor to Chris Moneymaker to randomly draw how many more hands will be played the evening. The lucky number is 5!

Each table will play five more hands only and then play will conclude for the evening.
Billy Sukkar has been short for long stretches of this tournament. Craig Duffy finally delivered the knock-out punch needed to send Sukkar to the rail. Duffy opened the pot to 1,300 and was called by Carter Gill before Sukkar pushed from the big blind for about 10,000. Duffy made the call; Gill did not. Duffy showed
against Sukkar's
and won the pot on a board of
.
With less than thirty minutes remaining in the day, play has predictably tightened, just as it did yesterday. Players were already busting more slowly today than they did yesterday and the day before. That process has now ground almost to a halt.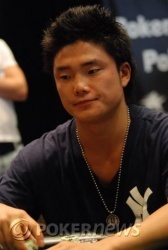 Ivan Tan opened with a raise to 1,650 and Nobbi Tanaka made the call. Phil Lau then moved all in over the top for all of his 17,625 chips. Tan folded as Tanaka went into the tank. He eventually made the call and it was the right one as his
were well ahead of Lau's
.
The board ran out
and Lau is eliminated as Tanaka jumps to 41,000.
"You know what it was Mick?" Tanaka said to Michael Guzzardi seated at his table, "His nose flared!"
Guzzardi replied "What if it flared when he had jacks?"
Tanaka laughed "Then I'm f%#ked!"
After doublng through Jay Huxley a little while ago, Ivan Tan has turned up the pressure. A recent hand between the two and Michael Guzzardi is demonstrative. Guzzardi opened for 1,675. Action passed to Huxley, who made it 3,600 before Tan reraised to 14,100 from the big blind. Guzzardi and Huxley both folded, which Huxley flashing
as he mucked.
Tan is up to 47,000.
Another chip leader has taken a hit and fallen back to the pack somewhat. Wang Che Jung was the victim this time. He flopped trips holding
on a board of
. Frits Van Beek did him one better, flopping a full house with
. Jung called Van Beek's all-in bet of 30,700 on the flop, but couldn't improve on the
turn or
river. Jung is back to 80,000; Van Beek is up to 68,000.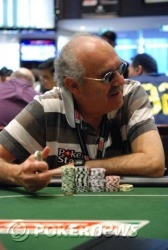 We caught the action on the turn with the board reading
. David Gorr led out with a bet of 3,000 from the big blind and his opponent in the cutoff called.
The river was the
and Gorr fired 6,000 into the middle. The player in the cutoff tried to get a reaction from his opponent but Gorr was having none of it.
"Are you talking to me?" questioned Gorr before turning his chair around to face in the opposite direction to his opponent.
"Ok I call then!" said the cutoff player, but Gorr tabled
for trips which was good as his opponent mucked. Gorr is now up to 38,000 chips.
Level:

7
Blinds:

300/600
Ante:

75