Main Event
Day 4 Completed
Following five days of intense tournament poker that featured twenty-eight levels, a grueling final table and a determined heads up battle; a champion has been crowned in the third stop of season four's PokerStars.net Asia Pacific Poker Tour here in Auckland, New Zealand!
Earlier in the week, 218 players took to the felt to battle it out with some of Australasia's best, and most talented players. Previous PokerStars.net APPT Champions Aaron Benton (Sydney) and Victorino Torres (Macau), alongside ANZPT Champions Scott Kerr (Queensland), Julian Cohen (Queenstown), Nauv Kashyap (Gold Coast) and Tony Hachem (Perth) all took to the felt. However it would be defending champion and recent WSOP bracelet winner and durrrr-killer Simon Watt that would attract the most attention as he looked to establish himself as one of the best players in the Southern Hemisphere.
Australia and New Zealand supplied the majority of the field as players - both seasoned pros, online qualifier and amateurs alike - all made their way to the rail over the first three days until just nine remained on a Sunday that was highly stereotypical of New Zealand day; one involving cold rain and hurling wind!
One of the short stacks heading into the penultimate day of play, Danny 'Brotha D' Leaosavaii - the undisputed Godfather of New Zealand hip-hop - rode a wave of cards and lucky rivers to soar up the leaderboard to finish on top of a final table that was dominated by PokerStars Online Qualifiers; which included previous days chip leaders Tom Grigg and Noah Vogelman.
As the final table kicked off at an incredibly fast pace, it was when play reached heads up that everything slowed down as both Leaosavaii and Grigg would begin one of the most passive, but highly entertaining battles of New Zealand vs Australia, hometown favorite vs overseas rival and amateur vs near-seasoned pro. Both Leaosavaii and Grigg see-sawed back and forth for over four and a half hours as each captured the lead and relinquished it several times over. However, it would Leaosavaii who capitalized on his advantage as he applied continuous pressure before eventually taking control of the match and proving victorious to become the third consecutive Kiwi to capture the title!
Leaosavaii - or Brotha D as he is mainly known as - displayed traits of aggression, control, composure, timing and friendly table compassion on his way to besting the 218-player field to be crowned the 2010 PokerStars.net APPT Auckland Champion and proud owner of the coveted trophy and $123,058 (NZ$170,000) first prize!
As for the PokerNews Live Reporting Team based here in Auckland, New Zealand, we would firstly like to thank PokerStars, Toni Quedley and the SKYCITY Auckland Poker Room for their wonderful hospitality throughout the past five days. For you tournament junkies out there, make sure to catch all the coverage from the WSOP Europe as action extends till the end of the month as the PokerStars.net Asia Pacific Poker Tour goes on a short hiatus until November 12th-16th when the fourth stop of the fourth season in Cebu, Philippines kicks off.
Until then . . . may your Aces greet Kings . . . flushes best straights . . . and triple barrel bluffs go uncalled!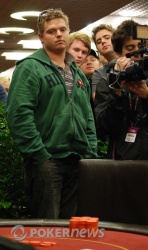 Danny 'Brotha D' Leaoasavaii entered the pot with a min-raise to 160,000 only to have Tom Grigg three-bet shove his last 880,000 from the big blind.
As Leaoasavaii was still sliding out chips, he announced a call and casually flipped his hand over before standing up.
Leaoasavaii:

Grigg:
With both players now on their feet and being surrounded by the respected railbirds, the dealer would drop the
flop to keep Leaoasavaii in the lead with his ace-high.
With both sides of the table screaming for certain cards, the
on the turn changed little apart from putting Leaoasavaii one step closer to holding the title.
"Deuce! Deuce! Deuce!" screamed of one Leaoasavaii's railbirds, before a few of Grigg's loyal supporters screamed a mixture of jacks and tens.
As a crowd of over forty people rose to their feet to see what fate await for each player, the dealer burned and turned the
on the river to produce a mix of emotions from either end of the spectrum.
While Grigg sunk both emotionally and physically, a jubilant Leaoasavaii was hugged and cheered by his many friends, family, fans and supporters before - in a show of kindness and compassion that he had displayed all tournament - went over to Grigg to console him on his 2nd place finish which earned him a $78,106 payday.
Both players saw the flop of
before Tom Grigg bet out 100,000, which was check called by Danny 'Brotha D' Leaoasavaii.
They both checked the
before Leaoasavaii led out for 300,000 on the
river. Grigg tanked before finally announcing a call.
Leaoasavaii tabled
for trips as Grigg mucked his hand as 'Brotha D' increased his stack to 2,120,000.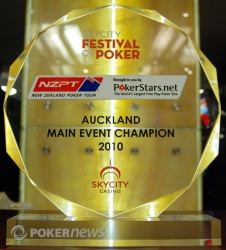 Danny 'Brotha D' Leaoasavaii - 2,565,000
Tom Grigg- 1,315,000
The players are back in their seats and the cards are in the air!
Level: 28
Blinds: 40,000/80,000
Ante: 10,000
The two remaining players are heading on a 10-minute break.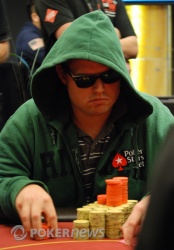 Both players limped in and checked down a
board to see Danny 'Brotha D' Leaoasavaii table his
to collect the pot and move to 2,720,000 in chips.
Tom Grigg continues to slide; now down to just 1,160,000 in chips.
Tom Grigg opened to 130,000 from the button and Danny 'Brotha D' Leaoasavaii made the call.
Grigg fired out 150,000 on the
flop with Leaoasavaii check-calling as the
landed on the turn and both players tapped the table.
Leaoasavaii took the lead on the river, firing out 250,000 to prompt a fold from Grigg as he slipped to 1,420,000 and Leaoasavaii climb to 2,460,000.