Level Info
| | |
| --- | --- |
| Level | 28 |
| Blinds | 50,000 / 100,000 |
| Ante | 10,000 |
Main Event
Day 4 Completed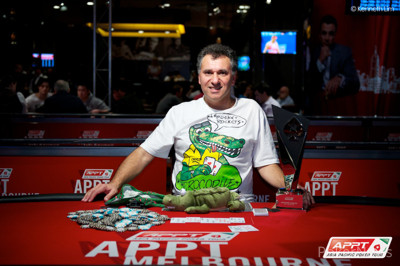 The latest Asia Pacific Poker Tour champion has been crowned at the Crown Poker Room in Melbourne, Australia. After five tough days of action, Aussie poker veteran Billy "The Croc" Argyros claimed victory of the 2013 APPT Melbourne Main Event.
Argyros is one of the original inductees in the Australian Poker Hall of Fame and has a poker resume which includes tracked results in each of the last four decades. Now, in 2013, Argyros has taken down one of the most prestigious titles in the country and his second largest career score.
"I haven't won a tournament since Cleopatra was skiing down the Nile!" quipped Argyros after he took down the title and $134,500 to go along with it following a three-handed deal.
When the APPT Melbourne Main Event final table began at midday local time, everyone was expecting it to be a very long day in the Crown Poker Room. Then within the first we had lost four players.
The first player to find the rail was short stack Jazz Mathers. Starting the day with around five big blinds, Mathers was happy to look down at
early in the action and get all his chips in. Mathers had to come up against Ravi Maravar's
and would unfortunately hit the rail when the dealer rolled out a
board.
Despite picking up extra chips when he eliminated Mathers, Maravar would be the next player to find the rail. Maraver first lost all his chips when he ran his
into [Removed:17]'s
, then lost the rest of them all in preflop holding
against Ashley Mason's
.
Just moments after Maravar hit the rail and Phi Luu would join him. With blinds at 15,000-30,000, Luu's final hand saw him move all in for 295,000 from under the gun holding
. Billy Argyros looked down at
in the big blind and made the call. No help came for Luu and it was all over in 7th place.
Six-handed play would become five-handed very quickly as 2013 Aussie Millions runner-up Joe Cabret couldn't turn his Day 3 "chip and a chair" story into a victory. Cabret's final hand was a flip that he couldn't win as his
was out drawn by [Removed:17]'s
.
At this point Robert Demalian was still in contention and looking good to find another big result after making a deep run in this year's WSOP Main Event. However, it was in 5th place that Demalian would find the rail when he was all in preflop holding
and couldn't stay ahead of Bowdy Tolhopf's
.
Ashley Mason started the day as the chip leader, but seemed to be card dead and could never really get anything going. Eventually Mason found himself all in preflop holding
against Billy Argyros'
. The board ran out
and Mason was sent out in 4th place, adding $58,400 to the $49,350 he received for winning a $1,650 Six-Max side event last week.
Just a short while after three-handed play began and Billy Argyros, [Removed:17] and Bowdy Tolhopf decided to do an ICM deal. The players left $29,500 aside for the eventual champion, and because Tolhopf was a big chip leader, he locked up $156,000, while [Removed:17] received $133,000 and Argyros claimed $115,000.
The players were fairly deep stacked at the time of the deal and so it wasn't too surprising that it would take around four hours to reach heads-up play. In the end the 3rd place finish went to [Removed:17]. It was an unfortunate beat for Yan as his
was all in preflop against Tolhopf's
and couldn't stay ahead as a
board was spread on the felt.
Billy Argyros started the heads-up battle with a slight chip lead over Bowdy Tolhopf and with $29,500 on the line, the two players decided to do another chop, with Argyros taking home $14,500, Tolhopf claiming $10,000 and $5,000 left aside for the champion.
When Argyros defeated Tolhopf heads-up, he became the second Australian Poker Hall of Fame member to win APPT Melbourne after Leo Boxell claimed victory in the 2011 APPT Melbourne Main Event.
2013 APPT Melbourne – Final Table Results

| Place | Player | Prize |
| --- | --- | --- |
| 1 | Billy Argyros | $134,500* |
| 2 | Bowdy Tolhopf | $166,000* |
| 3 | [Removed:17] | $133,000* |
| 4 | Ashley Mason | $58,400 |
| 5 | Robert Damelian | $45,900 |
| 6 | Joe Cabret | $37,550 |
| 7 | Phi Luu | $29,200 |
| 8 | Ravi Maravar | $22,920 |
| 9 | Jazz Mathers | $16,650 |
*denotes three-handed deal
Our thanks once again to the world-class team here in the Crown Poker Room and to the team at PokerStars for running another very successful Asia Pacific Poker Tour event. Congratulations to "The Croc"!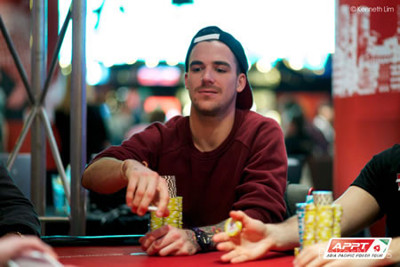 The final hand of the night saw Bowdy Tolhopf open with a bet from the button, before Billy Argyros three-bet. Tolhopf then moved all in and was snap called as both players tabled their cards.
Tolhopf:

Argyros:
The board ran out
to see Argyros' pair hold, giving the Australian Poker Hall of Famer a much deserved victory.
"I haven't won a tournament since Cleopatra was skiing down the Nile," said Argyros straight after final hand.
For his second place finish, Tolhopf will walk away with $166,000 after all deals were finalised.
Bowdy Tolhopf opened to 225,000 and was called by Billy Argyros before both players watched the flop come down
.
Argyros reached for chips and bet out 225,000 and was almost beaten to the pot by a 600,000 raise by Tolhopf. Argyros thought about his decision, before finally announcing all in. The shove took Tolhopf by surprise, opting to muck his hand and exposing the
in the process.
The two remaining players have gone a quick break as the table prepares for the heads-up battle.
It is Australian poker veteran Billy Argyros with a slight chip lead over Bowdy Tolhopf.
We will be back to action soon. Remember, there was a deal done many hours ago and now the two remaining players are fighting it out for the title, the trophy and the leftover $29,500.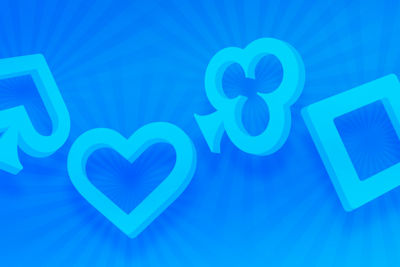 When [Removed:17] looked down at
on the button he would open it to 200,000. Bowdy Tolhopf was in the small blind and looked down at his
and decided to move all in. Billy Argyros was out of the way and Yan made an instant call.
Tolhopf had Yan covered, but it was looking very likely that Yan would double up.
Then the dealer spread out a
board and it was all over for Yan in 3rd place.
As per the earlier ICM deal, Yan takes home $133,000.
Bilyl Argyros has just won his chips back off Bowdy Tolhopf. It started with Argyros opening to 250,000. Tolhopf then asked Argyros how much he had left and before Argyros could answer, Tolhopf had moved all in.
Argyros snap called and turned over
. Tolhopf turned over his
and then watched the dealer spread out a
board.
Just like that, Argyros is the chip leader again.
Bowdy Tolhopf opted to move all in for 2,410,000 from the small blind. Billy Argyros was on the big blind and thought long and hard about his decision.
"I'm trying to put you on a hand," said Argyros, standing up from his chair. "If I call, I'll call your hand," he added.
Argyros agonised over his decision before finally making the call as both players tabled their cards.
Argyros:

Tolhopf:
Tolhopf was at risk, but was dealt a lifeline when the flop came down
. Argyros would miss his seven as the board ran out the
and
to see him drop to 2,415,000 in chips.
[Removed:17] opened the button and Billy Argyros called out of the big blind. Both players checked the
flop and a
hit the turn. Argyros checked here and Yan bet 250,000. Argyros asked the dealer to spread the pot and then called.
On the
river, both players checked and Yan turned over
. Argyros flipped over
and scooped up the pot.
Level:

28
Blinds:

50,000/100,000
Ante:

10,000