After 16.5 hours on Day 2 of the 2018 PokerStars.net APPT ₱200,000 High Roller, and a lengthy deal discussion, Hon Cheong Lee was finally agreed upon as the winner for ₱4,676,260 ($87,880) and the amazing trophy. Taking second place for ₱4,656,260 ($87,504) was India's Sahil Agarwal.
The tournament attracted a record number of entries, 124 in total, which beat the 82 runners during APPT Korea. That made it the largest APPT High Roller this season and the largest in the APPT Manila history. The previous biggest APPT Manila High Roller took place in 2016, which was won by Yan Li when she beat 57 other players for ₱3,527,400 ($74,889).
Li actually had a shot a winning again this year as she finished just shy of the final table in 11th place. Other notable in-the-money finishes include Phanlert Sukonthachartnant (13th place) and Kitty Kuo (12th place).
Final Table Results
| Place | Player | Country | Prize (PISO) | Prize (USD) |
| --- | --- | --- | --- | --- |
| 1 | Hon Cheong Lee | Hong Kong | ₱4,676,260 | $87,953 |
| 2 | Sahil Agarwal | India | ₱4,656,260 | $87,577 |
| 3 | Konstantin Pogodin | Russia | ₱2,446,000 | $46,006 |
| 4 | Maxim Befus | Germany | ₱2,025,000 | $38,087 |
| 5 | Randy Lew | United States | ₱1,633,000 | $30,714 |
| 6 | Yilin Yang | China | ₱1,288,000 | $24,225 |
| 7 | Xin Fan | China | ₱985,000 | $18,526 |
| 8 | Jae Wook Shin | Korea | ₱741,000 | $13,937 |
| 9 | Sriharsha Doddapaneni | India | ₱553,000 | $10,401 |
Action of the day
The day started with 38 players returning from Day 1 with Li taking the honors with the overnight chip lead. As registration was still open for another six levels, players were coming and going furiously for four hours. At the end of the registration period, 37 players were still seated at the tables with chips in front of them. Only 17 of them would be in the money though.
Aditya Sushant would end up becoming the bubble boy when he ran his pocket nines into the ace-jack of Agarwal. The jack in the window of the flop meant the end of Sushant's tournament life. It would then take another two hours before the Thomas Floan was the first to be sent to the payout desk when he shoved with queen-ten and was called by Thai Loc Le with ace-jack.
John Tech left the stage next when his ace-king couldn't win. Canlin Chen needed four bullets but didn't get further than 15th place after running his ace-six into the pocket queens of Sriharsha Doddapaneni. Gabriel Carter flopped top pair with ten-eight but ran into the queens of Maxim Befus. Sukonthachartnant held queens when he was eliminated by the ace-king of Agarwal and finished in 13th place.
Kuo risked her tournament life and lost with ace-nine and was called by Xin Fan who held ace-queen. Li lost to Lew with pocket kings when Lew had flopped a set of fours. Even though Le was chip leading for most of the day, he ended up being the final table bubble when he first got his aces cracked by the ace-king of Konstantin Pogodin and then lost the remainder of his stack to Lew.
Doddapaneni finished in ninth place when he couldn't win against Pogodin's pocket queens with ace-eight. Jae Wook Shin was out next when he ran his ace-ten into the ace-king of Pogodin. Lee took out Fan shortly after with pocket kings. Fan held pocket jacks and couldn't find another jack to double up. Yilin Yang hadn't played many hands up till now and was slowly losing all his chips. He ended up shoving with king-jack into the ace-queen of Lee.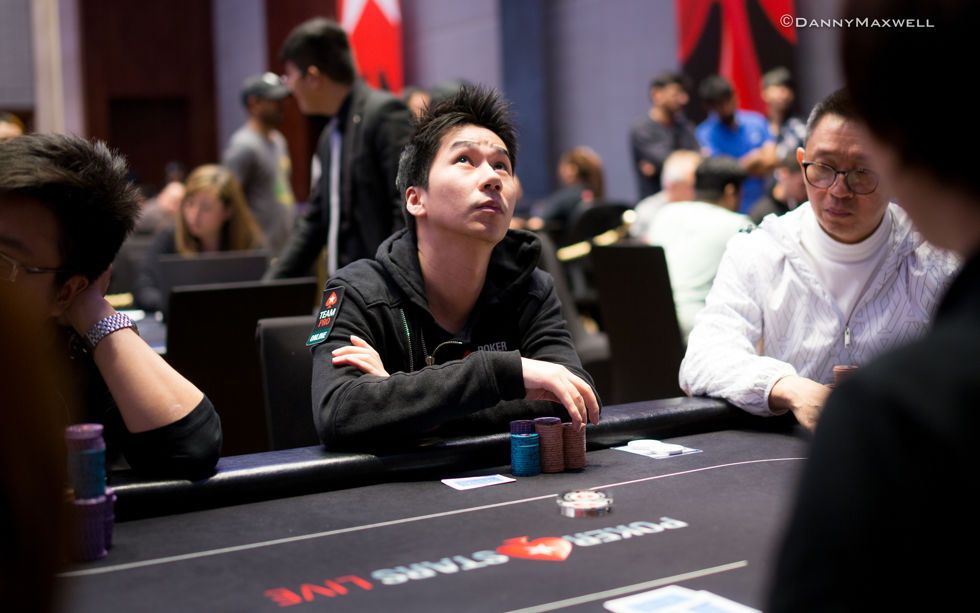 PokerStars Team Online's Randy Lew finally found his Waterloo when he shoved for less than eight big blinds with nine-six from the small blind into the pocket aces of Pogodin who was sitting in the big blind. No help came at all on the board and Lew was sent back home in fifth place. It would then take almost another hour of players doubling each other up before Befus was eliminated in fourth place when he found queen-jack and shoved into the ace-nine of Agarwal. A flush draw came on the board on the turn but never materialized for a split pot for Befus to stay alive.
Three-handed play went on for another hour with double-ups and big pots for everyone, chips kept going back and forth between all three players. But Pogodin drew the short straw when he shoved for the final time with queen-jack and got called by Lee with ace-queen. As soon as Pogodin left for the airport after collecting his cash, Lee and Agarwal started discussing a deal. That would last for about an hour and in the end, Lee got to claim the victory and the trophy.