Ying Kit Chan Eliminated in 2nd Place (HKD$1,731,000)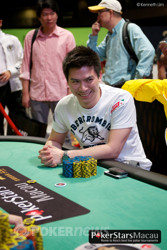 In a epic turn of events the ACOP Main Event has come to an end! After a hand was concluded both players started talking in their native tongue, and about a minute later they both erupted from their seats in excitement.
"All in, all in, all in!" is what we made up out of their words, and the tournament directors rushed over to the final table. The cards laid on the table, untouched, as both players stood around with their friends awaiting the all-in showdown. But something funny was going on.
Both players had agreed on splitting the money even, and playing one big coin flip for the win in this event. Neither player had touched, or even looked at, their cards and this was truly going to be a blind coin flip for the win in this event. The stack sizes were not even remotely close, but neither player seemed to care. Ying Kit Chan had 2,203,000 against Zou's 3,321,000.
After six hours of heads up play it all came down to one final hand. And they wanted to make the most of it! The players explained that they wanted to have the board ran out completely, and then turn over one card at a time.
The dealer ran out
, and Zhou was first to turn over the
. Chan followed by turning over the
, and the action was back on Zhou. He flipped up the
and had the nuts! Chan realized he had just lost the tournament, and showed his
which gave him two pair. With that the tournament was over, and the trophy will go to China!