Konstantin Pogodin Eliminated In 6th Place (HK$ 1,350,000)
Level 25 : 12,000/24,000, 4,000 ante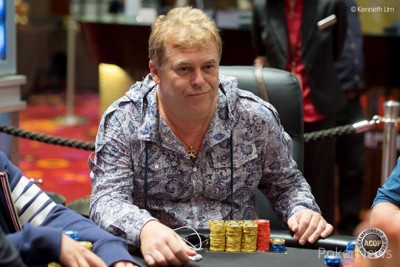 Konstantin Pogodin opened the action for 50,000 under the gun and Ami Barer sat to his left raised him to 144,000. The other players got out of the way and Pogodin made the call.
The flop was
and Pogodin checked. Barer bet 72,000 and Pogodin went for a check-raise to 200,000. The stack sizes of the two players were very similar and Barer made the call.
The turn card was the
and Pogodin moved all in. Barer's hands went to his face as if this is what he had been dreading, but he made the call and flipped over
.
Pogodin tapped the table and then showed his
The river card was the
. No jack for Pogodin and when the stacks were counted down Barer just had the edge to bust the Russian in sixth place.