Main Event
Day 5 Completed

Level 30 : 40,000/80,000, 10,000 ante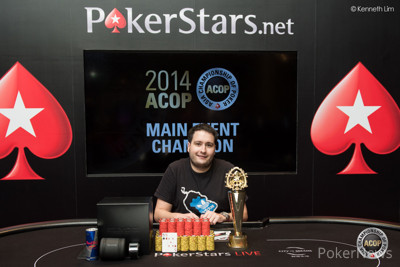 That's all she wrote from the PokerStars.net APPT Season 8 Asia Championship of Poker Main Event! After a 14-hour day, it was Gabriel Le Jossec who rose to the top to take the title and the HK$6,300,000 first-place prize money. Le Jossec defeated reigning champion Sunny Jung during heads-up play, denying the Korean professional back-to-back victories.
The first casualty of the day came on just the third hand of the final table. Tore Lukashaugen, the table short stack, three-bet all in over an open from Vladimir Troyanovkskiy. Troyanovkskiy called, and Lukashaugen showed the
, but he was dominated by the Russian's
. A run out of
ensured that Lukashaugen would fall in ninth place.
Shortly thereafter, Raiden Kan called all in for his tournament life also holding pocket eights. Kan was up against Jung's ace-king and fell behind after an ace on the flop. Kan was eliminated in eighth place and collected HK$813,100 for his finish.
Play then continued seven-handed for over two hours, with no player wanting to be the next to fall. Ultimately, the next to go was Joseph Cheong, whose top pair ran into Jung's pocket aces during a massive confrontation. Despite Cheong coming up short of the victory in the Main Event, he's had a spectacular week making two final tables. With this finish, Cheong pocketed an additional HK$1,080,000.
Russian Konstantin Pogodin was the next to go, eliminated at the hands of reigning Aussie Millions Main Event champion Ami Barer. Soon after Porodin's elimination, the other Russian at the table made his way to the exit in dramatic fashion. Troyanovskiy four-bet all in over a three-bet from Jung. Action folded back to Jung, and he called, showing the
. Troyanovskiy had that beat, however, with the
in the hole. Troyanovskiy looked poised to double up and remain in contention for the title, but fate was not on his side as the flop came down
to give Jung a set of tens and a massive advantage heading to the turn. The board finished with the
and the
, eliminating Troyanovskiy in fifth place.
Four-handed play was the next long stretch of the tournament, lasting several hours thanks to multiple short stacks doubling up. It all came to a head, however, when Barer moved all in with four to a flush and an over card against Jung's pocket kings. Barer failed to improve on the subsequent streets, and he was eliminated from play in fourth place.
Zuo "ST" Wang was then eliminated in third place, failing to improve with ace-jack against Jung's pocket nines. Wang took home HK$2,565,000 for his finish, and with this, Jung and Le Jossec were thrust into heads-up play with the former holding a significant lead.
The heads-up match went back and forth several times, with neither player refusing to quit. On one key hand, Jung flopped two pair only to have Le Jossec turn a better two pair. A series of bets and raises got all of the money in, and Le Jossec was able to score a full double. From there, he seized the chip lead and eventually put Jung against the ropes. On the final hand, Le Jossec flopped bottom set against Jung's flopped top two pair. All of the money went in, Jung was unable to improve, and Le Jossec was awarded the title of champion.
Final Table Payouts
| Place | Player | Country | Prize (HKD) |
| --- | --- | --- | --- |
| 1 | Gabriel Le Jossec | Canada | $6,300,000 |
| 2 | Sunny Jung | Korea | $4,250,000 |
| 3 | Zuo "ST" Wang | China | $2,565,000 |
| 4 | Ami Barer | Canada | $2,025,000 |
| 5 | Vladimir Troyanovskiy | Russia | $1,620,000 |
| 6 | Konstantin Pogodin | Russia | $1,350,000 |
| 7 | Joseph Cheong | USA | $1,080,000 |
| 8 | Raiden Kan | Hong Kong | $813,100 |
| 9 | Tore Lukashaugen | Norway | $675,000 |
That does it for PokerNews' coverage of the APPT Season 8 Asia Championship of Poker. Congratulations to Gabriel Le Jossec and goodnight!
Level 30 : 40,000/80,000, 10,000 ante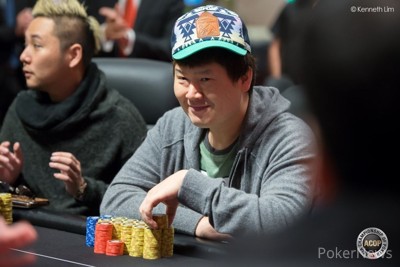 Sunny Jung opened for 165,000 and Gabriel Le Jossec made the call as Jung briefly removed his baseball cap and rubbed his neck to get some of the tension out.
The flop was
. Le Jossec checked and Jung put out a bet of 200,000.
Le Jossec announced a raise to 510,000 and out went the chips. Jung again rubbed his neck while he thought about his next move. That move would be to announce a further raise to 510,000.
Le Jossec now took his time, pausing to take a few puffs on his vaporizer as the clock ticked towards 5 a.m. Le Jossec announced, "All in." Jung made the call for his tournament life.
The crowds pressed round the table as the cards were turned on their backs.
Jung:
Le Jossec:
.
Jung had flopped two pair but Le Jossec was ahead with bottom set. The turn card was the
and finally the river was dealt the
.
It was all over. Le Jossec cheered and went to his ecstatic rail before returning quickly to shake the hand of the defeated champ. There was to be no back-to-back win for Jung but nevertheless a hugely impressive second place.

Level 30 : 40,000/80,000, 10,000 ante
Sunny Jung had the button. He made it 165,000 to go and found a call from Gabriel Le Jossec. The two saw a flop of
and Le Jossec check-called a continuation of 170,000.
Fourth street put two pair on the board with the
, prompting both players to check and see the
on the river. Le Jossec bet 400,000 and Jung announced a call.
"I play the board," said Le Jossec.
Jung showed
for a full house and was awarded the pot. He now has about 3.2 million to his name.

Level 30 : 40,000/80,000, 10,000 ante
Gabriel Le Jossec raised to 165,000 from the button and Sunny Jung called. The flop came down
and Jung checked. Le Jossec continued out for 200,000 only to have Jung check-raise to 525,000. Le Jossec let it go and Jung took the pot.
Level 30 : 40,000/80,000, 10,000 ante
Sunny Jung opened the action for 170,000 and Gabriel Le Jossec made the call. The flop was
and both players checked. On the turn card
Le Jossec bet 230,000 and Jung made the call. A river
saw Le Jossec continue to up the pressure and bet 600,000. Jung threw his cards in looking a little tired and frustrated.
On the next hand Le Jossec opened for 165,000 and Jung called. The flop was
and Jung check-called a bet of 160,000. The turn was the
and again Jung check-called a bet, this time for 300,000. The
completed the board. Jung checked and Le Jossec bet 740,000. Jung fiddled with his chips for a bit, constructed a call and slid it out.
Le Jossec showed his
and Jung mucked.

Level 30 : 40,000/80,000, 10,000 ante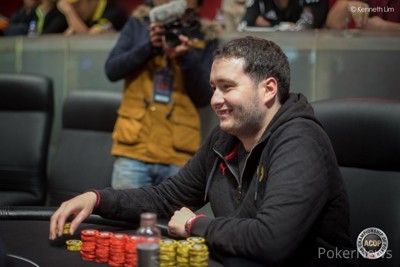 Sunny Jung raised to 160,000 from the button and Gabriel Le Jossec called from the big blind. The flop fell
and Le Jossec check-called a continuation bet of 90,000. The
hit the turn and Le Jossec checked again. Jung bet 220,000 only to have Le Jossec come over the top with a check-raise to 630,000. Jung went into the tank for about two minutes before announcing that he was all in. Le Jossec called for his own tournament life of 1.84 million and the hands were exposed.
Le Jossec:

Jung:
Both players held two pair with Le Jossec's jacks and deuces reigning supreme. The
finished the board and Le Jossec was about to score the double to 4.05 million.
Level: 30
Blinds: 40,000/80,000
Ante: 10,000
Level 29 : 30,000/60,000, 10,000 ante
Level 29 : 30,000/60,000, 10,000 ante
No huge pots recently as they both continue to probe trying to find a weakness. Sunny Jung won a pot recently when he check raised the flop but gave most of that back when there was a rare three-bet preflop from him to 400,000 and Gabriel Le Jossec made the call.
The flop was
and Jung check-folded to a 420,000 bet from Le Jossec.