Gettin' Mizzi With It
Level 26 : 25,000/50,000, 5,000 ante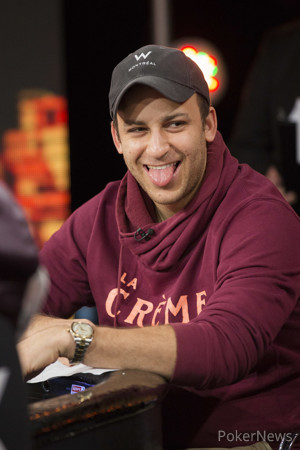 Ami Barer was first to act, and raised to 100,000. Sorel Mizzi called on his direct left, the rest of the players folded, and the dealer fanned
. Barer continued for 90,000, Mizzi called, and the turn brought the
.
Barer fired a second bullet worth 270,000, Mizzi called, and the
completed the board.
Barer emptied the chamber, plopping 665,000 in front of him - roughly three quarters of the pot - and Mizzi went into the tank. The Canadian riffled chips with his left hand while studying the board, then finally reached for chips.
With two hands full of chocolate T25,000 chips, Mizzi pushed forward a raise to 1.55 million. Barer sat back in his chair, breathing deeply, then started to fidget a bit. He moved his mouth back and forth while he thought about the decision, then finally flicked his cards into the muck, conceding the pot.