Tarvi Eller Bags the Most on Day 1b of the Coolbet Open Main Event

Level 9 : 500/1,000, 1,000 ante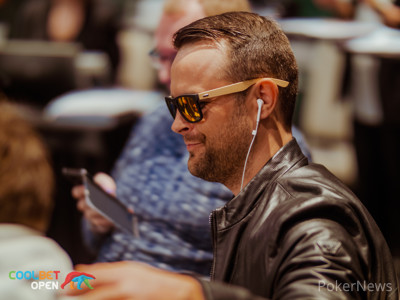 Day 1b of the Coolbet Open €550 Main Event at Olympic Park Casino and Hilton Park Hotel was a huge success with 315 entrants growing the total field to 445 entrants when combined with the 130 attracted on Day 1a.
The massive field will continue to escalate with late registration open until the end of Level 10 or the first level of Day 2 on Friday, May 10.
A total of 148 entrants survived which brings the remaining field size currently at 211 players with 63 bagging chips on Day 1a.
Estonia's Tarvi Eller ended Day 1b in the chip lead with 226,300 and well enter Day 2 only behind in the chip counts to Day 1a chip leader Tobias Revenas from Sweden who bagged 293,500.
The next biggest stacks coming from the Day 1b field are all ahead of everyone that bagged chips in Day 1a outside of Revenas with Finland's Toni Fagerstrom ending the day with 197,800, last Coolbet Open Main Event third-place finisher Mathias Siljander with 190,100, Estonia's Henri Kasper with 189,500, and Norway's Magnus Grovnik with 184,200 in chips.
For Siljander, the fifth time was the charm for his big stack as he entered once on Day 1a and four times on Day 1b.
Top Chip Counts Entering Day 2
| Position | Player | Country | Chip Count | Big Blinds |
| --- | --- | --- | --- | --- |
| 1 | Tobias Revenas | Sweden | 293,500 | 245 |
| 2 | Tarvi Eller | Estonia | 226,300 | 189 |
| 3 | Toni Fagerstrom | Finland | 197,800 | 165 |
| 4 | Mathias Siljander | Finland | 190,100 | 158 |
| 5 | Henri Kasper | Estonia | 189,500 | 158 |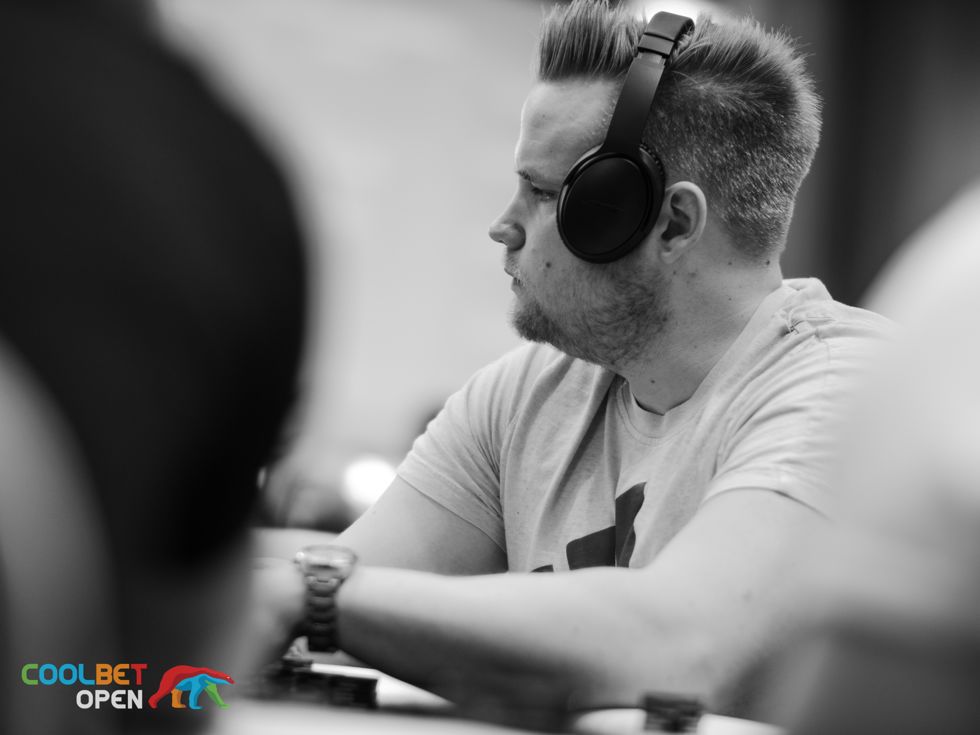 Meanwhile, Finland's Mats Albertsen, who won the the last Coolbet Open Main Event in October for €60,300, is also in good shape heading into day two after bagging a six-figure stack of 137,000. He shared with PokerNews at the final break how he was pushing ahead in hopes of bagging back to back titles.
Also finding a bag was former Estonian footballer and Coolbet Ambassador Joel Lindpere who will bring 58,100 into Day 2. Lindpere was thrilled to advance to Day 2 of the Coolbet Open Main Event for the first time and will be joined by Estonian national ice hockey team goaltender Villem-Henrik Koitmaa, who bagged 118,000 on Day 1a.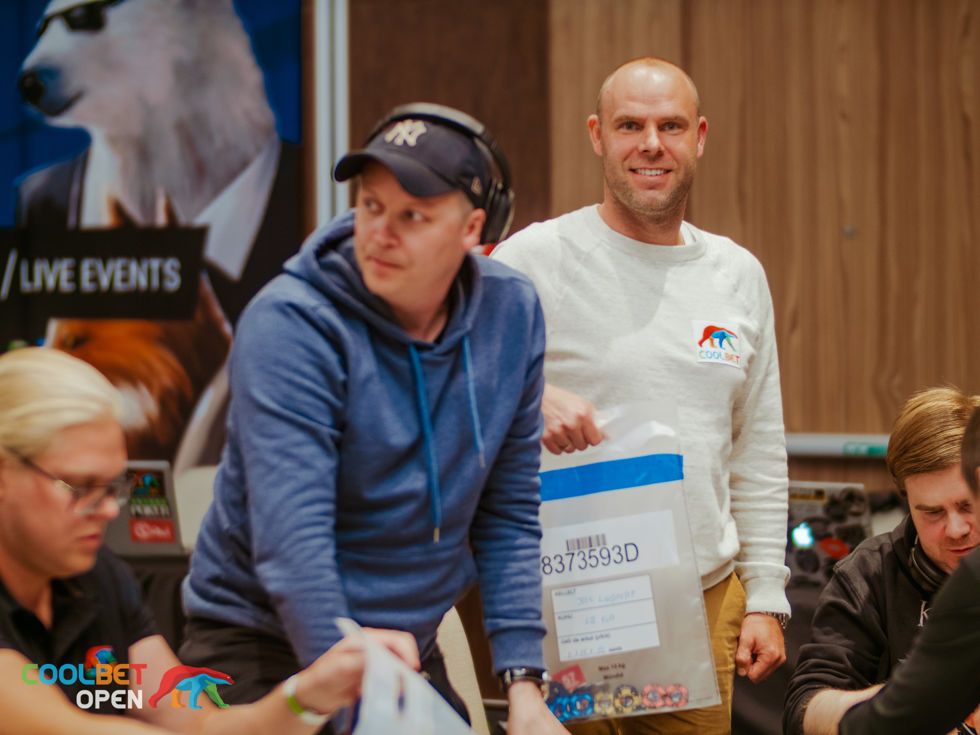 Coolbet Founder Jan Svendsen had better success today than he did on Day 1a and will go into Day 2 with a healthy stack of 98,200. While Steven Iglesias, who we interviewed live on Facebook about what it is like for a blind player to play poker after losing his eyesight a few years ago will also head to Day 2 with 37,500 in chips.
The action resumes tomorrow at 12 p.m. EEST with blinds at 600/1,200 with an ante of 1,000. Stay tuned at PokerNews as we bring you coverage of the final two days of the Coolbet Open Main Event.
*Photos courtesy of Natalie Black/Coolbet Open