"taylorlang" Burst the Bubble by Busting Nolet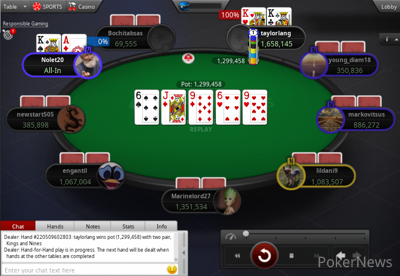 Blinds: 20,000/40,000
"lildani9" raised to 84,000 from the early position and Guillaume "Nolet20" Nolet three-bet to 560,000 from the cutoff. "taylorlang" four-bet shoved for 923,916 from the small blind for the action to fold back to Nolet who called for the remaining 5,229.
Guillaume "Nolet20" Nolet:

"taylorlang":
The board ran out
for "taylorlang" to hold with the kings for two pair to bust Nolet as the bubble.