Main Event
Day 4 Completed
| | | | | | |
| --- | --- | --- | --- | --- | --- |
| Kevin Vandersmissen | | | | 4,512,000 | 212,000 |
| Cristian Dragomir | | | | 2,293,000 | 133,000 |
| Philip Meulyzer | | | | 1,758,000 | 358,000 |
| Vladimir Geshkenbein | | | | 1,678,000 | 78,000 |
| Koen De Visscher | | | | 1,543,000 | -57,000 |
| Denis Murphy | | | | 991,000 | 111,000 |
| Giacomo Maisto | | | | 986,000 | -114,000 |
| Morten Mortensen | | | | 780,000 | -20,000 |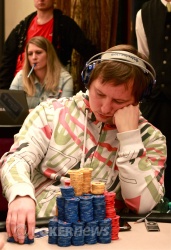 The official final table is now set but the story of the day will be the one man wrecking crew that is Kevin Vandermissen. The Belgian player seemed to win every pot he played from very early on in the day, knocking out numerous players and catapulting into the chip lead.
Meanwhile, former chip leader Giancomo Maisto had a much tougher day and had to battle to make it through. The final PokerStars Team Pro Alex Kravchenko busted out in 16th place, his best ever finish at an EPT while Koen De Visscher probably won't ever forget his set vs set vs pair and flush draw against Andreas Wiese and Cristian Tardea.
The final table though, looks fascinating with the three Belgians, volatile Russian Vladimir Geshkenbein, Irish PokerStars qualifier Denis Murphy, former chip leader Maisto, Danish youngster Morten Mortensen and sole Romanian Cristian Dragomir. The last of these still is recovering from knocking out his good friend Tardea just before the final table.
Vandermissen will be the player to beat tomorrow and the PokerNews Live Reporting Team will be bringing you all the action as this tournament reaches its thrilling conclusion from 2pm CET.
Seat 1: Kevin Vandersmissen
Seat 2: Giacomo Maisto
Seat 3: Vladimir Geshkenbein
Seat 4: Philip Meulyzer
Seat 5: Denis Murphy
Seat 6: Morten Mortensen
Seat 7: Cristian Dragomir
Seat 8: Koen De Visscher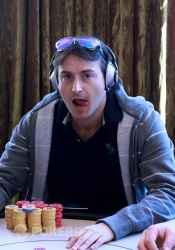 The official final table of eight has been reached with the elimination of Manilo Iemina.
Finding himself down to just 412,000 chips he moved all in from early position and when the action folded to Philip Meulyzer on the button he re-shoved all in himself. The blinds got out of the way and the cards were turned over.
Iemina:

Meulyzer:
The final board ran out
and with that Iemina was out ninth place finisher and the tournament was paused until 1400 Friday.
First, Philip Meulyzer raised to 65,000 but then folded when Denis Murphy made it 155,000.
A couple of hands later and Meulyzer called a raise from Morten Mortensen but then the Belgian check-folded to a 68,000 bet on the
flop.
Incorporating approximate chip counts.
Seat 1: Kevin Vandersmissen - 4,300,000
Seat 2: Giacomo Maisto - 1,100,000
Seat 3: Vladimir Geshkenbein - 1,600,000
Seat 4: Philip Meulyzer - 1,400,000
Seat 5: Denis Murphy - 880,000
Seat 6: Morten Mortensen - 800,000
Seat 7: Cristian Dragomir - 2,160,000
Seat 8: Manilo Iemina - 550,000
Seat 9: Koen De Visscher - 1,600,000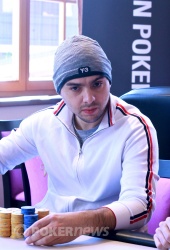 Cristian Dragomir raised to 80,000 preflop and Cristian Tardea reraised all-in from the blinds.
Dragomir looked stunned, "I have to call..."
Tardea:

Dragomir:
The board came
and the Romanians embraced and shook hands. Afterwards , it simply became too much for Dragomir having knocked out his friend so close to the final table and he began to cry - briefly leaving the tournament area for several minutes.
Seat draw to follow.
Level:

24
Blinds:

15,000/30,000
Ante:

3,000
| | | | | | |
| --- | --- | --- | --- | --- | --- |
| Kevin Vandersmissen | | | | 4,300,000 | 700,000 |
| Cristian Dragomir | | | | 1,685,000 | -115,000 |
| Koen De Visscher | | | | 1,630,000 | -70,000 |
| Vladimir Geshkenbein | | | | 1,600,000 | 250,000 |
| Philip Meulyzer | | | | 1,489,000 | -11,000 |
| Giacomo Maisto | | | | 1,083,000 | -17,000 |
| Morten Mortensen | | | | 900,000 | -230,000 |
| Denis Murphy | | | | 829,000 | 280,000 |
| Manilo Iemina | | | | 566,000 | -84,000 |
| Cristian Tardea | | | | 390,000 | 111,000 |