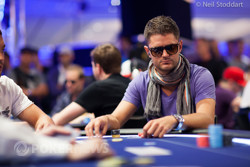 We saw an open seat over at the feature table and inquired as to what happened. According to the announcer, Simon Ravnsbaek and Dan Smith, both of who held big stacks, got it in with the same hand--
.
Well, as we've said before, Smith has been running well all day, and this hand would be no different. You see, Smith held the
and the board ran out with four spades of its own, giving him a flush and the massive pot. On the flip side, Ravnsbaek was eliminated in a gut-wrenching hand.
Meanwhile, Masa Kagawa was eliminated at the hands of Tobias Reinkemeier over at one of the outer tables.