Smith Cracks Juanda's Aces in 320K Pot
Level 12 : 800-1,600, 200 ante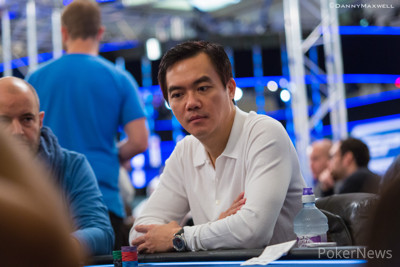 According to a German colleague of ours, Dan Smith just won a 320,000-chip all-in pot against John Juanda.
We are unsure of the exact action - one of our reporters has watched Juanda fold to more than one three-bet from Smith - but the two engaged in a preflop raising war. Eventually, Juanda was all in and at risk for around 150,000 with
, and in great shape to double through Smith who had
.
The
flop was clean, and so too was the
on the turn, but the
spiked on the river to give Smith threes full of tens.
"Sorry," Smith said to Juanda more than once.
The man they call "King Dan" now appears to be our chip leader thanks to the fortuitious two-outer, while Juanda is eliminated.
Juanda tweeted the following after the hand:
All-in preflop for 320k pot w/ AA vs 33. Flop T88...7...3. So for first time I have a losing trip in London. Still love the city though!:)
Follow @LuckBoxJuanda