"That's Why He's a World Champion"

Level 9 : 400-800, 100 ante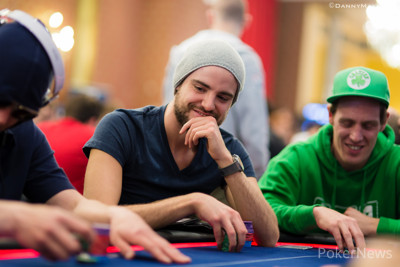 It's not often we get to see a world-class call, but we just did by a literal world-class player. We're talking about 2011 World Series of Poker champ Pius Heinz.
The hand began when he opened for 2,000 from the hijack only to have Sergey Rybachenko three-bet to 5,600 from the button. The blinds folded, Heinz made the call, and it was heads-up action to the
flop.
Heinz checked, Rybachenko bet 4,500, and Heinz woke up with a check-raise to 11,000. Rybachenko made the call and then fired out 12,500 when his German opponent checked the
turn. Heinz called it, and then promptly checked the
river. Rybachenko stacked his remaining 30,000 chips and slowly slid them forward.
"How much?" Heinz asked. The champ then contemplated the decision for around 90 seconds. A call would cost about two-thirds of his remaining chips, and he decided to go with it.
"Nice call," Rybachenko said and showed the
for a bluff. Heinz then tabled the
for just ace high. His read was right, and he was rewarded with a monster pot.
"That's why he's a world champ," Team Online's Mickey Petersen commented after the hand.
Meanwhile, Artem Litvinov and Tommaso Bonini have also been eliminated from the tournament.