Marton Czuczor Leads Last Six of EPT13 Prague, David Peters and Sam Cohen in Contention

Level 29 : 50,000/100,000, 10,000 ante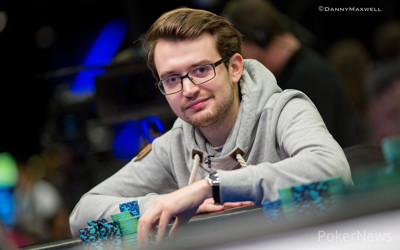 The penultimate day of the record-breaking 2016 PokerStars European Poker Tour €5,300 Main Event saw just 18 hopefuls out of a 1,192-entry strong field return to the tables of the Hilton Hotel in Prague. Jasper Meijer van Putten led the survivors into Day 5 and the Dutchman will return tomorrow. However, it's Marton Czuczor that takes the spotlight overnight after the official six-handed final table was set.
Czuczor bagged up 9,710,000 followed by David Peters with 8,880,000. The duo has established a solid lead over the rest of the field; Sergei Petrushevskii follows in third with 5,265,000 and Sam Cohen (4,520,000), Meijer van Putten (3,815,000) and Marius Gierse (3,550,000) complete the final table line-up.
| Seat | Name | Country | Chip Count | Big Blinds |
| --- | --- | --- | --- | --- |
| 1 | Jasper Meijer van Putten | Netherlands | 3,815,000 | 31 |
| 2 | Sam Cohen | United States | 4,520,000 | 37 |
| 3 | Marton Czuczor | Hungary | 9,710,000 | 81 |
| 4 | Marius Gierse | Germany | 3,555,000 | 29 |
| 5 | Sergei Petrushevskii | Russia | 5,265,000 | 43 |
| 6 | David Peters | United States | 8,880,000 | 74 |
The first player to join the rail on Day 5 was Martin Kabrhel. Similar to the previous days, the Czech was very vocal at the tables and three-bet almost his entire short stack after an open-raise by Stefan Fabian. The latter called and a paired king-high board was checked through. Fabian shoved when a seven appeared on the turn and Kabrhel eventually called it off with ace-jack. Fabian turned over seven-eight suited and send Kabrhel packing after the river was a blank.
The Czech was very vocal at the tables and three-bet almost his entire short stack after an open-raise by Stefan Fabian

Jukka Paloniemi followed next when he shoved his jack-ten into the ace-king of Cohen. An ace on the flop and a jack on the turn kept the better hand preflop in the lead and Paloniemi had to settle for 17th place.
Right after the last 16 were redrawn, two players were eliminated on the feature table in quick succession. Josip Vidovic moved in from under the gun with king-queen suited and Janos Kurtosi reshoved with ace-king. The board ran out jack-high. The last remaining Team PokerStars Pro, Brazil's Felipe Ramos, followed soon after. Ramos three-bet shoved for just under 10 big blinds with king-queen and the ace-jack of initial raiser Kurtosi stayed ahead on another jack-high board.
Stefan Fabian ran out of chips in 14th place. The Romanian tried to bluff David Lopez Llacer off a straight on a but that didn't work. Lopez called and Fabian only had ace-nine to show for. Down to less than three big blinds, Fabian called all in with queens after a raise by Czuczor. The latter had just king-queen suited to show for but spiked a king on the flop to send Fabian home.
Apostolos Bechrakis was out of the tournament next. His open-shove with ten-eight diamonds for around nine big blinds from the button saw Lopez Llacer pick up ace-queen in the small blind, Bechrakis was drawing dead on the turn when a queen appeared.
Andrew Hulme had to settle for 12th place after his stack was reduced to zero in back-to-back hands. He first check-raised all in after a seven-high flop with five-eight suited for middle pair and a gutshot. Petrushevskii called with seven-eight suited for top pair and the same gutshot, both turn and river brought a queen and Hulme had under three big blinds left. One hand later, Petrushevskii raised the button with queens. Hulme called all in with king-four. Lopez Llacer had nine-five suited and the board was checked down to see Petrushevskii finish the job he started in the previous hand.
In the same level still, the unofficial final table of the last nine was set. Cohen raised enough from the small blind to set Cristinel Dumitru all in and the latter called with ace-deuce suited in the big blind. Cohen only had queen-jack suited, but spiked a jack on the flop and turn. Over on the outer table, Gang Wang defended his big blind and ultimately shoved for more than three times the pot on an ace-high board with a possible flush after three hearts on the flop. Czuczor called with ace-five for two pair and Wang was caught with pocket jacks only.
Down to the last nine, Czuczor was in the lead. Peters closed the gap by eliminating Kurtosi in the small blind after turning a flush with king-queen suited. Kurtosi fired the turn and shoved the river of an ace-high board with jack-ten suited for a busted straight draw to bow out in ninth place.
The stack of Kiryl Radzivonau had been reduced to just 13 big blinds when he three-bet shoved into an open-raise by Czuczor and the latter had an easy call with pocket kings. Radzivonau only had pocket nines and found no help on a dry ten-high board.
Ultimately, it was Lopez Llacer who became the last casualty of the day. Petrushevskii had doubled through Peters with kings versus ace-king and the final seven were about to go on dinner break when the Spaniard three-bet an open raise by Peters and received a call. The flop came queen-high with a flush draw and Peters check-called a continuation bet before a deuce on the turn saw a check of Peters. The shove of Lopez Llacer and the call by the American followed. Lopez Llacer showed nine-eight suited for a double gutshot, while Peters had ace-queen suited for top pair. The river was another deuce and that brought Day 5 to an end.
All remaining six players have €145,900 guaranteed, but all eyes are set on the first-place payout of €774,600. Here's what's up for grabs on the final day:
| Position | Prize |
| --- | --- |
| 1 | €774,600 |
| 2 | €554,700 |
| 3 | €397,300 |
| 4 | €284,550 |
| 5 | €203,800 |
| 6 | €145,900 |
Action will resume on Monday December 19th at 12 p.m. noon local time with cards up livestream on a security delay of 60 minutes. The blinds will be 60,000/120,000 with a running ante of 20,000.
The PokerNews live reporting team will provide hand-for-hand coverage of the action until a winner is crowned. On top of that, you can also follow the updates of the final day of the record-breaking €10,300 High Roller event as well.