All Day 1 survivors of the record-breaking 2019 PokerStars EPT Barcelona €5,300 EPT Main Event combined to one field for the first time in the Salon Gaudi at Casino Barcelona and a new attendance record was already secured before the cards went back in the air.
However, the late registration for the flagship tournament of the festival remained open until the start of the day and another 28 entries boosted the field size to 1,988 entries to create a prize pool of €9,641,800.
With more than 700 players returning to their seats, tournament staff added an additional sixth level of 90 minutes to the schedule and not only did the money bubble burst, but the field was cut down all the way to just 191 survivors.
When it came to bagging and tagging, just two players boasted a stack of more than 1 million in chips and it was Simon "C. Darwin2" Mattsson that claimed the lead with 1,191,000 ahead of Alexis Ibarrola (1,069,000).
Other big stacks at the conclusion of Day 2 belong to Andres Korn (974,000), Jean Ferreira (910,000), Stefan Fabian (810,000), Marian Mik (792,000), Ben Farrell (760,000), Shannon Shorr (734,000), and Diego Falcone (698,000). Zhen Cai, who finished 6th in the 2019 WSOP Main Event, also made it through with a very healthy stack of 648,000 along with Martins Adeniya (536,000) and French rapper and TV personality Bruno "Kool Shen" Lopes (508,000).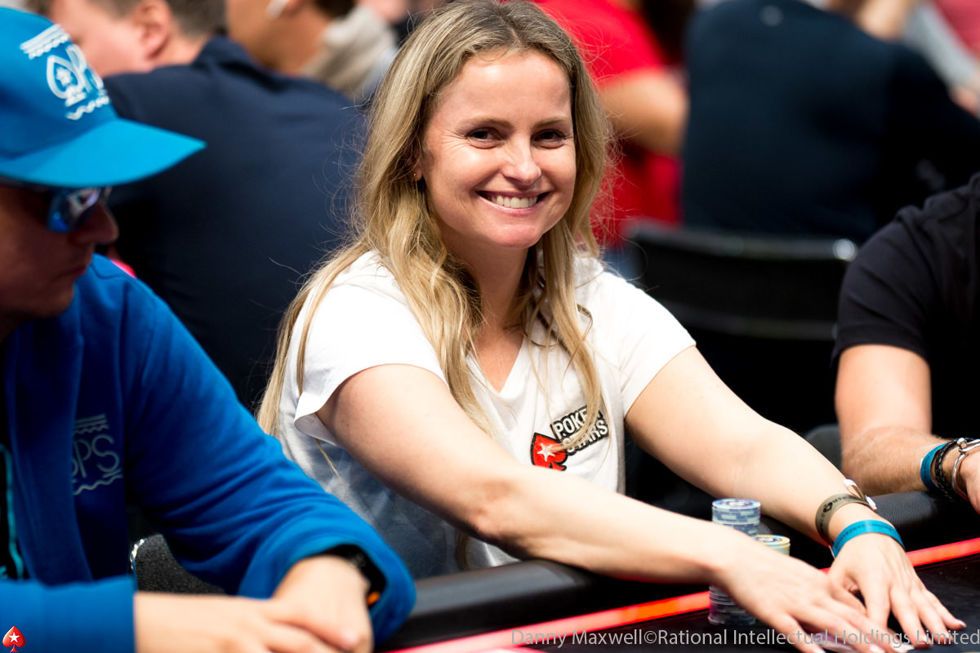 Among the PokerStars ambassadors, only Fatima Moreira de Melo bagged up chips for Day 3. The former hockey professional from the Netherlands claimed 236,000 to her name. Fellow ambassadors Leo Fernandez, Kalidou Sow, and Maria Konnikova were eliminated before the money while Steve Enriquez hit the rail in 224th place for €9,160.
Many other big names had to leave without anything to show for such as back-to-back Single-Day High Rolle champion Juan Pardo, Michael Addamo, Freddy Deeb, Ben Heath, Mustapha Kanit, Bryn Kenney, defending champion Piotr Nurzynski, Anthony Zinno, Kristen Bicknell and Mike Watson were just some of them that ran out of chips without anything to show for.
The money bubble itself was a brief affair as hand-for-hand never kicked in. Two players away from the money the clocks were stopped to verify the number of remaining hopefuls and in the first hand after that, two eliminations on different tables let the bubble burst. Kent Røed got it in with top pair and a gutshot only to run into a flopped straight and it was Carlos Branco that ended up as the bubble boy when he lost a flip with ace-king against the jacks of Alexis Urli.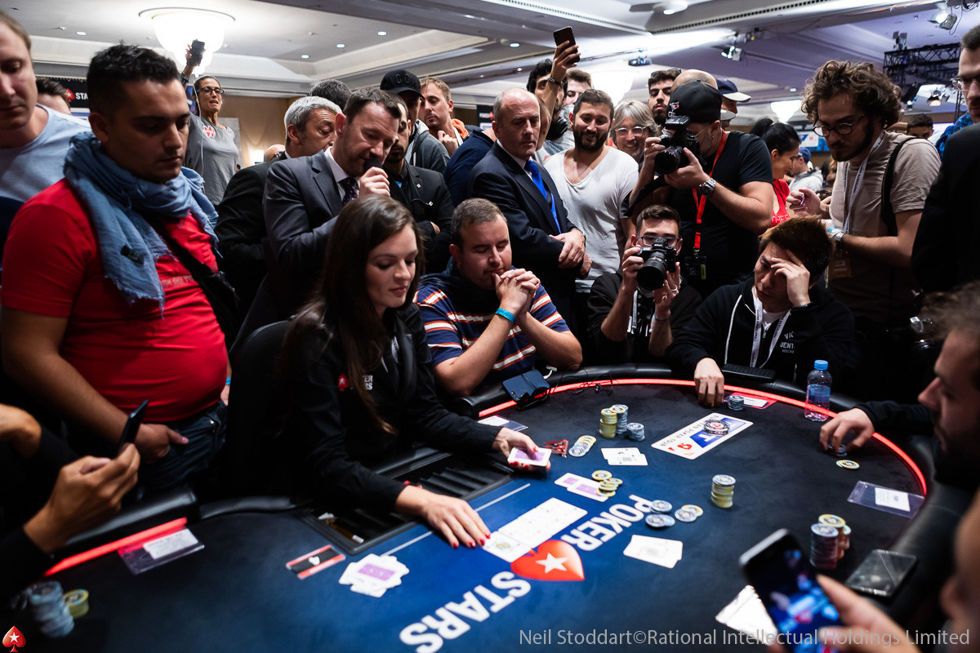 More than 100 players would head to the payout desk after the bubble to collect their winnings. Among them were Anton Wigg, Day 1a chip leader Benjamin Chalot, Sergio Aido, Dario Sammartino, Morten Mortensen, Leo Margets, Brian Green, Tony Dunst, and Mark Teltscher.
Patrik Antonius limp-shoved with pocket fives in a battle of the blinds and was called by Joao Monte Studart with ace-ten suited to see a ten appear on the river. Pedro Marques ran with ace-queen into ace-king and Martin Jacobson ended up second-best with pocket fives against the king-queen of Keisuke Hikosaka in the final level of the night.
All remaining 191 hopefuls will return to their seats at 12 p.m. noon local time, the blinds will recommence at 3,000-6,000 and a big blind ante of 6,000. A 30-second shot clock will be in play as of Day 3 and for the remainder of the tournament. Another six levels of 90 minutes are scheduled with a 75-minute dinner break upon completion of the fourth level.
The minimum payout locked up so far is €10,030, but all contenders in the biggest EPT Main Event in Barcelona have their hopes set on the massive top prize of €1,659,000. Stay tuned who makes it one step closer to writing history at Casino Barcelona, the PokerNews team will provide all the action from start-to-finish.
Main Event Day 3 Seat Draw
| Table | Seat | Player | Country | Chip Count | Big Blinds |
| --- | --- | --- | --- | --- | --- |
| 1 | 1 | Joshua Jones | United Kingdom | 236,000 | 39 |
| 1 | 2 | Matheus Cunha Guimaraes | Brazil | 133,000 | 22 |
| 1 | 3 | Rodrigo Marques Carmo | Portugal | 160,000 | 27 |
| 1 | 4 | Ema Zajmovic | Canada | 260,000 | 43 |
| 1 | 5 | Joao Monte Studart | Brazil | 512,000 | 85 |
| 1 | 6 | Ajay Gnanasambanthan | United States | 70,000 | 12 |
| 1 | 7 | Simon Mattsson | Sweden | 1,191,000 | 199 |
| 1 | 8 | Leandro Bustillo | Argentina | 602,000 | 100 |
| | | | | | |
| 2 | 1 | Alexander Ivarsson | Sweden | 176,000 | 29 |
| 2 | 2 | Fabiano Kovalski | Brazil | 184,000 | 31 |
| 2 | 3 | Louis Nyberg | Sweden | 555,000 | 93 |
| 2 | 4 | Niklas Astedt | Sweden | 220,000 | 37 |
| 2 | 5 | Kaspars Kalnozols | Latvia | 450,000 | 75 |
| 2 | 6 | Kunal Manohar Punjwani | India | 242,000 | 40 |
| 2 | 7 | Paul Van Oort | Netherlands | 11,000 | 2 |
| 2 | 8 | Manuel Fritz | Austria | 150,000 | 25 |
| | | | | | |
| 3 | 1 | Rodrigo De Barros Semeghini | Brazil | 516,000 | 86 |
| 3 | 2 | Balakrishna Reddy Patur | United States | 381,000 | 64 |
| 3 | 3 | Markku Koplimaa | Estonia | 246,000 | 41 |
| 3 | 4 | Ermo Kosk | Estonia | 75,000 | 13 |
| 3 | 5 | Marian Mik | Ukraine | 792,000 | 132 |
| 3 | 6 | Adrian Lazar | Romania | 286,000 | 48 |
| 3 | 7 | Ignacio Moron Chavero | Spain | 398,000 | 66 |
| 3 | 8 | Sergio Coutinho | Portugal | 559,000 | 93 |
| | | | | | |
| 4 | 1 | Yunye Lu | China | 294,000 | 49 |
| 4 | 2 | Dragos Trofimov | Moldova | 218,000 | 36 |
| 4 | 3 | Ut Tam Vo | France | 633,000 | 106 |
| 4 | 4 | Norberto Lopez | Spain | 432,000 | 72 |
| 4 | 5 | Denys Chufarin | Ukraine | 290,000 | 48 |
| 4 | 6 | Andreas Vlachos | Greece | 195,000 | 33 |
| 4 | 7 | Silvio Costa | Portugal | 384,000 | 64 |
| 4 | 8 | Andrew Leathem | United Kingdom | 282,000 | 47 |
| | | | | | |
| 5 | 1 | Timur Margolin | Israel | 72,000 | 12 |
| 5 | 2 | Stefan Fabian | Romania | 810,000 | 135 |
| 5 | 3 | Dengdong Huang | China | 220,000 | 37 |
| 5 | 4 | Jussi Hakkanen | Finland | 143,000 | 24 |
| 5 | 5 | Gaelle Baumann | France | 386,000 | 64 |
| 5 | 6 | Molly Mossey | United States | 309,000 | 52 |
| 5 | 7 | Benjamin Saada | France | 151,000 | 25 |
| 5 | 8 | Ramandeep Singh Gujral | India | 173,000 | 29 |
| | | | | | |
| 6 | 1 | Rui Sousa | Portugal | 561,000 | 94 |
| 6 | 2 | Maksim Shornikau | Belarus | 197,000 | 33 |
| 6 | 3 | Heinz Schlueter | Germany | 232,000 | 39 |
| 6 | 4 | Viktor Katzenberger | Hungary | 219,000 | 37 |
| 6 | 5 | Sahil Chuttani | India | 483,000 | 81 |
| 6 | 6 | Jean Ferreira | Canada | 910,000 | 152 |
| 6 | 7 | Harry Lodge | United Kingdom | 455,000 | 76 |
| 6 | 8 | Gheorghe Podovei | Romania | 67,000 | 11 |
| | | | | | |
| 7 | 1 | Roberto Machado | Portugal | 229,000 | 38 |
| 7 | 2 | Cyril Monbrun-Massot | France | 268,000 | 45 |
| 7 | 3 | Alex Foxen | United States | 228,000 | 38 |
| 7 | 4 | Oleg Nikolaenko | Russia | 98,000 | 16 |
| 7 | 5 | Zhen Cai | United States | 648,000 | 108 |
| 7 | 6 | Jussi Hietalahti | Finland | 235,000 | 39 |
| 7 | 7 | Daniel Tang | United Kingdom | 51,000 | 9 |
| 7 | 8 | Ryhor Karapanau | Belarus | 486,000 | 81 |
| | | | | | |
| 8 | 1 | Jack O'Neill | United Kingdom | 110,000 | 18 |
| 8 | 2 | Simon Brandstrom | Sweden | 509,000 | 85 |
| 8 | 3 | Nicola Grieco | Italy | 336,000 | 56 |
| 8 | 4 | Jeremy Palvini | France | 98,000 | 16 |
| 8 | 5 | Andre Marques | Portugal | 55,000 | 9 |
| 8 | 6 | Lukas Zaskodny | Czech Republic | 290,000 | 48 |
| 8 | 7 | Thiago Signorelli Viana | Brazil | 546,000 | 91 |
| 8 | 8 | Silviu Baltateanu | Romania | 385,000 | 64 |
| | | | | | |
| 9 | 2 | Quan Zhou | China | 82,000 | 14 |
| 9 | 3 | Isaac Haxton | United States | 190,000 | 32 |
| 9 | 4 | Istvan Birizdo | Hungary | 230,000 | 38 |
| 9 | 5 | Robert Heidorn | Germany | 370,000 | 62 |
| 9 | 6 | Gonzalo Pelaez | Argentina | 490,000 | 82 |
| 9 | 7 | Lander Lijo | Spain | 116,000 | 19 |
| 9 | 8 | Giovani Torre | Portugal | 436,000 | 73 |
| | | | | | |
| 10 | 1 | Ori Shay Mendi | Israel | 267,000 | 45 |
| 10 | 2 | Aymon Hata | United Kingdom | 179,000 | 30 |
| 10 | 3 | Nikolay Ponomarev | United Kingdom | 193,000 | 32 |
| 10 | 4 | Artur Martirosian | Russia | 649,000 | 108 |
| 10 | 5 | Jorge Abreu | Portugal | 69,000 | 12 |
| 10 | 6 | Nicola Bordignon | Italy | 111,000 | 19 |
| 10 | 7 | Ben Farrell | United Kingdom | 760,000 | 127 |
| 10 | 8 | Cassio Kiles | Brazil | 126,000 | 21 |
| | | | | | |
| 11 | 1 | Mustafa Biz | Turkey | 288,000 | 48 |
| 11 | 2 | Lucas Reeves | United Kingdom | 352,000 | 59 |
| 11 | 3 | Miguel Lopes | Portugal | 513,000 | 86 |
| 11 | 4 | Timothy Adams | Canada | 360,000 | 60 |
| 11 | 5 | Griffin Benger | Canada | 160,000 | 27 |
| 11 | 6 | Steve Berdah | France | 378,000 | 63 |
| 11 | 7 | Jiayuan Liu | China | 321,000 | 54 |
| 11 | 8 | Yilong Wang | China | 237,000 | 40 |
| | | | | | |
| 12 | 1 | Daniel Dvoress | Canada | 65,000 | 11 |
| 12 | 2 | Raul Martinez | Spain | 403,000 | 67 |
| 12 | 3 | Andres Korn | Argentina | 974,000 | 162 |
| 12 | 4 | Luuk Gieles | Netherlands | 103,000 | 17 |
| 12 | 5 | Michal Schuh | Czech Republic | 112,000 | 19 |
| 12 | 6 | Josef Huber | Switzerland | 133,000 | 22 |
| 12 | 7 | Luiz Duarte Ferreira Filho | Brazil | 296,000 | 49 |
| 12 | 8 | Dejan Kaladurdevic | Montenegro | 312,000 | 52 |
| | | | | | |
| 13 | 1 | Bart Lybaert | Belgium | 212,000 | 35 |
| 13 | 2 | Sergi Reixach | Spain | 282,000 | 47 |
| 13 | 3 | Ajay Chabra | United States | 123,000 | 21 |
| 13 | 4 | Fabien Motte | France | 553,000 | 92 |
| 13 | 5 | Jonathan Ben Soussan | France | 307,000 | 51 |
| 13 | 6 | Daniil Kiselev | Russia | 172,000 | 29 |
| 13 | 7 | Ivan Stokes | United Kingdom | 246,000 | 41 |
| 13 | 8 | Emmanuel Rapinier | France | 237,000 | 40 |
| | | | | | |
| 14 | 1 | Angel Guillen | Mexico | 3,000 | 1 |
| 14 | 2 | Guillaume Diaz | France | 111,000 | 19 |
| 14 | 3 | Mykhailo Gutyi | Ukraine | 523,000 | 87 |
| 14 | 4 | Ryan Tosoc | United States | 168,000 | 28 |
| 14 | 5 | Adam Jonsson | Sweden | 733,000 | 122 |
| 14 | 6 | Rodrigo Borges Mendes | Brazil | 94,000 | 16 |
| 14 | 7 | Florian Jouvenet | France | 180,000 | 30 |
| 14 | 8 | Klemens Roiter | Austria | 591,000 | 99 |
| | | | | | |
| 15 | 1 | Hassan Kamel | New Zealand | 386,000 | 64 |
| 15 | 2 | Stefan Jedlicka | Austria | 319,000 | 53 |
| 15 | 3 | Boris Velev | Bulgaria | 184,000 | 31 |
| 15 | 4 | Robert Mizrachi | United States | 62,000 | 10 |
| 15 | 5 | Alen Alencar | Brazil | 466,000 | 78 |
| 15 | 6 | Fatima Moreira De Melo | Netherlands | 236,000 | 39 |
| 15 | 7 | Alexis Ibarrola | France | 1,069,000 | 178 |
| 15 | 8 | John Hanaphy | Ireland | 183,000 | 31 |
| | | | | | |
| 16 | 1 | Michael Schmitz | Germany | 372,000 | 62 |
| 16 | 2 | Anton Yakuba | Russia | 173,000 | 29 |
| 16 | 3 | Mauro Francolini | Italy | 277,000 | 46 |
| 16 | 4 | Ivan Raich | Argentina | 255,000 | 43 |
| 16 | 5 | Thiago Crema | Brazil | 297,000 | 50 |
| 16 | 6 | Alexis Urli | Canada | 320,000 | 53 |
| 16 | 7 | Viktor Ustimov | Russia | 547,000 | 91 |
| 16 | 8 | Johnny Nedved | Belgium | 587,000 | 98 |
| | | | | | |
| 17 | 1 | Sergey Konovalov | Russia | 160,000 | 27 |
| 17 | 2 | Bruno Desimoni | Brazil | 175,000 | 29 |
| 17 | 3 | Corbin White | United States | 95,000 | 16 |
| 17 | 4 | Kimmo Kurko | Finland | 186,000 | 31 |
| 17 | 5 | [Removed:119] | France | 113,000 | 19 |
| 17 | 6 | Bartlomiej Machon | Poland | 533,000 | 89 |
| 17 | 7 | Audrius Navickas | Lithuania | 160,000 | 27 |
| 17 | 8 | Gianluca Speranza | Italy | 629,000 | 105 |
| | | | | | |
| 18 | 1 | Nilo Rodriguez | Argentina | 49,000 | 8 |
| 18 | 2 | Ben Lai | Hong Kong | 400,000 | 67 |
| 18 | 3 | Bruno Lopes | France | 508,000 | 85 |
| 18 | 4 | Florian Duta | Romania | 81,000 | 14 |
| 18 | 5 | Diego Falcone | Spain | 698,000 | 116 |
| 18 | 6 | Jonas Ten Cate | Netherlands | 71,000 | 12 |
| 18 | 7 | Louis Salter | United Kingdom | 384,000 | 64 |
| 18 | 8 | Tomas Paiva | Portugal | 228,000 | 38 |
| | | | | | |
| 19 | 1 | Jovan Jojic | Serbia | 100,000 | 17 |
| 19 | 2 | Philippe D'Auteuil | Canada | 60,000 | 10 |
| 19 | 3 | Muhamet Perati | Italy | 171,000 | 29 |
| 19 | 4 | Fikret Kovac | Bosnia and Herzegovina | 233,000 | 39 |
| 19 | 5 | Matthew Lambrecht | United States | 54,000 | 9 |
| 19 | 6 | Shannon Shorr | United States | 734,000 | 122 |
| 19 | 7 | Navot Golan | Israel | 313,000 | 52 |
| 19 | 8 | Eduardo Moreno Cardigo | Portugal | 112,000 | 19 |
| | | | | | |
| 20 | 1 | Pete Chen | Taiwan | 295,000 | 49 |
| 20 | 2 | Ramiro Petrone | Argentina | 722,000 | 120 |
| 20 | 3 | Martins Adeniya | United Kingdom | 536,000 | 89 |
| 20 | 4 | Naor Slobodskoy | Israel | 472,000 | 79 |
| 20 | 5 | Kully Sidhu | United Kingdom | 650,000 | 108 |
| 20 | 6 | Johan Storaakers | Sweden | 156,000 | 26 |
| 20 | 7 | Ioannis Zachmanidis | Greece | 331,000 | 55 |
| 20 | 8 | Kelvin Kerber | Brazil | 166,000 | 28 |
| | | | | | |
| 21 | 1 | Keisuke Hikosaka | Japan | 508,000 | 85 |
| 21 | 2 | Andrii Derzhypilskiy | Ukraine | 195,000 | 33 |
| 21 | 3 | Marton Czuczor | Hungary | 391,000 | 65 |
| 21 | 4 | Paul Pires Trigo | France | 390,000 | 65 |
| 21 | 5 | Yuri Martins | Brazil | 367,000 | 61 |
| 21 | 6 | Eduardo Cappellaro Rodrigues | Brazil | 347,000 | 58 |
| 21 | 7 | Luc Greenwood | Canada | 65,000 | 11 |
| 21 | 8 | Andrew Wilson | United Kingdom | 249,000 | 42 |
| | | | | | |
| 22 | 1 | Arsenii Karmatckii | Russia | 150,000 | 25 |
| 22 | 2 | Gianfranco Iaculli | Italy | 151,000 | 25 |
| 22 | 3 | Sabo Ceylan | Sweden | 582,000 | 97 |
| 22 | 4 | Michael Hooper | Canada | 371,000 | 62 |
| 22 | 5 | Luis Duarte Ferreira | Brazil | 311,000 | 52 |
| 22 | 6 | Anton Siden | Sweden | 160,000 | 27 |
| 22 | 7 | Enrique Rodriguez Cabanillas | Spain | 317,000 | 53 |
| 22 | 8 | Peter Chien | Canada | 91,000 | 15 |
| | | | | | |
| 23 | 1 | Francois Billard | Canada | 228,000 | 38 |
| 23 | 2 | Ramin Hajiyev | Azerbaijan | 113,000 | 19 |
| 23 | 3 | Felipe Salgado | Brazil | 710,000 | 118 |
| 23 | 4 | Padraig O'Neill | Ireland | 210,000 | 35 |
| 23 | 5 | Jerry Odeen | Sweden | 483,000 | 81 |
| 23 | 6 | Barak Wisbrod | Israel | 625,000 | 104 |
| 23 | 7 | Pasquale Braco | Italy | 618,000 | 103 |
| 23 | 8 | Joe Mouawad | Lebanon | 105,000 | 18 |
| | | | | | |
| 24 | 1 | Mihai Manole | Romania | 341,000 | 57 |
| 24 | 2 | Jorge Ramella Piriz | Uruguay | 292,000 | 49 |
| 24 | 3 | Bardh Shala | Norway | 190,000 | 32 |
| 24 | 4 | Leonardo Patacconi | Italy | 344,000 | 57 |
| 24 | 5 | Jan Kesanen | Finland | 142,000 | 24 |
| 24 | 6 | Xia Lin | China | 480,000 | 80 |
| 24 | 7 | Goran Mandic | Croatia | 148,000 | 25 |
| 24 | 8 | Luis Rodriguez | Spain | 132,000 | 22 |