Mulder Sends Kuliberda Deep Into the Tank

Level 16 : 2,000/5,000, 5,000 ante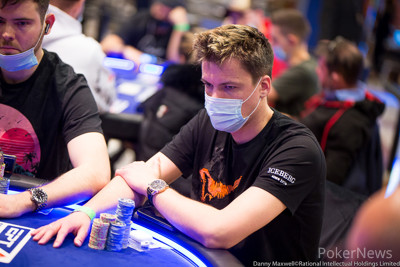 Action was picked up on the turn as it read
. From the big blind, Teun Mulder bet 38,000, Dawid Kuliberda called in the small blind.
The river was the
. Mulder jammed all in. Kuliberda thought for a while before asking for a count which was given as 143,000 and then he really went deep into the tank. He sat and played with his hair while looking down for at least three minutes before looking up at Mulder to think some more as Mulder sat motionless receiving a head massage.
Eventually, after at least seven minutes the clock was called by another player at the table. The floor came over and before the final ten seconds was started, Kuliberda folded.
Mulder allowed him to choose one card to reveal, but Kuliberda declined, saying "I don't need to see" and pushed Mulder's cards face down toward the dealer as everyone was left wondering.