Jordan Saccucci Leads Final Four of €5,300 EPT Main Event

Level 31 : Blinds 100,000/150,000, 150,000 ante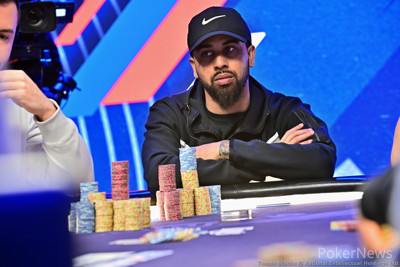 Nine players sat down at the final table of the 2022 PokerStars European Poker Tour Prague €5,300 Main Event to start the day here at the Hilton Prague venue in the Czech capital. That number has been cut down to the final four after just over four levels of play.
The man on top of the leaderboard at the start of the day was Jordan Saccucci. At the end of the day, he was still the man in the top spot with 12,925,000, or 86 big blinds. He'll be the one the other three are looking up to as they head into the final day of play tomorrow, each of them dreaming of the biggest piece of the €6,144,950 prize pool.
Two big stacks sit just behind him on the leaderboard, so Saccucci can't get too comfortable with his chip lead. From Hungary, Istvan Pilhofer ran his stack up to 10,600,000 at the end of the night, jumping up into the second spot on the leaderboard. From France, Antoine Saout sits just barely in third with 10,400,000.
The short stack heading to tomorrow's action is Jun Obara from Japan with 3,875,000. That's still 26 big blinds, so he'll have plenty of maneuverability to spin it up against the big stacks on all sides of him.
Seating Assignments for the Final Day
| Seat | Player | Country | Chip Count | Big Blinds |
| --- | --- | --- | --- | --- |
| 1 | Jordan Saccucci | Canada | 12,925,000 | 86 |
| 2 | Antoine Saout | France | 10,400,000 | 69 |
| 3 | Istvan Pilhofer | Hungary | 10,600,000 | 71 |
| 4 | Jun Obara | Japan | 3,875,000 | 26 |
All four remaining hopefuls have locked up an impressive €361,950. Even so, they're all dreaming of the top prize of €1,054,500 that goes to the winner.
Final Table Action of the Day
Playing from nine players to four players today, early action moved slow as players refused to be the first to fall. Eventually, Paul-Adrian Covaciu was that player when he lost a flip to end-of-day chip leader Saccucci. After him was Day 1a chip leader Javier Gomez Zapatero, who rode his big stack to the final table with 43 big blinds. He just couldn't get much going once he reached the final table, but took home a six-figure payday for his deep run.
Petar Kalev fell in seventh place, followed by Luigi D'Alterio in fifth place. Kalev ran a river bluff right into the straight of Saout to lose almost all of his chips, falling shortly afterward. D'Alterio couldn't win his all-important late flip against Pilhofer, so he was out the door as well.
With one more elimination to go before bagging up on the night, all eyes were on short-stacked fan favorite and PokerStars Ambassador Parker "Tonkaaaap" Talbot. He picked his spots well all day long, finding doubles left and right every time he got the chips in. He laddered up and up, watching players drop as he moved up the leaderboard. The dream of his first live poker trophy was getting more and more plausible. He ordered "lucky beers" throughout the final table that seemed to be working for him. Then he found another great spot at the end of the day.
On the final hand of the night, Talbot woke up with kings against two inferior pocket pairs and got all the chips in the middle against the nines of Saccucci. Unfortunately for him, Saccucci drilled a set on the flop, so Talbot had to settle for fifth-place money of €278,450.
Main Event Day 5 Results and Remaining Payouts
| Place | Winner | Country | Prize (in EUR) |
| --- | --- | --- | --- |
| 1 | | | €1,054,500 |
| 2 | | | €658,750 |
| 3 | | | €470,500 |
| 4 | | | €361,950 |
| 5 | Parker Talbot | Canada | €278,450 |
| 6 | Luigi D'Alterio | Italy | €214,150 |
| 7 | Petar Kalev | Bulgaria | €164,750 |
| 8 | Javier Gomez Zapatero | Spain | €126,700 |
| 9 | Paul-Adrian Covaciu | Romania | €97,450 |
With the World Cup Final schedule in mind, tomorrow's action will pick back up at 10:30 a.m. as the final four play down to a winner. The 30-minute-delayed livestream will start at 11:00 a.m. Players will return with 69 minutes left on the clock in level 31 with blinds of 100,000/150,000 and a 150,000 big blind ante.
You can be sure that PokerNews will be providing live reports from the venue here in Prague. Tune in tomorrow to see this one to a finish and find out who will be the next EPT Main Event Champion.