Event Info
| | |
| --- | --- |
| Buy-in | €5,000 |
| Players | 1,496 |
Level Info
| | |
| --- | --- |
| Level | 41 |
| Blinds | 600,000 / 1,200,000 |
| Ante | 200,000 |
€5,300 Main Event
Day 6 Completed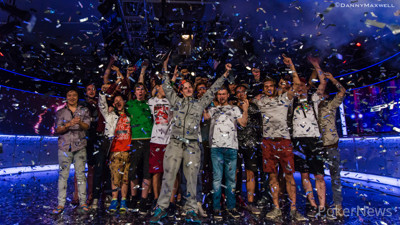 The record-breaking EPT Barcelona finished off with a marathon 15-hour final table and an epic heads-up battle that went on for six hours on it's own.
There had been a total of 1,496 runners who'd stumped up €5,300 to play the first European Poker Tour event of Season 11. Of course, there could be only one winner and that man was Andre Lettau, the German taking home the title and €794,058 after a deal was made three-handed with Samuel Phillips and Hossein Ensan. Phillips took the vast majority in the deal, banking over a million euros in total (€1,021,275) while Ensan picked up €652,667.
Ensan had started the day with the chip lead, the only player with over ten million in chips. Lettau was the first to make a move early on, winning four pots in a row, pushing himself up the leaderboard. Phillips also made some early running, taking the chip lead after he picked up aces and got paid off by Ensan's
on a jack-high board.
Slaven Popov was the first player to be eliminated, moving all in for his last 10 big blinds with
but ran into Ji Zhang's
in the big blind. A third queen on the flop quickly ended the Bulgarian player's hopes and he took home €121,300 as consolation.
Phillips continued to dominate the rest of the players, constantly keeping the pressure on the rest as they were forced to concede pot after pot due to ICM. Ji Zhang was next person to be eliminated, he squeezed with
after Ensan had raised with
and Andrey Shatilov called with
. Ensan quickly reshoved and Shatilov got out of the way. The board came
to leave six players remaining.
Kirl Radzivonau, in his Barcelona shirt, busted in 6h place. He called all-in with
in the big blind after Phillips shoved the small blind with
. No queen or jack came for the Belarussian and he left with a €224,500 payday.
Shatilov was the only player on the final table who'd have previous EPT final table experience having made the PCA final table a couple of years ago. The Russian had played well but found himself short and moving in with
, Lettau made the call with
and dodged several bullets on the
board, leaving just four players left.
Andrea Dato was eliminated in 4th place, he three-bet shoved with
over the top of a Hossein Ensan raise. The German player called with
– a dominating ace that made a straight on a
board.
Having previously folded to a big bluff from Ensan, the American Phillips won a monster pot against the same opponent when he called a five-bet all in with
. Ensan showed
but couldn't spike a two and Phillips regained the lead.
At this point the three remaining players got into a heated discussion for nearly half an hour, working out a deal that left €90,000 for the winner. After a dinner break, Lettau would eliminate Ensan after making a good call on the turn of an
board with
. Ensan could only show
and the
on the river changed nothing.
Lettau started the heads-up battle with around a 5:1 chip lead against Phillips but the latter doubled up in the very first hands with aces against Lettau's ace-six of clubs. The deficit was reduced to 2:1 instantly and over the course of the next few hours the lead swapped several times. Phillips was at one point just a single card from victory with pocket fours against king-trey but Lettau spiked a king on the river to stay alive.
After 141 hands of heads-up action, more hands than in the rest of the final table itself, the tournament finished in hand #273. Phillips shoved with
and Lettau called with
and won when the board ran out
.
With that, Lettau became the first EPT winner of Season 11 after a truly gruelling battle. With that, all eyes will turn to London for the next event at the start of October in just over a month. The PokerNews Live Reporting Team will be there, so make sure you join us for that. In the meantime, we're all off to jump in and make sure we make our flights this morning!
| Position | Player | Country | Payout |
| --- | --- | --- | --- |
| 1 | Andre Lettau | Germany | €794,058* |
| 2 | Samuel Phillips | United States | €1,021,275* |
| 3 | Hossein Ensan | Germany | €652,667* |
| 4 | Andrea Dato | Italy | €362,000 |
| 5 | Andrey Shatilov | Russia | €286,000 |
| 6 | Kiryl Radzivonau | Belarus | €224,500 |
| 7 | Ji Zhang | Germany | €171,600 |
| 8 | Slaven Popov | Bulgaria | €121,300 |
*Denotes a three-way deal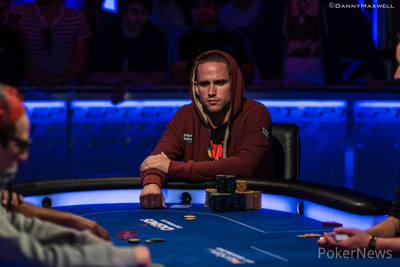 Hand #273:
Samuel Phillips moved all in with
and got called by Andre Lettau holding
.
The board ran out
and after nearly six hours of gruelling heads-up play Phillips finished in second place but took home the larger pay-out.
| | | | | | |
| --- | --- | --- | --- | --- | --- |
| Andre Lettau | | | | 44,880,000 | 24,880,000 |
| Samuel Phillips | | | | Busted | |
Hand #265: Phillips had
and raised to 2,400,000 and Leattu moved all in with
.
Hand #266: Lettau took it with a raise
Hannd #267: Phillips raised with
and folded to a shove from Lettau with
.
Hand #268: Lettau raised and took it.
Hand #269: Phillips opened with
and folded to a Leatuu shove with
.
Hand #270: Lettau folded.
Hand #271: Phillips shoved and took it with
.
Hand #272: Lettau bet 2,400,000 with
and Phillips folded
.
Here's a little break from the Main Event, as you can watch the interview with Team PokerStars Pro Jason Mercier who took second in the High Roller earlier tonight.
Hand #263: Samuel Phillips limped for 1.2 million with
and Lettau checked
, the flop came
and Lettau quickly gave up the pot to a bet.
Hand #264: Lettau limped with
and Phillips checked
. Both checked the
flop, the
turn and the
river. Phillips won a pot to the smattering of applause.
Level:

41
Blinds:

600,000/1,200,000
Ante:

200,000
Hand #257: Phillips folded to a shove.
Hand #258: Phillips took down a pot with a shove.
Hands #259: Phillips raised to 2,000,000 with
and Lettau called. The flop was
and they checked. The turn was the
and Phillips bet 1,500,000. Lettau called. The river was the
and they both checked. Lettau again had the advantage.
Hand #260: Lettau with
limped and Phillips checked with
. The flop was
. Phillips check-folded.
Hand #261: Lettau got a walk.
Hand #262: Lettau with
moved all in.
wasn't good enough for Phillips to call.
Hand #251: Phillips had
and raised to 2,000,000. Lettau shoved with
and that saw a fold from Phillips.
Hand #252: Lettau with
limped and Phillips shoved with
. Lettau agonised and folded.
Hand #253: Phillips had
and a raise took it.
Hand #254: Lettau had
and limped. Phillips had
and checked. The flop was
and Phillips checked. Lettau bet and took the pot.
Hand #255: Phillips raised with
and Leattu folded.
Hand #256: Lettau limped with
and Phillips with
checked. The cards came out
. A bet from Lettau won it.
Hand #250: Andre Lettau took the beat pretty well and shoved with
and Phillips called with
. The board came out
.
Lettau rivered it and doubled up as the rail went mad.
| | | | | | |
| --- | --- | --- | --- | --- | --- |
| Samuel Phillips | | | | 24,000,000 | -10,550,000 |
| Andre Lettau | | | | 20,000,000 | 9,800,000 |