Bonomo Gets There and Busts Ivey

Level 3 : 800-1,600, 200 ante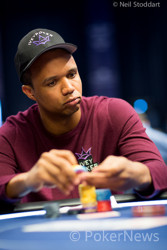 Last year's champion, Justin Bonomo, just stormed his way to 550,000 in chips after busting Phil Ivey from the tournament, but it wasn't without a bit of luck to give Bonomo the win.
Bonomo, Ilya Bulychev and Ivey put in 10,000 each preflop with Ivey in position. The flop came down
, and action was checked by Bonomo and Bulychev in that order before Ivey fired 15,000. Bonomo called, then Bulychev folded.
The turn was the
, and this was where the fireworks shot off. First, Bonomo checked, which seemed pretty innocent, until he check-raised all in after Ivey bet 40,000. Ivey quickly called with the
for a set of sevens. Bonomo had the
for a double gutter and flush draw.
Needing any diamond that didn't pair the board, a nine or a five, Bonomo found what he needed when the dealer ripped off the
on the river. That gave him a straight, and Ivey was left felted.
Ivey was up and out of his chair immediately and made a straight shot for the exit of the venue. He'll still have all day today and until play begins tomorrow to re-enter, so we'll keep you posted on what he decides.