$2,700 Nuevo Vallarta Main Event
Event Info
| | |
| --- | --- |
| Buy-in | $2,500 |
| Prize Pool | $586,850 |
| Players | 242 |
| Players Left | 89 |
Level Info
| | |
| --- | --- |
| Level | 9 |
| Blinds | 500 / 1,000 |
| Ante | 100 |
Smoke 'em if you got 'em.
Maria 'Maridu' Maynrick - 6,000
David Plastik - 4,400
Andre Akkari - 4,200
Tito Fuentes - 3,000

If you are friends with any of the above players, please pray to the poker Gods for them! They need some divine intervention. Or good cards. Whatever works.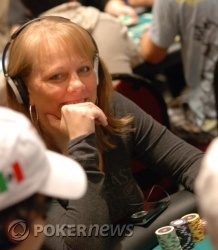 Shirley Rosario's stack dipped a bit. She lost most of her chips when her nine-high flush lost to the nut-flush and she slipped to around 12,000.
The always vocal and talkative Maria 'Maridu' Maynrick has J.C. Alavarado at her table. She just lost a pot when her
lost to
and she's down to 6,000.
The action is starting to pick up a bit. Over a dozen players busted out in the last 30 minutes.
One of the tournament tables had to be moved because the table had become broken. One local player got so excited because his
was a winner, that he slammed his hands and arms on the tables a couple of times in jubilation. A loud thud caught everyone's attention and the visibly wobbly table appeared unsafe. The staff relocated everyone to a more stable table.
Level:

4
Blinds:

100/200
Ante:

25
As action heads towards the end of Level 3, at least 35 players have been eliminated so far on Day 1. Just a reminder; we're playing 10 levels this evening.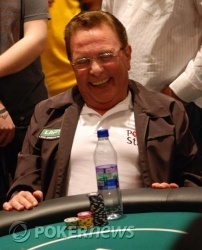 Dr. Max Stern is well respected among established Las Vegas veteran players. With over $1.3 million in career earnings, Stern has made over a dozen final tables at the WSOP and won three bracelets. 1997 was a banner year for Max Stern because he won two WSOP bracelets within five days. He had to beat Kathy Liebert heads up to win the $3,000 No Limit Hold'em event. Stern is also a noted poker author and penned a couple of sections in "Championship Stud."

The game of poker has evolved over the last decade as no limit Hold'em became more appealing that seven card stud. Max managed to adapt to the change. The guy with the most bracelets in the room is sitting on a stack worth 10,000 and it looks like he's having a stellar time.
Stephen "Stevie 444" Chidwick is most known for winning 100 seats to the 2008 WSOP Main Event. Since he was not twenty-one years old, he was unable to use any of those seats, so instead, he pocketed a cool $1 million. Stevie444 is currently up to 11,500 chips.

His buddy, Jon "Apestyles" Van Fleet, is faring a little better. The Austin, Texas native is sitting on a stack worth almost 15,000.
Those doing good?

J.C. Alvarado - 25,000
Shirley Rosario - 22,500
Melina Villegas - 17,000
Marc Karam - 16,500
David Plastik - 14,200
Ryan Fee - 14,000
Victor Ramdin - 13,000
Humberto Brenes - 11,200

Those who need a little help?

Greg Raymer - 9,500
Tito Fuentes - 7,700
Maria 'Maridu' Maynrick - 7,500
Andre Akkari 6.600