The final table of the 2016 Master Classics of Poker Main Event in the Dutch capital of Amsterdam, saw nine players take their seats to battle for the €275,608-first place prize. The final table, that started extremely deep after a relatively short Day 3, was meant to play down to a winner. In the end, that didn't come to be as two players remained when the government-owned casino had to close at 3 am.
While Juha Helppi started out as the chipleader and Charlie Carrel headlined the event after making two final tables earlier this festival, they didn't get close to the title and busted well before the final hand was played. After a, hopefully, good night rest, Hakim Zoufri (photo) and Fabio Sperling return to the casino on Saturday for the heads up part of the event.
| | Player | Country | Chip Count |
| --- | --- | --- | --- |
| | Hakim Zoufri | Netherlands | 5,670,000 |
| | Fabio Sperling | Germany | 5,000,000 |
| Position | Player | Country | Prize |
| 1 | | | €275,608 |
| 2 | | | €184,820 |
| 3 | Ivan Arbatsky | Kazachstan | €128,147 |
| 4 | Juha Helppi | Finland | €92,057 |
| 5 | Stefan Fabian | Romania | €68,514 |
| 6 | Samuli Sipila | Finland | €52,584 |
| 7 | Michiel Brosky | Netherlands | €41,447 |
| 8 | Rashed Zade | Netherlands | €33,411 |
| 9 | Charlie Carrel | United Kingdom | €27,349 |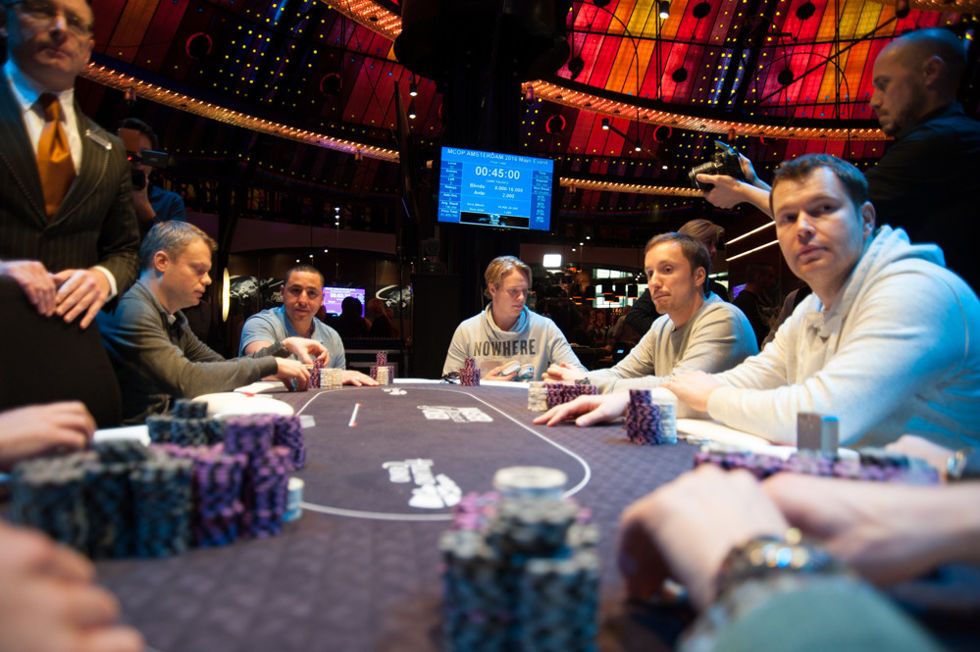 What was supposed to be the final day of the 2016 MCOP Main Event started out with nine players still in contention for the first place prize and the MCOP plate, the coveted trophy unique to Holland's biggest annual poker tournament.
The first bust out would reshape the final table and be of influence on its outcome in a tremendous way. A cooler between Charlie Carrel with the ace-king and Fabio Sperling holding pocket queens, resulted in Carrel departing first while Sperling got rid of a very dangerous neighbor and a much bigger stack.
Short stack Rashed Zade was next to go as he reshoved ace-king into Ivan Arbatsky who had raised and then called with pocket sixes. The coin flip was won by the man from Kazakhstan while the hometown player departed in eight place.
Another Dutch player would be next to go as Michiel Brosky exited in seventh place. He found himself on the wrong end of a cooler as he too reshipped ace-king, but walked straight into the aces of, again, Ivan Arbatsky.
Samuli Sipila, who had started the final table as the shortest stack but had now laddered considerably, too went under with ace-king. He got it in against the queen-ten of Hakim Zoufri and the latter made a straight on the river to send the Fin home.
The only Romanian player, Stefan Fabian, had his head on the chopping block next. He was one of the shorter stacks when he was shoved on by Ivan Arbatsky. Fabian looked down on ace-king and quickly called. Arbatsky had ten-six suited and hit a six on the flop to send Fabian packing.
Spotting a pattern there wasn't hard; everyone could see that ace-king wasn't doing any good today. Nonetheless, Juha Helppi went with it anyway and would regret it soon enough. Ace-king proved fatal once again as Helppi walked his top hand into the queens of Fabio Sterling to go out in fourth place. Helppi, who had started the final table as chipleader after stone bubbling the event last year, still seemed unfazed by it all when he walked to the payout desk to collect his €92,057.
With three players remaining, Fabio Sperling had a massive advantage over both his opponents but play was anything but shallow with both of the shorter stacks still 30 big blinds deep. Ivan Arbatsky, the man from Kazachstan who had, to much applaus of the three rows deep rail, picked a local song as his introduction tune, couldn't hold on to them. Slowly but surely he started losing chips, bleeding parts of his stack in a lot of small pots. In, again, a cooler he pushed with queens over Zoufri's raise only to find Sperling repush behind him with ace-queen. If Zoufri had called, it could've been all over in one final hand, but the last standing Dutchman opted to fold his eights instead of going with them. Arbatsky found himself in good position to double up, but an ace on the flop spoiled it for him and he made his exit in third place.
The two remaining players battled for a little over an hour before the casino had to close. By the time the chips went in the bags, Hakim Zoufri had overtaken Fabio Sperling as chipleader after one big bluff and multiple smaller pots.
The two return to Holland Casino Amsterdam at 4 pm local time to face each other with the cheque worth €275,608 in between them. They're already guaranteed €184,820, something that might help to find them a good night of sleep. PokerNews.com returns to the battleground tomorrow, so check back then to find out who has taken down the most prestigious event in The Netherlands as the Main Event of the 25th anniversary Master Classics of Poker concludes.