Andrew Barham has become the latest winner of a coveted Platinum Pass after winning Moneymaker's Road to PSPC 2020 here in London at Le Meridien, Piccadilly for £7,501.
Earlier, Barham had locked up £7,501 after a three-handed deal between him, runner-up Justin Bateson and third-place finisher Jay Yerby, but played on to decide the winner of the Platinum Pass.
Upon reaching heads-up, Chris Moneymaker was on hand not only to congratulate the two remaining players on getting this far but also as the dealer! And on the very first hand, the pair got it in on the flop with Barham's kings holding against Bateson's top pair to secure victory.
Barham can now start looking forward to next August, and get on with planning his approach to the PSPC 2020!
Final Table Results
| Place | Player | Payout (GBP) | Payout (USD) |
| --- | --- | --- | --- |
| 1 | Andrew Barham | £7,501* | $9,601* |
| 2 | Justin Bateson | £7,298* | $9,341* |
| 3 | Jay Yerby | £6,930* | $8,870* |
| 4 | Ken Wong | £3,737 | $4,783 |
| 5 | Alan Lambert | £2,937 | $3,759 |
| 6 | Zayn Mushtaq | £2,293 | $2,935 |
| 7 | Simon Green | £1,727 | $2,211 |
| 8 | Stephen Baker | £1,204 | $1,541 |
* denotes three-handed deal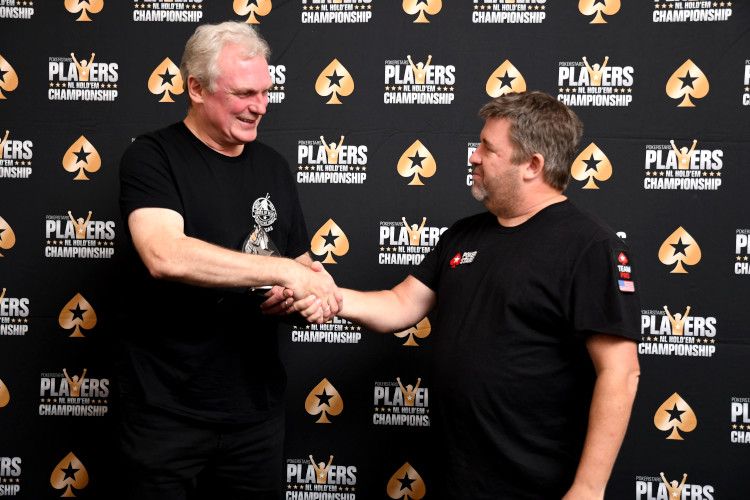 Winner's Reaction
"I woke up at 4 am this morning, and couldn't get back to sleep!" Barham said after taking down the 468-player tournament. "So all the preparation went out of the window.
"I wanted so badly to win a Platinum Pass and coming into the day with the chip lead, it felt close. Then as more players got eliminated it felt closer. I had a big setback three-handed where I lost two million chips, but I came back quickly. When the final hand was dealt I had to go outside and compose myself so happy to win this.
With Moneymaker on hand to deal the final hand, Barham said that wasn't the only way the 2003 World Champion helped him on his way to victory.
"Coming back to the final table, I asked Moneymaker for advice heads-up, and how to approach it with the chip lead. He said to play small pots keep the pressure on and don't play big pots. So then he deals me kings on the very first hand! It was unbelievable.
"I can't explain how excited I am about the PSPC. I love playing poker. I like to play against better players where I can. Obviously that's not easy or cheap, but this is a great opportunity to play against the best in a fantastic event."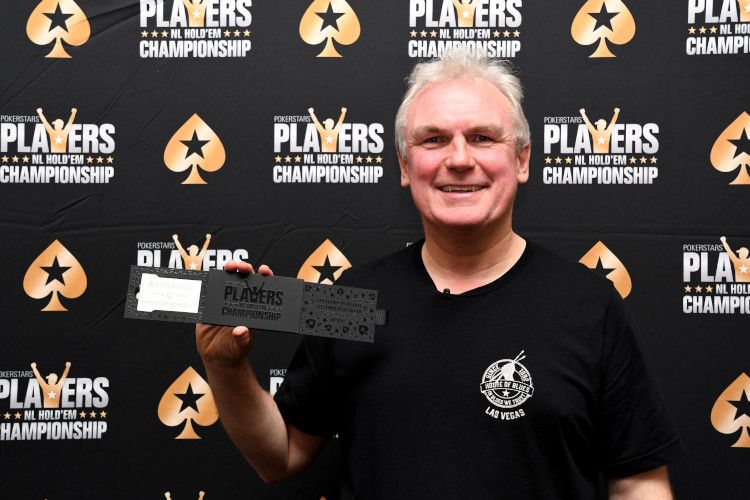 Final Table Recap
It took just three hours for a winner to be crowned on the final day, with online qualifier Stephen Baker the first elimination of the day. Having satellited in for £5.50, the Day 1c chip leader's ace-eight was no match for Bateson's ace-king.
Bateson was also responsible for the elimination of Day 1c chip leader Simon Green, who earlier had doubled up short-stack Zayn Mushtaq.
Mushtaq doubled twice in the early goings, but couldn't avoid a confrontation with start-of-day chip leader Barham and exited in sixth.
It was a day full of doubles, with Jay Yerby rivering a flush to double through Lambert, who subsequently bowed out in fifth.
Ken Wong followed in the very next hand, and the three remaining players agreed upon a deal which would lock up the money, with just the Platinum Pass to play for.
Deal Agreed
| Player | Chips | Payout |
| --- | --- | --- |
| Justin Bateson | 5,270,000 | £7,501 |
| Andrew Barham | 4,785,000 | £7,298 |
| Jay Yerby | 3,980,000 | £6,930 |
Yerby would double up three-handed, but it wasn't enough as Barham and Bateson squared off heads-up.
And with the helping hand of Chris Moneymaker himself, Barham's kings on the very first hand of heads-up held to secure him victory and the Platinum Pass that came with it!
That concludes PokeNews' coverage for Moneymaker's Road to PSPC here in London, but stay tuned for coverage of all other UK & Ireland tour stops.