After almost eleven hours, India's Ankit Ahuja has won the PokerStars Red Dragon Manila High Roller defeating Malaysia's Natalie Teh heads-up in the 101-players strong field for ₱6,112,000 ($119,533), his second-largest live cash ever. The last High Roller of the festival in the Okada Manila collected ₱23,022,950 ($450,262) for the prize pool with 13 players getting paid.
Ahuja, a 33-year-old freelance business and tech consultant connected to the gaming industry from Delhi, India who has been playing tournament poker seriously for just over two years. "This is the first tournament I've ever won where I've fired more than one bullet - I busted my first pretty early and decided to give it another go. It's just as well I've won really as I missed my flight by making Day 2 yesterday," Ahuja commented right after winning.
"Plans for the money… put it in the bank and hopefully not punt it off, find something useful to do with it. I'm going to take a break for a bit, I'm going to go home to India, chill with the family. Maybe since I'm going to be in India, I might play one of the Indian series' next month, but more or less just stay home, maybe play a bit online and that's about it." Ahuja said when asked what his plans were for the next few months.
Ahuja has over $600,000 in live tournament cashes according to The Hendon Mob and has been spotted by the PokerNews live reporting team before during the European Poker Tours. "I've played a few EPTs and I've won a Stars trophy before actually, back in the 2017 PokerStars Festival Dublin, but it was only a small event with a €300 buy-in," he confirmed.
PokerStars Red Dragon Manila High Roller Final Table Results
| Place | Player | Country | Prize (PHP) | Prize (USD) |
| --- | --- | --- | --- | --- |
| 1 | Ankit Ahuja | India | ₱6,112,000 | $119,533 |
| 2 | Natalie Teh | Malaysia | ₱4,248,000 | $83,079 |
| 3 | Shigeji Kusakabe | Japan | ₱2,809,000 | $54,936 |
| 4 | Chongxian Yang | China | ₱2,199,000 | $43,006 |
| 5 | Ngoc Anh Cao | Vietnam | ₱1,773,000 | $34,675 |
| 6 | Kyungkun Lee | South Korea | ₱1,381,000 | $27,008 |
| 7 | Dhaval Mudgal | India | ₱1,094,000 | $21,395 |
| 8 | Kannapong Thanarattrakul | Thailand | ₱852,000 | $16,663 |
| 9 | Hwany Lee | South Korea | ₱644,950 | $12,613 |
Racing to the Bubble
At the start of the day, 33 players returned to battle it out to make it into the money. The first level of the day saw 7 hopefuls leave the High Roller tables including the Main Event champion and first 2020 Platinum Pass winner Florencio Campomanes who had shoved with pocket fours and was looked up by Hwany Lee who held eights. The higher pocket pair held throughout the board to end Campomanes' hopes to add another win to an already fantastic week for him.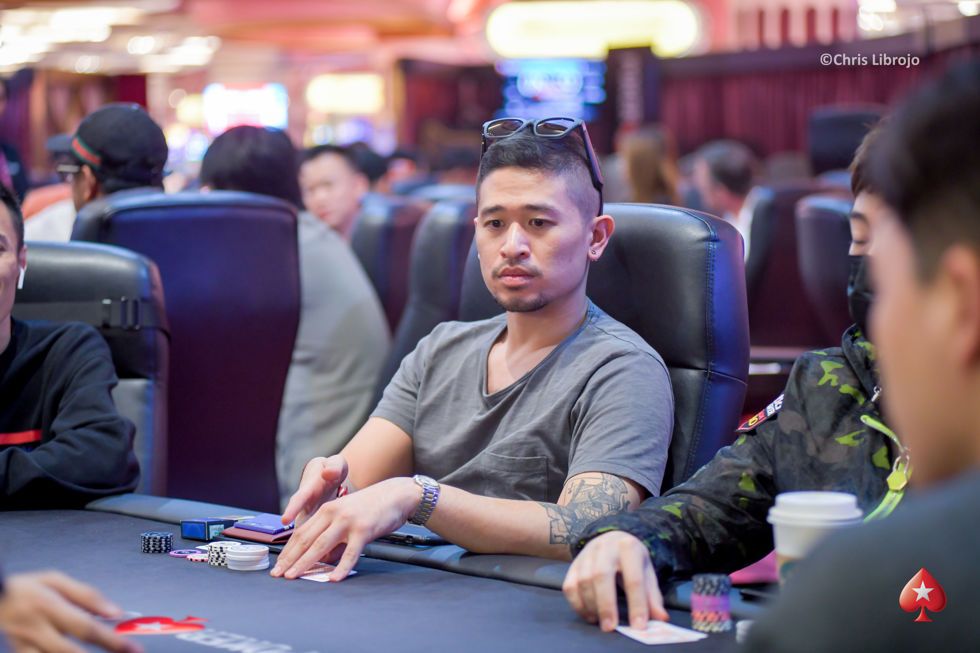 Four more players failed to win their final all-ins in the next level including Yohwan "BoxeR" Lim who ran his ace-nine into the ace-king of Kyungkun Lee. Another five players busted before the first break of the day. Phachara Wongwichit was one of those players who fell victim to Shigeji Kusakabe when he three-bet shoved in a blind-versus-blind situation with pocket treys. Kusakabe had called with queens to send the Thai player to the rail.
It would take a mere 35 minutes before the bubble came after the break as Victor Chong], Piet Pape, Sparrow Cheung, and Zhiqiang Qian busted before the money. In the end, it would be Andres Korn who bubbled the tournament. He shoved almost 22 big blinds in from the button with ace-jack and was called by Ngoc Anh Cao who held ace-ten. The board gave Cao top pair and Korn a flush draw but he couldn't get there by the time the river was dealt.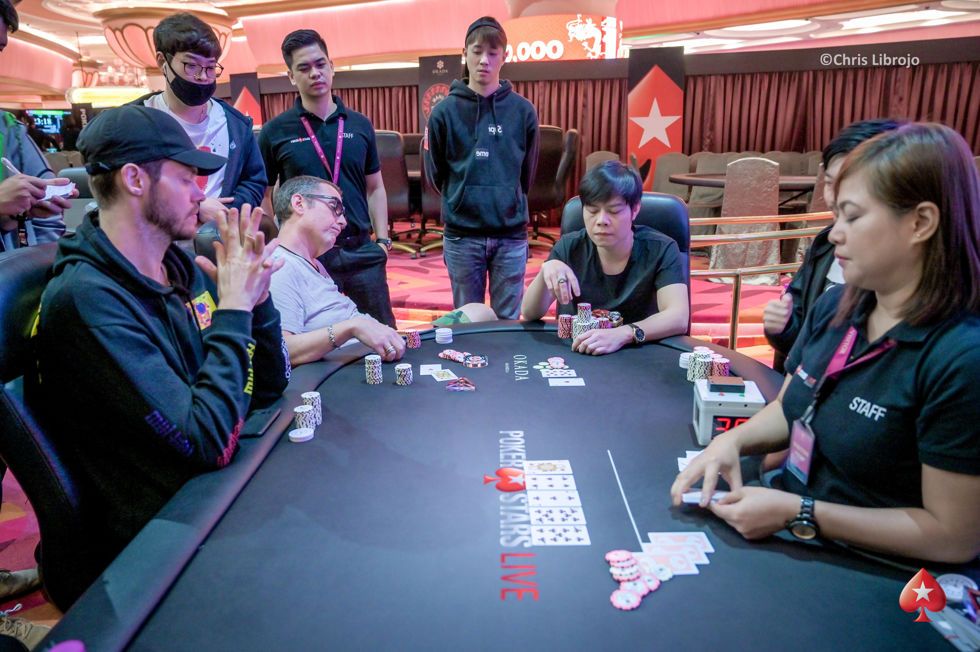 After the Bubble
Another forty minutes is what it took for Kanishka Samant and Jiacheng Li to be sent to the payout desk to collect ₱460,000 ($8,996) while Sahil Agarwal and Martin Stausholm won ₱495,000 ($9,681) as they fell at one of the many hurdles a poker day brings. The final table was filled with players from seven different countries with India and South Korea represented with two players each.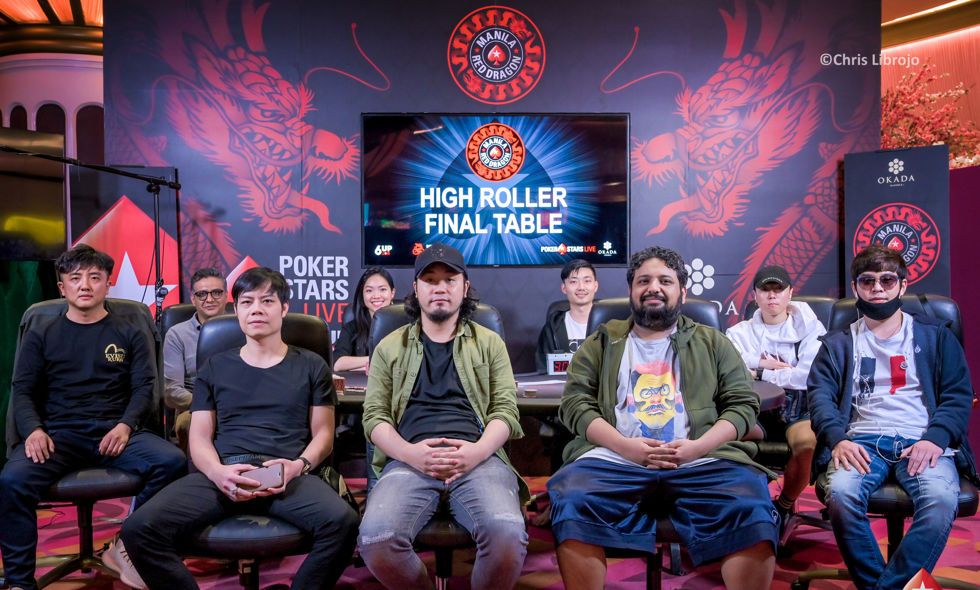 Cao came into the final table with the chip lead with 96 big blinds while there was a 56 big blind average in play. The shortest stack was Kannapong Thanarattrakul with 33 big blinds. With everyone being pretty deep, it would take over an hour before Hwany Lee was lobbed out by Ahuja when he hit the flush on the river while Lee had a pair of kings. Thanarattrakul was then sent home when he shoved with ace-jack and Kyungkun Lee had pocket eights.
Teh was getting shorter and shorter and shoved twice, the first time she was called by Cao and split the pot when the straight came on the board and then her king-jack turned two pair against Ahuja to take her back to over 30 big blinds. Dhaval Mudgal shoved on the flop with a flush draw and didn't get there against Cao's top pair to get eliminated in seventh place.
The last South Korean player was sent away from the final table shortly after when Lee first doubled up Ahuja and then got his last two big blinds in. He was called by Cao and Ahuja with those two battling it out until the river when Ahuja decided to fold to another continuation-bet as Cao held two pair. No help for Lee as he collected ₱1,381,000 ($27,008).
Even though he had the chip lead at the start of the final table, a bunch of lost pots made Cao shove 11 big blinds in with ace-deuce. Kusakabe called with ace-queen and turned a pair to end Cao's tournament run. Chongxian Yang first doubled Teh up to then get his last chips in on the eight-ten-deuce flop with the open-ended straight. Ahuja and Kusakabe both called but Ahuja folded on the latter's bet on the river. Yang did make a straight but couldn't Kusakabe's rivered flush.
From Three Players to One Winner
Kusakabe had over 60% of all the chips in play but he doubled up Ahuja who held queens while he himself had pocket fours. Ahuja and Kusakabe would be battling in several hands for Ahuja to take over the chip lead. In their final hand, the player from Japan would shove 45 big blinds in from the button and get called by Ahuja while Teh immediately got out of their way as the shortest stack with 13 big blinds. Kusakabe had king-nine suited while Ahuja held ace-king. The queen-ten-jack flop brought both of them the straight but kept Ahuja ahead with the Broadway. A king would split the pot but that didn't happen as Kusakabe was sent on his way with ₱1,381,000 ($27,008).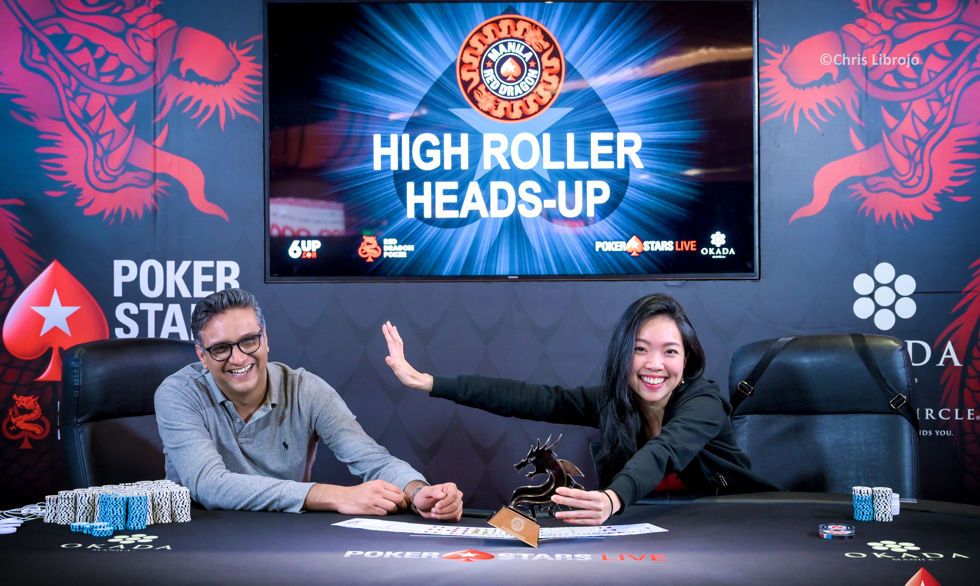 After a short break, Teh got her short stack in with ace-four while Ahuja held pocket tens. She couldn't connect with anything on the board. The only woman to take a shot in this tournament finished in second place for her biggest live cash ever after coming into the day with the chip lead to take her close to the $500,000 mark. Quite an astonishing result for the player who went pro just 1.5 years ago and is currently standing in eighth place in the GPI Ladies ranking.
This concludes the PokerNews coverage of the PokerStars Live Asia event in Manila with their first-ever Red Dragon Manila festival. The eight-day 13-event series saw 1,798 players compete for a massive ₱160.3M (~$3.17M) in prize money. Just over 40% of the Series' prize money was awarded in the Main Event, which saw 669 players from 32 different countries compete for a sizable ₱64.244M (~$1.25M) prize pool, with 81 of them making the money. The Red Dragon High Roller was the second-largest event in terms of money competed for at the series, with its ₱23M (~$455,520) prize pool accounting for a further 14% of the total Series prize money.