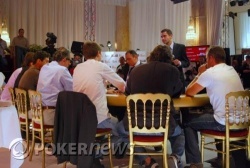 While we are set up ringside about ten feet outside the final table stage, the half-moon table design prevents us from seeing most of the action that's taking place at the final table.
Therefore, for the duration of the day we'll be forced to rely on a couple of TV screens positioned near our desk that will be broadcasting a live feed of the action to members of the studio audience.
That said, the PPT website is offering a streaming feed of today's action on a 20-minute table delay. You can access the feed by
clicking here
.