$1,675 No-Limit Hold'em
Day: 3
$1,675 No-Limit Hold'em
Day 3 Completed
Level 27 : 25,000/50,000, 5,000 ante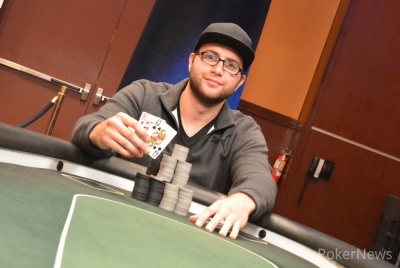 After a tough back-and-forth heads-up battle, Vinicius Lima emerged over Mike Comisso as the winner of Poker Night in America at Golden Nugget, topping a field of 136 runners for $56,366.
Just five players made the final day of the tournament, which was filmed for television and streamed on a delay on Twitch. The rules changed up a bit for the final table to make it more viewer-friendly, with a timer in play on every decision that counted down from 60 seconds. Players got two time extensions, good for another 60 seconds apiece.
The shortest stack to begin the day belonged to Dimitry Agrachov, and he went bust at the hands of Lima during Level 23 (10,000/20,000/3,000) after the latter bluffed off about a third of his chips to Chan Pelton. Agrachov shoved 14 big blinds over a button open from Comisso but Lima woke up with the
in the big blind and held against the
.
Then it was Pelton's turn to bluff off a pile, and after David Morton picked him off, Pelton three-bet a raise from Lima and used both of his extensions before calling a four-bet shove of 650,000 effective at 12,000/24,000/4,000. Lima had kings and held up against the
on a
board.
Morton turned up the aggression a bit to stay afloat for awhile three-handed but just kept getting ground back down his more aggressive opponents. Lima finally finished him off to go into heads-up play almost dead even with Comisso.
Comisso took the initial advantage and nearly had the tournament won when he got Lima in at risk with the
needing to improve against the
of Comisso. An ace on the flop kept Lima's pulse going. Comisso moved back into a 3-1 lead after getting three streets of value with top pair, but Lima wouldn't go away quietly and kept battling back.
One big highlight of the match came in Level 27 (25,000/50,000/5,000), when a board of
sat between the two players on fourth street. Comisso check-called approximately 150,000 and then checked the
river. Lima quickly fired 575,000. Comisso went deep into the tank, and after using a time extension, he called with the
and it was good against the
.
It didn't prove to be enough, as Lima was back in front just a few hands later in what would be the final lead change of the match. Down to 21 big blinds, Comisso tried three-bet shoving over min-raise with the
but Lima called him with the
. A board of
later, and Lima had his win.
Level 27 : 25,000/50,000, 5,000 ante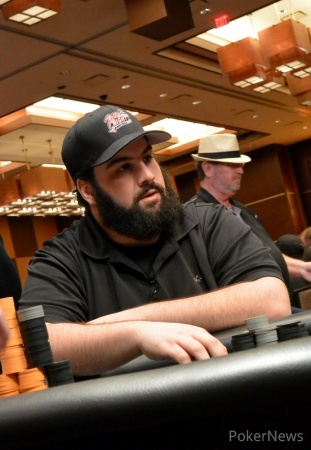 Vinicius Lima opened on the button for 100,000, and Mike Comisso shoved all in from the big blind. Lima asked for a count and was quoted 1,050,000. He dropped in a stack of chips.
Comisso:

Lima:
Lima was in a dominating spot, and his rail began shouting for no nines. A
flop delivered that, and the
turn left Comisso in need of a nine to keep the tournament going. The
river didn't so it.
"Good job," Comisso said as they shook hands.
Level 27 : 25,000/50,000, 5,000 ante
Vinicius Lima opened to 100,000 and called when Mike Comisso made it 300,000. Comisso bet 250,000 on a
flop, and Lima slid 600,000 in. Comisso sighed and folded after a moment, with a black
flashing.
Level 27 : 25,000/50,000, 5,000 ante
Mike Comisso checked and called three barrels of 75,000, 125,000, and 215,000 on an
runout after Vinicius Lima limped preflop. Lima showed him
and took the pot.
The next hand, Lima called a raise to 100,000 and check-raised on an
flop, forcing a fold from Comisso.
Level 27 : 25,000/50,000, 5,000 ante
On a board reading
, Mike Comisso check-called a bet of around 150,000 from Vinicius Lima. The river was a
and Comisso checked. Lima instantly pushed forward 575,000, and Comisso went deep into the tank. He tossed in a time extension with seven seconds left on the clock, and about 10 seconds later announced a call.
Lima tabled
for a whiffed straight draw, and Comisso showed
for queen-high.
Level: 27
Blinds: 25,000/50,000
Ante: 5,000
Level 26 : 20,000/40,000, 5,000 ante
Mike Comisso bet 80,000 when checked to on a
flop. Vinicius Lima checked the
turn, and Comisso bet 230,000. Lima again called. On the
river, he check-called a final barrel of 545,000, and he couldn't beat the
of Comisso.
Level 26 : 20,000/40,000, 5,000 ante
Vinicius Lima just got paid off on a river bet on a board with four spades, including the
, with Lima holding
.
Level 26 : 20,000/40,000, 5,000 ante
Mike Comisso opened to 80,000 and snap-called when Vinicius Lima shoved for a hair over 1 million. Lima showed
.
"Flip it out," Comisso said, standing up and slapping down
.
Lima's rail called for an ace and that's exactly what they got when the flop came
. No ten arrived for Comisso on fourth or fifth street.